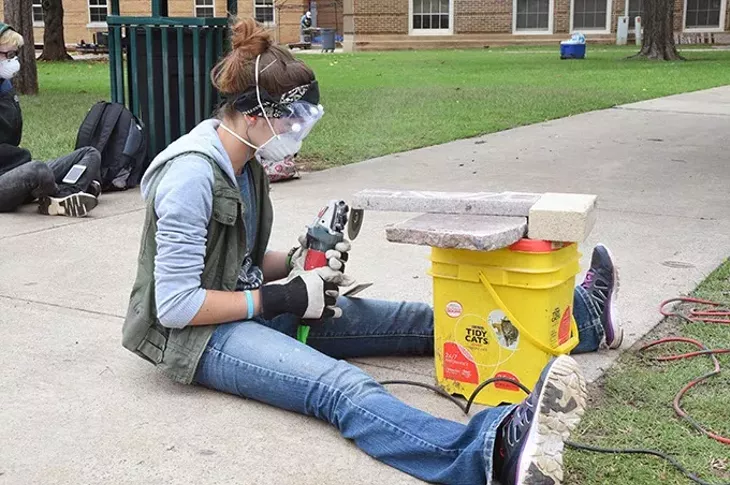 Art student Alice Dunaway forms granite pieces with an angle grinder as part of the Coming Together Park sculpture being installed on the USAO campus. mh
University of Science and Arts of Oklahoma's (USAO) first ever artist-in-residence is altering the Chickasha university's campus with a massive granite installation that will serve as a campus and community park.
Coming Together Park is the work of Jesús Moroles, a sculptor whose work appears all over the world and includes a traveling Smithsonian show.
The 40,000-square-foot park, which Moroles calls an "environmental installation," is Moroles' largest piece area-wise. He has sculpted larger pieces on a vertical axis, as he tends to craft large-scale works.
Moroles has done commissioned work for Fred Jones Jr. Museum of Art and Oklahoma Medical Research Foundation (OMRF), but this is his first installation in Chickasha.
"Most of my work now is about creating sacred spaces," Moroles said, "and where better than a university, a place where students can find tranquility to soak up their experiences and reflect on what they are learning?"
Moroles began to work with stone as a boy — his uncle was a master stonemason — and he was bigger and stronger than his peers, so he was able to help his uncle at an early age.
However, he did not begin to sculpt until college and only then because he received a B in sculpture class.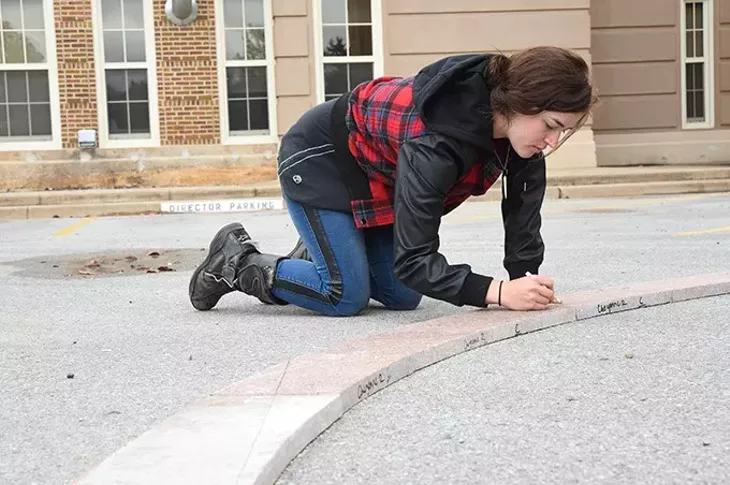 Art student Brittany Standard marks granite pieces for cutting as part of the Coming Together Park sculpture being installed on the USAO campus. mh
It was his first B, so he considered it a personal challenge to excel in sculpture.
"I worked with everything in sculpture — steel, marble, all the normal materials — and eventually, I got to granite," Moroles said. "The stone pushed me; I had a connection with it. Granite was the most challenging thing I ever tried."
In 2011, Moroles was invited to help jury an art show at USAO, and he enjoyed being back on a campus. Layne Thrift, a professor of art, made Moroles aware of several large pieces of granite that had been donated to the university by a former professor.
"The foundation of her house was made of granite," Moroles said. "The stone had sat unused, so we came up with a plan to use it."
As artist-in-residence, Moroles is working with Thrift and students to create Coming Together Park. The work began in May, and Moroles hopes to complete it in August.
The park will feature large rings of granite around trees on the school oval, crushed granite and stamped concrete walking paths, benches and a grassy knoll for naps or sunbathing.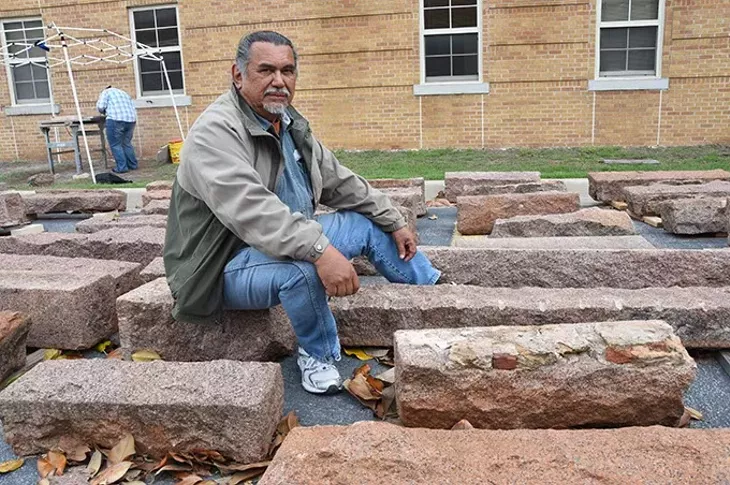 Artist-in-residence at USAO, Jesus Moroles, with granite blocks being used in the construction of Coming Together Park on the campus in Chickasha. mh
Because Moroles likes to work with the land — he calls it "carving the ground" — the park will also feature an arroyo that will run with rainwater or function as a walkable, dry creek bed.
"We are adding lighting and outlets for phones and laptops so the park is a place people can visit all the time," Moroles said. "We want to get the community involved, too, so if anyone wants to volunteer, we have room for them to help."
In addition to the functional aspects of the park, Moroles is creating several smaller pieces of art that will be permanently on display.
---
Print headline: Parked art, Jesús Moroles creates a place of serenity for USAO students.