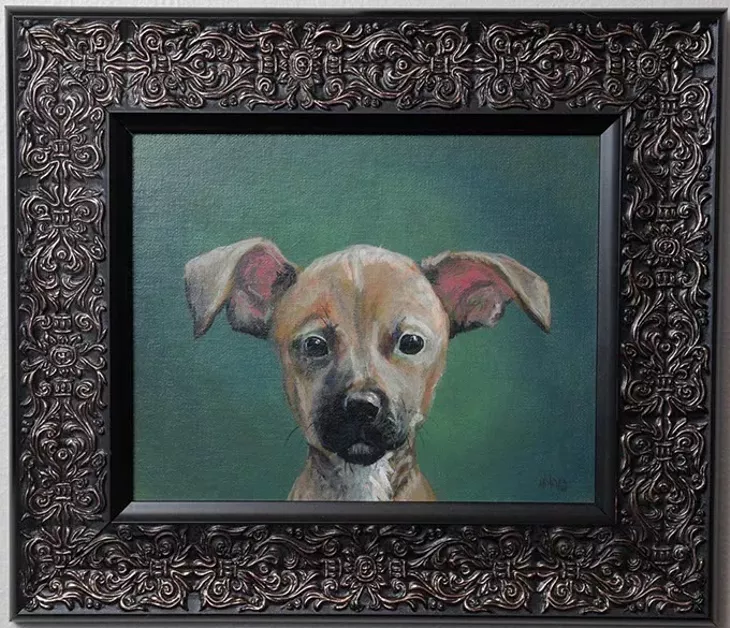 Garett Fisbeck
Artwork by Mark Moad in Oklahoma City, Wednesday, Jan. 25, 2017.
Local artist Mark Moad paints everything from prim poodles to pet turtles and favored frogs for his pet portrait series. The works are sent to homes across the country and as far away as Tokyo, Japan.
Despite the range of animals he has painted in nearly five years, his favorite subject is still Sugar, his family's 10-year-old West Highland White Terrier.
"She's just incredibly delightful and incredibly expressive and has tons of personality, as many terriers do," Moad said. "I'm definitely partial to painting the Westie. With white hair, she can take on so many colors and looks completely different in some lighting."
Moad manages an Oklahoma City branding and graphic design company. In his own time, he has carved out a niche for himself in committing beloved critters to canvas. His commissioned creations are usually 4-by-4 to 12-by-16 inches in size and cost $100-$450.
The works are usually based off a pre-existing photograph of the pet, though Moad said he occasionally shoots his own pictures. His portraits and gift certificates toward future work have become popular gifts around Valentine's Day, Mother's Day and Christmas.
Moad said he's accepting Valentine's Day commissions through Tuesday, and he is already near capacity.
More than just capturing a cat or dog's physical traits, Moad said it's important that he also captures each pet's personality and energy. He is often asked to memorialize beloved pets that have recently died, so he takes care to make sure the animal's true essence is preserved in his art.
"When I get started," he said, "I do a lot of discussion like, 'What is this pet like? How do they like to sit and stare? How do they entertain themselves, and what do they like?'"
Garett Fisbeck
Artist Mark Moad poses for a photo at his home studio in Oklahoma City, Wednesday, Jan. 25, 2017.
Moad has always been into art and painting but took a long creative break to pursue other life endeavors. After seeing a few pet portraits online, he was inspired to compose his own. He started working on 5-by-7 inch portraits of Sugar and his other pets — a "mutt mix" named Rosie and a cat named Gracie — wearing hats and bonnets.
He showed them to an artist friend, who immediately commissioned one of his own pets. Strong first impressions have proven to be Moad's most potent sales pitch.
"He puts it on Facebook, and the next thing you know, I start getting messages saying, 'Hey, would you do my dog?' It really just kind of grew like that," he said. "It was pretty organic in terms of the way that it came together."
He said around two-thirds of his commissions come from social media in some way.
"People can get annoyed with how much social media has taken over their life," he said, "but I can definitely attribute a lot of what I've got to it, so I'm not going to complain."
Portraits usually take two to four weeks to complete. Since painting is Moad's side gig, he works on the projects in his spare time, and commissions often stack up before Valentine's Day and other busy holidays.
The creations are a true labor of love, he said. He has always been a pet lover but realized that adding his portraits and other original works to his home has improved the overall household atmosphere.
"I've noticed how much my family has enjoyed putting original art in our house," he said. "I think that people really begin to respect their space. There's a real magic that comes from original art as opposed to store-bought prints and things like that. I think this is a great way to put something meaningful in your world."
Visit markpaintspets.com or facebook.com/markpaintspets.
Print headline:
Ruff
love,
Mark Moad's custom pet portraits have become popular holiday gifts.