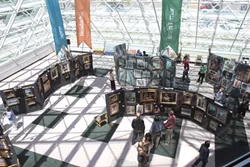 Two factors drive the artistic idea of the biannual Oklahoma Artists Invitational (OAI) event that premiered in 2010.
"We wanted to show what Oklahoma artists can do," said Jan J. Smith, OAI president.
The benefit also allows art collectors of any budget to take home art.
"Once, I attended an art show, and I remember thinking that everything there was so expensive and I felt like I couldn't buy things," she said. "We want everyone to be able to participate."
The mediums include original oil and acrylics, prints, giclées on canvas and notecards.
The OAI benefit showcases work from 29 Oklahoma artists Friday-Sunday in the glass atrium of the NeuroScience Institute at Mercy Hospital, 4120 W. Memorial Road. The event features multiple art styles, as well as sculpture and jewelry available for purchase.
A percentage of the sales will benefit the Mercy Foundation Stroke Education & Treatment Program. Richard V. Smith, medical director of the NeuroScience Institute, will present lectures concerning new stroke treatments every day of the event. The benefit is free to the public.
The show is an invitational, meaning members of the organization reviewed all works for taste and quality.
Called An Afternoon of Art, the show is described as a pleasant afternoon with an atmosphere of soothing, ambient music. The first day of the OAI benefit will host a wine-tasting event complete with a sommelier.
Jan and Richard said the Mercy Hospital glass atrium is modeled after the Louvre Museum in Paris. This allows the art show to be sunlit and surrounded by nature while the show takes place in a controlled-temperature atmosphere.
The OAI benefit has been a hit since the beginning.
"It's a very enjoyable afternoon," Jan said. "I've been told by people that it's the best art in the city. The artists also have a great time."
Each day of the weekend event features a 2 p.m. lecture on the current state of stroke treatment by Richard.
"I talk about new treatments and what a stroke is, how to prevent a stroke and how to identify a stroke," he said.
The American Heart Association reports that 750,000 Americans have a new or recurrent stroke each year, killing more than 137,000. On average, a person dies from a stroke every four minutes.
The art and science combination of the benefit is a success, with many art fans taking interest in the lectures.
Print headline: Healthy art, Art and science come together to celebrate the artistic works of Oklahomans and raise awareness and funds to battle strokes.