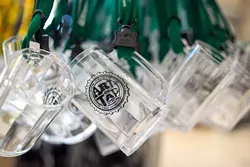 The beer gets you in the door.
The art brings you back.
That's the plan, at least, as the Oklahoma City Museum of Art readies its Oct. 2 ARTonTAP fundraiser.
Museum event coordinator Kimberley Worrell said the party, which features 80 varieties of beer, food from local restaurants and museum admission, is a great opportunity to introduce those who might not otherwise be there to the collection of fine art housed in Oklahoma City.
"People are still impressed with the rooftop terrace," which is where Heineken USA will set up a beer garden, she said.
Other beers and food from local restaurants are located throughout the museum, giving visitors more reasons to explore the venue.
When people get a glimpse of the treasure sitting in the middle of the city, many want to become members, she said.
Featured sudsmakers such as Roughtail Brewing Co., COOP Ale Works, Anthem Brewing Company and more will be on hand, as will eats from Brown Egg Bakery, Fassler Hall, Dust Bowl, Fuzzy's Taco Shop and others.
In addition to food and drink, the 12th annual event also features DJ Brian Smith and live music from Hook.
Worrell said the event is its largest annual fundraiser and the only one that takes place at the museum.
Becky Weintz, museum marketing and communications manager, said it's an especially fun evening for staff, many of whom purchase tickets and attend as guests.
"It's the one time we get to have an event at the museum, so it's really fun for us to get to show it off to others," she said.
Because ARTonTAP sells out of its 800 tickets almost every year, organizers said they must be purchased by Oct. 1. Tickets will not be sold at the door. Guests must be age 21 or older to enter.
Learn more and purchase tickets at okcmoa.com.
Print headline: Scar?ng artists, ARTonTAP adds drinking and dining to OKCMOA's draw.