Of the million and a half or so people in the Oklahoma City metro, a scant 800 will be lucky enough to buy tickets to ARTonTAP, Oklahoma City Museum of Art's annual event dedicated to beer.
The Sept. 23 event features beer on the rooftop, beer in the lobby, local beer, foreign beer, dark beer and light beer.
"We had exactly 800 tickets available, and after a week of sales, we have about 300 left," said Kimberley Worrell, Oklahoma City Museum of Art (OKCMOA) associate development director.
"The gala features 80 varieties of beer, including local beers like Anthem [Brewing Company], Rough Tail [Brewing Co.] and COOP [Ale Works], as well as beers from unique places like Israel and Spain," she said.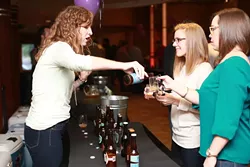 The 2016 edition of ARTonTAP at OKCMOA, 415 Couch Drive, marks the event's 13th year.
"This is one of the oldest beer-tasting events in the city, so we've had a lot of time to think through logistics and make the event the best it can be," Worrell said. "The selection of beers, the atmosphere, the food and the music are all what keep people coming back year after year. This event always sells out."
Local restaurants, including James E. McNellie's Public House, Brown Egg Bakery, Old Germany Restaurant, Texadelphia and the Museum Café will provide guests with a variety of nosh ranging from snacks to sweets.
ARTonTAP has become a significant fundraiser for the museum, with proceeds supporting its exhibitions budget, making things like the current Matisse in his Time: Masterworks of Modernism from the Centre Pompidou, Paris exhibit, which closes a few days before ARTonTAP, possible.
"In 2015, we raised $58,000," said Becky Weintz, OKCMOA director of marketing and communications. "Since the event was started 13 years ago, we've grown the number of tickets sold, sponsors and beers to taste. We also added the Roof Terrace as additional space for tasting and dancing."
The ARTonTAP event includes more than beer and food.
The rooftop becomes the Heineken USA Roof Terrace Beer Garden, where local pop-rock cover act Hook will perform. In the museum lobby, DJ Brian Smith from Chameleon Entertainment also will entertain.
ARTonTAP is unique for OKCMOA because it's the only museum event not planned and executed by a volunteer committee.
"This is the one event that is staff-run," Worrell said. "And staff loves this event."
The full roster of beer vendors for this year's event includes Anthem Brewing Company, Belle Isle Brewing Company, Bricktown Brewery, Capital Distributing, COOP Ale Works, Marshall Brewing Company, Oklahoma Beer Imports, Paragon Brands, Premium Brands Wine & Spirits, Quality Beverage Company, Rahr & Sons Brewing Company and Roughtail Brewing Company.
OKCMOA also offers options for guests thirsty for something other than beer.
"If guests would like mixed drinks or wine, we will offer those at a cash bar inside the Museum Café," Weintz said.
Tickets are $45 for museum members and $50 for nonmembers and must be purchased in advance.
Each guest receives a sample mug, which holds about 4 ounces. With that mug comes the power to taste test as many of the sudsy offerings as the bearer wishes.
Guests must be at least 21 years of age. Learn more at okcmoa.com.
Print headline: Sudsy creation, OKCMOA's ARTonTAP returns for its 13th year.