At age 17, Sarah Covington is a seasoned artist with a juried exhibit and healthy sales under her belt, thanks to Arts Council of Oklahoma City's Youth Art Sale. Last year, the Casady School senior was featured in the event, which is part of the Festival of the Arts.
She loved the experience. She described her work as mostly abstract, black-and-white photography with a few pieces of color portraiture mixed in.
"It was so much fun to get to have my own space and to exhibit and sell my work," she said. "If you're thinking about trying to do it, I'd say do it because it's such a different experience. It's good to get out there."
Most of us know that the Festival of the Arts has brought visual, performing and culinary arts to our ever-changing city for 49 years. For the past six years, it has also cultivated young artists by hosting the Youth Art Sale, a miniature, professional-style show that gives young artists the opportunity to experience the process of selling art at a festival.
"The Youth Art Sale is juried," said Christina Foss, Arts Council of Oklahoma City communications director. "Every year, a professional visual artist is hired as a juror. She or he reads the artists' statements and studies the sample work that is submitted."
This year, that juror is Rebecca Lowber-Collins from Oklahoma City.
Students ages 8-18 who live in Oklahoma, Cleveland, Lincoln, Pottawatomie, Canadian, Kingfisher, Logan, McClain and Seminole counties can apply. Find the application form online at artscouncilokc.com.
There is a $10 application fee, but the council's website said that if young artists find it prohibitive, the council might be able to help. Application deadline is 5 p.m. March 31. No late submissions will be accepted.
"Artists can keep all of their proceeds," Foss said. "However, we encourage young artists to consider donating a portion of their proceeds to Arts Council Oklahoma City's All Access Arts program."
Who knows? Today's Youth Art Show exhibitor might be tomorrow's Andy Warhol, or at least gain a deeper appreciation for the arts as a young adult.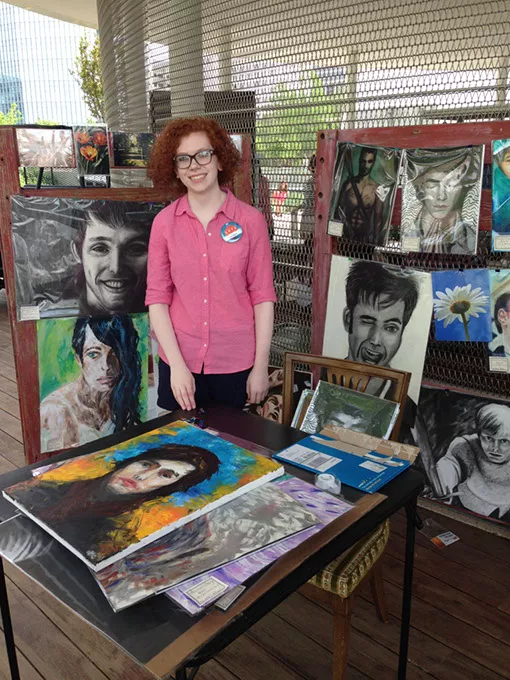 "Many have gone on to college to study art in preparation for a career in the fine arts," Foss said.
Covington has some tips for young artists hoping to get into the show.
"Start matting your work now. Don't wait until the last minute," she advised.
The Youth Art Sale is during the festival in Bicentennial Park, 500 Couch Drive. The sale runs 11 a.m.-5 p.m. April 23 in the Special Events Pavilion in the northwest corner of the park.
Festival of the Arts runs April 19-24. Hours are 11 a.m.-9 p.m. Tuesday-Saturday and 11 a.m.-6 p.m. Sunday. Admission is free. The festival is run by 5,000 volunteers, and volunteer co-chairs Suzi Clowers and Kermit Frank helm it this year.
Print Headline: Blooming talent, Applications are now being accepted for Festival of the Arts Youth Art Sale.