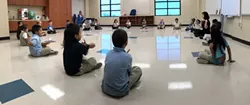 Photo provided
Pierce Elementary School students interact with an instructor from Oklahoma City Ballet.
When the dust settled after reducing $30 million from the operating budget of Oklahoma City Public Schools, there were 44 fewer fine arts teachers in the state's largest school district. More than 45,000 students returned from the 2016 summer break to learn that 100 arts education programs would no longer be offered. More specifically, 39 of OKCPS' 54 elementary schools lost arts programs.
It was a heartbreaking blow for the district, its students and families and the greater community. The district had taken great pride in providing visual art and music in all elementary schools and courses and opportunities in drama, band, choir, orchestra, visual arts and more at the middle and high school levels. Over the years, arts and culture groups had established strong partnerships with the schools, resulting in everything from visiting arts teachers and providing after-school activities to funding field trips and supplies.
The future of arts education for Oklahoma City students looked grim even with arts partners providing some resources to some schools. Even before the district dealt a blow to arts education, Arts Council Oklahoma City, through its All Access Arts initiative, was meeting to discuss the future of arts education in schools.
"We couldn't do it alone," said Jillian Coker, who serves as director of All Access Arts, an initiative of the council that "provides music, dance and visual arts education to under-served schools, libraries, OKC parts and communities agencies."
The program responds to the current arts climate, shifting when needed to meet the needs of the greater community.
"It couldn't just be arts in schools with All Access Arts," Coker said. "We needed more community members, and we wanted to involve more community members."
The community was responding to the arts cuts, explained Rhonda Taylor, OKCPS director of visual and performing arts.
"We were in crisis mode," Taylor said. "It was very public. Partners were coming out of the woodwork, saying, 'How can we help?' If you don't have a plan, you really don't know how people can help."
Identifying gaps
Arts Council Oklahoma City and a number of local arts organizations wanted to help the district fill gaps in arts education left by state budget cuts. Everyone agreed to serve schools left without an arts program. Identifying such schools was not easy, said Julia Kirt, a member of the All Access Arts committee.
"What we knew was there were a lot of great nonprofit arts groups doing great things in our schools, but we didn't have a catalog of what was being done," Kirt said. "The start was coming together."
The arts council began meeting with not only the school district but any and all arts organizations with connections to the schools or a desire to connect with schools. Not only were arts organizations and artists forthcoming, but they offered to do more during the arts education crisis, Coker said.
The end result was an established comprehensive list of organizations and artists serving OKCPS, but also which schools had arts educators, both full-time and part-time, and arts curriculum offered to students.
The survey found that 29 visual artists and 37 music teachers provide instruction in 54 elementary schools. Community arts organizations provide some type of arts education in 28 of the 54 elementary schools. Four elementary schools — Green Pastures, Spencer, Pierce and Johnson — had no full-time arts educator or arts partnership. A handful of schools only had a part-time arts educator and no arts partnership.
"What we found with this matrix were the gaps we knew existed," Coker said.
The arts council plan was met with praise from district leaders, who viewed the plan as a temporary solution to provide high-quality and equitable arts education for all OKCPS students.
"Our at-risk kids are the ones that need arts the most, and that's what is great about this plan," Taylor said. "It plugged art into the schools that needed it most."
A Pierce Elementary School student stretches as part of a class taught by Oklahoma City Ballet.(Photo provided)
Back in school
Earlier this fall, a rambunctious group of second-graders stormed into a south Oklahoma City classroom free of desks and chairs. After an instructor from Oklahoma City Ballet addressed the students, directing their attention to a round of stretches, students responded by being attentive, engaged and focused.
"They were completely engaged in the activity," Coker said, describing her visit to Pierce Elementary School, where Oklahoma City Ballet is offering a full-time program for the school's more than 270 students. "Through these art lessons, students are able to focus on the art and be in the moment of what they are doing to absorb and learn."
This fall, Oklahoma City Ballet, Prairie Dance Theatre, Academia, Rodeo Opry, University of Central Oklahoma's Oklahoma Center for Arts Education, Oklahoma City Museum of Art and the arts council emerged in eight schools — Green Pastures, Spencer, Pierce, Johnson, Thelma Parks, Telstar, Edgemere and Gatewood — to provide arts education through a $50,000 grant from Kirkpatrick Family Fund.
The arts council is raising funds to bring similar arts partnership to four more OKCPS elementary schools in the next academic year.
While arts council and district leaders prefer for students to be taught by certified teachers, the leaders recognize that collaboration with community partners plays a vital role for students.
Like the district, arts council leaders see the program as temporary until state funding is restored. When art teachers and programs return, arts partners plan to scale back their contributions but continue to contribute.
"What Fields & Futures did around athletics, this is our chance around the arts," said Kirt, sharing a common theme around the community embracing and supporting the schools through either athletics or arts. "We are pointing out the value of the arts in education. We are working with the district to maximize what they have. We are working with community groups to bring forth any resources they have available to help our schools."
Print headline: Art comeback, Local arts groups, in collaboration with Arts Council Oklahoma City and Oklahoma City Public Schools, solved an arts education crisis for students.