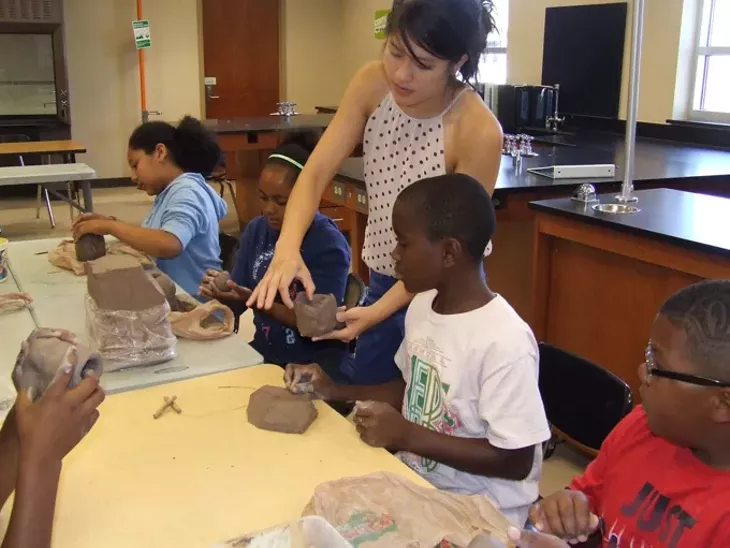 A couple of weeks ago during the Tony Awards, Kelli O'Hara won Best Lead Actress in a Musical for her role as Anna Leonowens in The King and I. O'Hara was born in Elk City, and she was up against another Oklahoma native, Kristin Chenoweth, for the award.
This is a testament to the fact that Oklahoma has something to offer the arts community, and Arts Council Oklahoma City (ACO) is seeking to enhance that impact by starting art programs in elementary schools.
One of the current curriculums used nationally in public schools is STEM, which stands for science, technology, engineering and math. STEM seeks to improve student competitiveness in science and technology, but ACO is working to show that art is a key component to furthering STEM's initiative by implementing art into the program, creating a STEAM curriculum in Oklahoma schools.
ACO Director Christina Foss said the council has been working in two elementary schools — Eugene Field Elementary and F. D. Moon Elementary — over the last year to encourage STEAM.
The initiative is part of the council's All Access Arts program, which provides arts education to underserved schools and other agencies. Foss said when looking at professions that come from STEM, critical thinking and problem solving are vital assets.
"How can we make sure these students are able to think creatively and have these real-world problem solving skills," Foss said. "The answer is the arts. The arts keep students engaged, focused and motivated. It helps them develop creatively."
Foss and the arts council believe creativity can be taught and this supports the integration of arts into STEM. While students are learning about science, they can draw pictures of the inside of cells or the sprouting of roots in the ground to help foster a better understanding.
"The main objective of both subjects is discovery," Foss said. "Artists and scientists both work creatively towards a project by using these creative thinking skills. We find it extremely important that arts be integrated into this platform."
ACO heard about the STEAM initiative from the Rhode Island School of Design. According to Foss, ACO's pursuit of STEAM comes from the natural evolution of education. The focus on STEM produces engineers and mathematicians that are good for society, but Foss said there's something missing.
"The workforce is looking for creative minds in these fields," she said. "To really prepare students to enter the workforce in this age now and to help the economy, they're going to need a creative mind."
The two schools ACO is involved in have professional art teachers teaching students how to paint, sculpt, make collages, sing, play instruments, dance and a variety of other arts. The STEAM initiative is integrated into the school day, which allows all students the chance to participate instead of being an optional after school program.
"It's always interactive," Foss said, "and I think that's the main thing. It's not just kids coloring on a piece of paper. Kids are actually learning about art."
---
Print headline: Teaching creativity, Arts Council Oklahoma City is encouraging art in schools to help teach science and math.