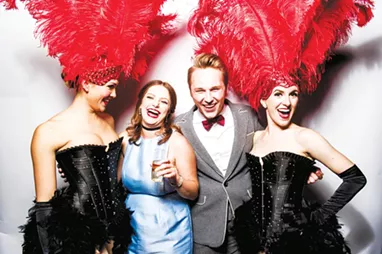 provided
Attendees at the Opus gala pose with Oklahoma Showgirls. The 10th edition of the biennial ball is Oct. 12 at IAO Gallery.
If life is a cabaret, old chum, there might be less to love without the arts.
"Without the arts," said April Gonzalez, marketing and public relations manager at Allied Arts, "the community culture would be very dry and stale. A lot of times, I think people think the arts come along on their own, but they struggle. Starving artists are everywhere."
Allied Arts, founded in 1971, holds its biennial black-tie gala fundraiser Opus on Oct. 12 at The Criterion, 500 E. Sheridan Ave. The cabaret-themed ball, with its local entertainers, live auctions and other activities, takes significant time to plan.
"It's the largest event that Allied Arts puts on," Gonzalez said. "It raises the most money. … Having it every other year gives us the opportunity to gather items for auction, to get the talent ready, and it [has] a little bit higher ticket price than the other opportunities throughout the year, so I think it's more special that it happens every other year."
This year's Opus will also feature an appearance by film and Broadway star Kristin Chenoweth, who Gonzalez said shares common priorities with Allied Arts.
"She's very pro-arts and trying to elevate the education of the arts, so we're very, very excited about it," Gonzalez said.
The organization, which reports giving more than $66 million to nonprofit arts organizations since its founding, raises funds for operations, education and special programs promoting creativity in Oklahoma City.
"It's kind of like Allied Arts is a United Way for the arts," Gonzalez explained, "and I don't know that people get that. Sometimes I think they think we're just an arts organization, but Allied Arts itself provides grants to all these organizations."
The alliance provides aid to more than 40 arts organizations in the Oklahoma City area, including Red Earth, Science Museum Oklahoma, Carpenter Square Theatre, Oklahoma City Ballet and dozens more. According to the Allied Arts website, the funding "helps these organizations keep ticket prices low or offer free events so that more members of the community can experience the arts." Gonzalez said these organizations perform vital services in their communities, and Arts Alliance's main goal is to help them keep going.
"They help education opportunities with underserved youth," Gonzalez said. "They connect seniors and veterans to health arts programs. … They bring in top-notch performances and exhibits … and they are a generous supporter that increases the quality of life for our community because when they have a flood or something and one of their buildings is in dire straits due to some dramatic occurrence, Allied Arts steps in and picks them up and keeps them going. They take care of those kinds of things. … It really is a thriving institution to help all the smaller entities stay up and keep going."
Allied Arts' major fundraiser collects funds to support a variety of causes, but all the organizations that receive funding have a key similarity.
"Whether they offer some kind of healing opportunity because they help somebody that may have Parkinson's or they may be ADD-oriented, or it could be educational arts," Gonzalez said. "It could be performing arts. Literally their common denominator is they bring some type of art to the community in various forms."
Star power
Opus, now in its 10th year, offers auctions, a wine pull, a choice of a buffet feast or a sit-down dinner and live music and dance performances from local artists, many members of organizations that benefit from Allied Arts funding.
"These entities embrace the kids and the adults that come through," Gonzalez said. "So one thing that I think is moving is when you see the performances of a lot of these people, again, they're not privileged. They may be underprivileged, and it's just exciting to see them be so happy to be a part of something and making a difference."
Sheridan McMichael Opus performers include actor Sheridan McMichael, singer Olivia Kay and performers from Oklahoma Showgirls, OKC Improv, Oklahoma City University, Kismet Arts Studio, Sooner Theatre and dancers from one of Gonzalez' favorite acts to watch, Life Change Ballroom.
"These kids come to Life Change Ballroom," Gonzalez said, "and it helps change their life. It teaches them to focus. It helps them understand about the arts because one thing about the arts is you may not be a performer or entertainer, but if you learn creative thinking in some form or fashion, it helps teach you to look outside the box. You could be an accountant, and you just learn better."
While many of the groups Allied Arts helps fund have limited scope, Gonzalez said they make an appreciable difference in their communities, especially for the youth.
"A lot of the organizations are small, and their funding is small," Gonzalez said. "But their hearts take care of the kids. It's just amazing what they do."
Other organizations receiving money from Arts Alliance are larger and more established, but they still need occasional help to remain operational.
"Oklahoma Contemporary [Arts Center] is wonderful, pretty stable, does great things on their own," Gonzalez said, "but they're also a member because they've had challenges where they didn't have the financial backing and Allied Arts has stepped in multiple times."
Allied Arts recently added 13 new board members for a total of 109. Gonzalez said these members help find new funding and new partners, but the alliance also makes efforts to acquaint them with its ongoing projects.
"We take them on a bus tour where they can actually go to some of the agencies and show what happens in the arts and how some of the kids excel," Gonzalez said. "It's pretty exciting. In a lot of ways, it's just very moving."
This year, the organization reports having raised more than $3.5 million. The Opus event typically raises more than $1 million on its own, but Gonzalez said the organization wants to reach new heights in 2018.
"We're really trying hard to see if we can break a record to make as much as we can for the arts," Gonzalez said. "We're hoping. We'll see what happens."
Tickets are $250. Visit alliedartsokc.com.