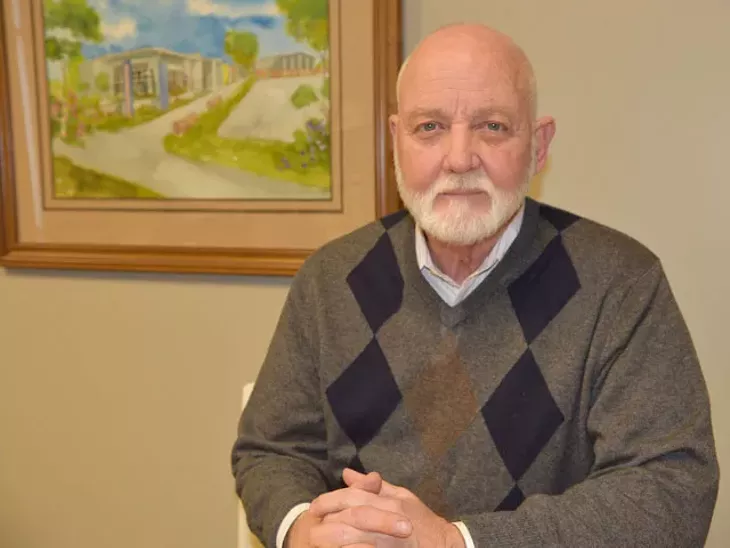 Photo Jacob Threadgill
Dan Straughan is executive director of Homeless Alliance, a day shelter in OKC that offers programs to combat homelessness.
Pee Wee stood in front of Homeless Alliance in the biting cold, waiting for the doors to open for the day. They unlock promptly at 9 a.m. His belongings were gathered together in three clear trash bags, the name "Pee Wee" written across them in permanent marker, which were piled in the corner where the glass doors and the building met.
For the past several nights, Pee Wee had been sleeping in a garage with little more than a few blankets to keep him warm. Temperatures at night had been dropping into the teens for several days, and the wind hit your cheeks like a snowball. Pee Wee's tone was matter-of-fact when he talked about it, his brown eyes steady as they focused on the empty parking lot in front of him, and when he spoke, it was with the calm cadence of a man who had become familiar with a routine most Americans couldn't imagine.
"But," he went on, "this cold hurts a man."
As the temperatures in Oklahoma once again drop well below freezing, thoughts inevitably steer toward those living on the streets. But as the temperature falls, the number of Oklahomans, largely families, who are forced to live without shelter continues to rise. A congressional report on homelessness released last month found that the state's homeless population — much of it families with children — grew slightly more than 2 percent over the last year.
"I'm not very optimistic about the future of being able to provide affordable housing to citizens of Oklahoma City," said Mark Gillett, executive director of Oklahoma City Housing Authority.
Oklahoma ranked third in the study behind New York and California in the increase of homeless families over the past year. Nearly half (1,375) of the state's estimated 2,824 homeless individuals are in a family with children.
As a result, homelessness in the state's largest cities, Oklahoma City and Tulsa, isn't as visible as the tent cities often seen on the sidewalks and underpasses of large coastal cities like Los Angeles. That's in part due to the progress local organizations and nonprofits have made in the last decade creating a system of programs to take homeless families in. But as the study shows, the number of Oklahoma children without a home continues to rise.
A year into his presidency, Donald Trump has yet to fill several cabinet positions in the U.S. Department of Housing and Urban Development. As federal funding for housing programs continues to shrink and gentrification and inflation increase housing costs, advocates and experts worry the number of Oklahoma families on the streets will only continue to rise, exacerbated by a state budget in freefall.
Finding housing
Oklahoma City's housing authority didn't always provide assistance to the homeless. It wasn't until about ten years ago, when leadership at the agency decided that through the use of section 8 vouchers, federally funded rental assistance for low-income individuals and public housing, that they could slowly help get a few people — and a few families — off the streets every month. Once in a home, those individuals could then focus on rebuilding other aspects of their lives.
"That was a huge cultural shift for us," Gillett said.
After attending a conference in Kansas on creating affordable housing for the homeless, he and his colleagues decided to house seven homeless individuals or families every month.
Gillett said there was a momentum under previous HUD secretaries, who staffed their department with people who understood affordable housing. But a year into the new administration, he said current housing secretary Ben Carson has done little in the way of providing direction on new or existing policies.
"While you knew some of those things were going to change, you didn't expect them to sit in limbo for a year because the housing authority didn't know what to do," Gillett said. "Both Trump and Carson came out on the campaign trail and said, 'We're not going to have affordable fair housing rules.' But they've not made any statements about that since they came into office. And so, you don't know what to do. There's so little direction."
Gillett plans to keep utilizing the tightly knit community of nonprofits, faith-based organizations and government offices to continue getting families off Oklahoma City's streets.
"It feels like to me, as a community, we kind of know the answer," said Dan Straughan, executive director of Homeless Alliance, which provides a variety of services and runs a day shelter in Oklahoma City. "It's close collaboration with robust IT infrastructure so we can share data and outcomes, and housing, housing, housing. It's all about housing. Once you get them into housing, you can reduce their substance abuse, increase their mental health, reduce their reliance on emergency medical services. But housing is expensive, right?"
Much like major cities across the country, housing costs in OKC have steadily increased year by year. Unfortunately, for many families, that leaves fewer and fewer opportunities for affordable housing. Straughan said this year alone, his organization spent $135,000 at Motel 6 keeping families housed until a shelter or housing opportunity came along. In recent years, several organizations that assist the homeless have also moved away from a housing-first model and more toward rehab and treatment programs, Straughan said. While those programs can make great strides for homeless veterans and the chronically homeless, it can mean less resources to house families.
Relying on partnerships
Between 2016 and 2017, the number of homeless families in the U.S. declined, and the number of children experiencing unsheltered homelessness with their parents decreased by 15 percent, according to the congressional study compiled by HUD. But in Oklahoma, the rate of homelessness among families with children increased by almost 24 percent (265 people) over that same time period.
Noting that Trump's original budget proposal earlier this year called for a 60 percent decrease to HUD funding, Straughan said Oklahoma City should probably expect to rely even more on the well organized partnerships between government and nonprofits to assist the homeless in the coming years. While there as a slight statewide increase in the last year, homelessness in Oklahoma is still down almost 20 percent since 2010. Oklahomans take a certain pride in our resiliency, Straughan said, which he attributes to the legacy of responding to so many natural disasters and tragedies.
"We've begun to recognize that things like homelessness and poverty mental illness, substance abuse, they're also disasters," he said. "They're just disasters that happen in slow motion over a long period of time. So, if coming together to address the homelessness that's caused by a tornado works, why not come together to address homelessness, period? That's why things like this work here and they don't often in other communities."
Print headline: Reducing homelessness; As homelessness in OKC increases, local organizations struggle to find suitable housing.