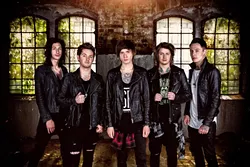 Ann Buster / Sumerian Records / Provided
Asking Alexandria
At one time, even the word "Oklahoma" sounded foreign to Ben Bruce, lead guitarist and founding member of English metalcore band Asking Alexandria.
The group returns to Oklahoma City in support of Bullet for My Valentine 7:30 p.m. Feb. 13 at Diamond Ballroom, 8001 S. Eastern Ave. On the band's first stop through the state, the musicians were unsure what to expect.
Bruce, in a phone interview with Oklahoma Gazette, said what they found was an "insane" and massive crowd. The presence of a few choice strip clubs in the state didn't hurt either.
"When we went and headlined that first time, I was like, 'Holy shit; this is fucking mental,'" he said. "We've been back multiple times since, and more often than not, now, if we have a day off before or after the show, we'll actually stay in Oklahoma for the extra day so we can just chill out and drink and stuff because it's just quite a laid-back vibe."
This time when the band rolls into town, it will be without Danny Worsnop, its former lead singer. Worsnop and Asking Alexandria parted ways in January 2015 when the singer went on to perform full-time with his other, more hard-rock band We Are Harlot. The separation was mutual but not overly cordial.
Losing a lead singer is never something a band shrugs off, even though Bruce himself has contributed vocals as Asking Alexandria's frontman before Worsnop joined.
"This is a big moment for us, and it is a significant change, but it's definitely a much-needed change," Bruce said.
The band added a new frontman, Denis Stoff, formerly of Ukrainian band Make Me Famous.
Bruce said it was an easy process to bring in Stoff. His added presence has been a shot in the arm for a group used to dealing with a member Bruce said was not interested in making music with them.
"Denis has come along and he's given us all this big boot in the ass, and it's nice to look to your left and right onstage and see your singer with a massive grin on his face, jumping around, all the energy in the world," he said. "Now we're all having a blast."
For every fan who voices skepticism about the act's new singer, Bruce said 20 others say it was a much-needed adjustment.
The Black, due out March 25, is the first new Asking Alexandria project since 2013 and the first with Stoff.
"It's almost like we've been reborn," Bruce said.
In the band's first few records, he said, there was a large amount of energy and passion present in recordings. Bruce is the first to admit its last record, From Death to Destiny, lacked that kind of life.
Some critics called the project a more "grown-up" effort. The group began anew with Stoff and the songwriting process immediately went into high gear. Within a few weeks, Bruce said they developed the backbone of what would ultimately become The Black.
The emotions are real, Bruce said, and the music is relatable.
"From the second this album begins almost to the last note on the record," Bruce said, "there's a huge amount of energy that comes through the speakers that takes the listener on a journey."
Print headline: Alexandria's answer, With a new lineup, Asking Alexandria returns to a state that showed them love in the past.