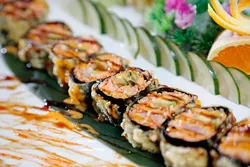 Garett Fisbeck
Little Godzilla Roll at Inaki Sushi & Bar in Oklahoma City, Wednesday, May 13, 2015.
What does sushi taste like?
As an avowed lover of sushi, it's a bit embarrassing to admit, but I don't know how much I'm tasting the fish in sushi. What ingredients truly stand out when rolled with avocado, jalapeño, Japanese mayo, sesame seeds and hot sauce?
It would be nice to have the kind of palate that can discern different types of tuna, or amber jack or most other kinds of fish from one another. But as far as I've learned, much of the aim of raw fish is to create a taste that is light and fresh, not necessarily distinctive.
So when one is eating at Inaka Sushi & Bar, 9321 N. Pennsylvania Ave., which serves the kind of sushi most prevalent in Oklahoma City, what is it you're looking to taste?
Authentic, shmauthentic. Oklahomans like their sushi rolled up with a lot of stuff. This is where a sushi chef has a chance to shine.
An example is the Fantastic Roll ($13), which takes its own hype seriously. Inside is tempura-fried lobster with avocado, crab and mango. Outside is a mix of wasabi mayo and eel sauce. It's sweet. It's crunchy. It's a little fruity. It bears no resemblance to "authentic" sushi.
And it is wonderful.
I was less taken with the Samurai Roll ($11), which sounded like exactly what I wanted but delivered something else.
Blackened tuna and avocado on the inside? Sign me up.
Spicy tuna and wasabi sauce on top? You've got a deal!
But what arrived was a letdown. Most of the roll was as advertised, but the spicy tuna on top had the texture of a puree or a paste. I'm accustomed to spicy tuna being diced or even roughly chopped, but this was a deal- breaker for me. The fix: Ask your waiter to serve the paste on the side and you'll have a very tasty roll. Oklahomans love their sushi stuffed with added ingredients, but they also love frying things in hot oil, which is where you find the Mini Godzilla Roll ($12). Eschewing the rice, this creature is filled with raw fish and snow crab, wrapped up then dropped in the fryer.
Once it's crispy, chefs liberally apply eel sauce and spicy mayo.
Overall, this one was enticing, though it did have a mildly fishy flavor. (Not from the fish but from the cooking oil.) Still, the interplay of textures between the fish, crunch, sweet and heat of the sauces made for a roll that was scarfed down faster than Godzilla eating a building full of scientists.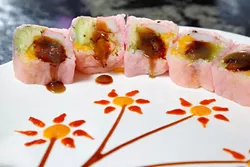 Garett Fisbeck
Fantastic Roll at Inaki Sushi & Bar in Oklahoma City, Wednesday, May 13, 2015.
If you're not looking for something new to try at a sushi restaurant, you're doing it wrong. Bacon. Lemon. Cheese. Not all attempts at creativity are successes (looking at you, cheese), but it's definitely more interesting than a California Roll.
One place I find many new delicacies is on the appetizer menu.
At Inaka, I was instantly drawn to the beef negimaki ($8). Imagine sushi where the seaweed is beef and the fish is cream cheese and the rice is scallions and the teriyaki sauce is still teriyaki sauce. That's what this is.
It's a tasty, messy little bite, and it punches you straight in the id for that "oooooooh" feeling you get when you try something new that you love.
One major plus you'll discover at Inaka is how food is presented. These guys don't mess around, especially at dinner, when your order arrives at your table looking like edible art.
In the end, it doesn't matter if you can pick out every type of fish in every bite of sushi. Inaka proves that it's more important for sushi to be flavorsome than it is to be arbitrarily "authentic."
Print headline: Edible art, At Inaka Sushi & Bar, chefs create unique and alluring combinations that are as eye-pleasing as they are satisfying.