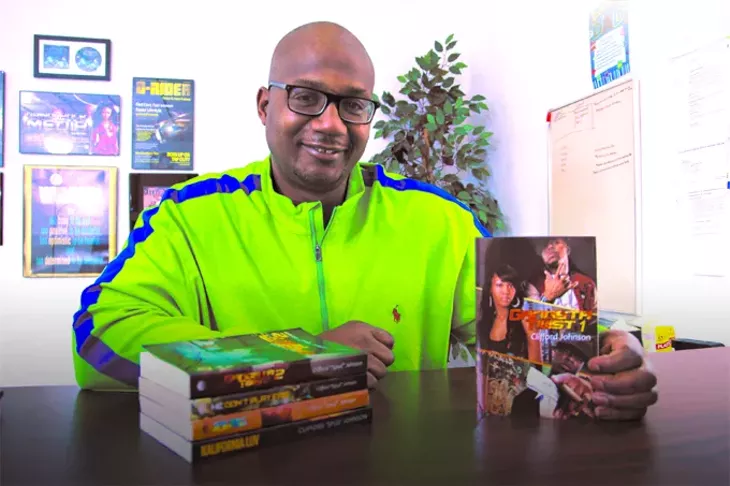 Oklahoma author Clifford "Spud" Johnson writes books about street life that many types of readers can relate to and understand. He does this by backing up the slang he uses with context to create smooth transitions.
"I just like to give different aspects of the street life to a degree to let them [know] it's not all what people think. I want to let them delve into the mind-set of why people do certain things, not to blame or not [to give] a justification," Johnson said.
One of his goals in writing crime fiction is to teach his readers that street life isn't glamorous, romantic or exceptionally profitable.
"In my writing, I want to send a message first and foremost that … it's not always glitz and glamour and the acclaim that comes with that type of lifestyle. I'm using the street lore to get [people] to read," he said, "but once they read, they can see the subliminal messages within."
Johnson's new book, Gangsta Twist 3, will drop on Tuesday. It will answer questions from the second book and set up new villains for the characters to take down.
In the third Gangsta Twist book, the crime fiction author included beloved Oklahoma City landmarks and establishments like KD's Southern Cuisine, Toby Keith's I Love This Bar & Grill and restaurants on Classen Curve.
Johnson is thankful to his publisher, Carl Weber, for giving a no-name author a chance. Weber is the founder of Urban Books, which is one of the largest African-American-owned publishing companies in the country and is under the Kensington Publishing Corp. brand.
Johnson and Weber have talked briefly about turning the Gangsta Twist series into a movie, and fans will soon have more details about that, he said. Until then, readers can look forward to the release of the groundbreaking King Pin series.
About 10 authors on the Urban Books imprint will be involved in writing the series. Each author will write one book set in a different city. Johnson's book King Pins of Oklahoma City will come toward the middle of the series.
Johnson is planning the dates and times for a summer book tour and is hoping to start the tour on Tuesday in Oklahoma City and visit Tulsa, Lawton, Dallas and Kansas, but his main focus is to stay local and start with a good hometown push.
Johnson works for Carlisle FoodService Products Inc. in Oklahoma City and writes in his spare time. Gangsta Twist 3 is his seventh book. He wrote his first book in 2001. Originally from Inglewood, California, Johnson has lived in Oklahoma since 1992.
Gangsta Twist 3 is available for pre-order on Amazon for $11.26 in paperback and will be on the shelves in Barnes & Noble, Target and Wal-Mart on Tuesday. His titles are available for digital download on Amazon and iTunes.
Clifford also has a book signing from 4-6 p.m. May 29 at the OKC Belle Isle Wal-Mart Supercenter.
Read more of Johnson's work at his website luckiread.com.
---
Print headline: Kingpin craft, Oklahoma City author Clifford "Spud" Johnson releases his seventh book, Gangsta Twist 3.