Twin warehouse buildings at 19 NE Sixth St. and 23 NE Sixth St. will be converted to restaurant and other lease space by an LLC headed by local developer Basil Rayan.

The design calls for a large restaurant for the west building, with an indoor/outdoor space in an added second level that will offer panoramic views of the skyline.

Rayan isn't ready to reveal the restaurant and bar operator, but a lease has been signed and plans show a large bar area which will open to a new back patio, a front formal dining section with second floor casual dining and a rooftop patio featuring a pergola.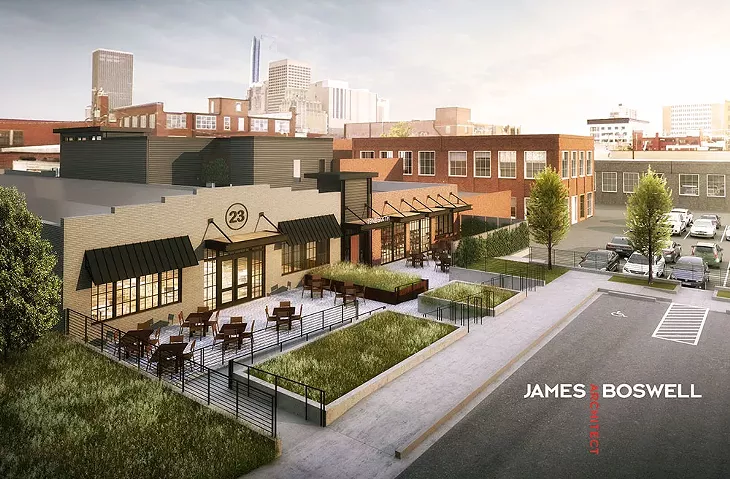 The group owns vacant lots to the north that will serve as parking with ingress and egress from NE Seventh St.
The 7,000-square-foot east building will also see a thorough renovation with tall ceilings and an industrial vibe. Rayan said businesses are being sought that fit comfortably within the overall development of the area and offer something that complements the other tenants.
The entire project is directly east of
Central Exchange
, and construction there is well underway to convert two former telephone company buildings into an elaborate mixed-use project. The two developments are working together to make improvements to NE Sixth and Seventh streets around and between the properties to encourage walkability and create a more pedestrian-friendly area.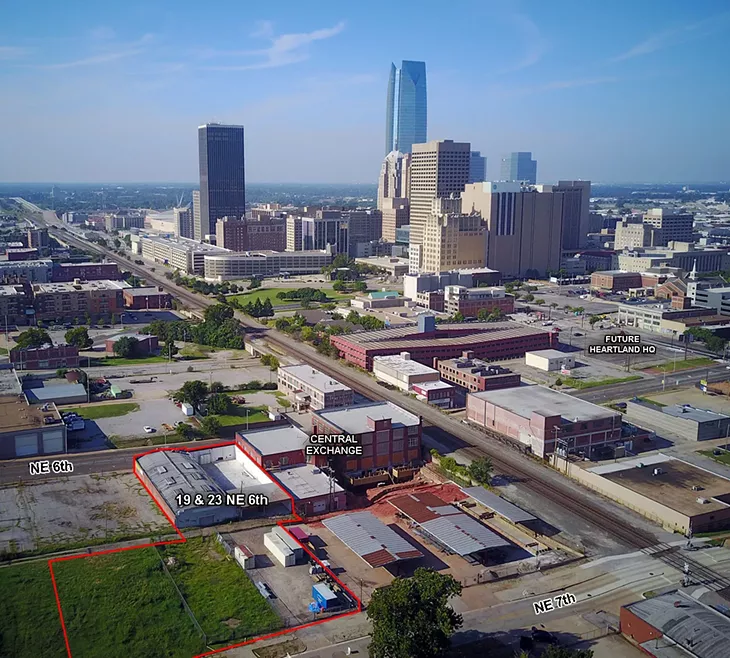 Further to the west, Heartland Payment Systems is planning a
seven-story building
for their new headquarters.
Once neglected, the area between the railroad tracks and Interstate 235 is now full of activity, with Prairie Artisan Ales opening last year on NE Eighth Street as part of another warehouse renovation project. At 330 units, the Metropolitan Apartments at 800 N. Oklahoma Ave. is one of the largest housing complexes in the central core and has seen high occupancy rates since opening in 2016. The Metropolitan recently changed hands for a breathtaking $63.7 million.

Of the overall development, Rayan told OKCTalk, "I feel like its location is a very integral part of Oklahoma City. It is strategically placed off one of the first entrances and exits of the intersection of two major interstates. I want it to stand out and give a strong first impression and/or leave a lasting one wanting people to come back for more."

Rayan also said of the restaurant and bar, "The concept is a modern American restaurant with contemporary renditions of classic dishes that will offer unique dining options. The atmosphere has been inspired by many restaurants from around the world, and will boast an open kitchen, private and communal dining areas, outdoor patio seating, and the focal point, a rooftop patio with an exquisite view of downtown."

Citadel Construction is performing the renovation and improvements and the architect is James Boswell of Tulsa, who has been involved in several distinctive projects including The Jones Assembly on Film Row.