The autumn transition brings a spectacular show of transforming leaves and the perfect excuse for a road trip to some of Oklahoma's most scenic places. As we all well know, finding new (to us) restaurants along the way is always the best part of being on the road. From country cooking to fine dining, here are seven spots from around our great state to add to your list.
Meers Burgers
580-429-8051
26008 State Highway 115, Meers
facebook.com/MeersBurger
The Wichita Mountains are a popular place to watch the seasons change, and Meers is a must-stop spot when you're exploring the area. Dine in a rustic decor that is more than Insta-worthy, and peruse a menu of an array of freshly made favorites, including barbeque brisket, steaks, and the "best burger in Oklahoma." The Meersburger is a massive burger made with grass-fed longhorn beef and served to you on an old, dented-up pie pan. Don't forget to snag an ice-cold brew; Meers has their own beer produced by Choc Beer Co.
Southern Belle Restaurant
918-653-4458
821 US-59, Heavener
facebook.com/southernbelleheavener
The Southern Belle is another fun stop the whole family will enjoy. This lovely little diner is tucked inside a restored 1905 model railcar, and it offers some amazing and savory home cooking. Here you'll find some of the state's best fried chicken fingers, as well as perfectly cooked steaks, burgers, sandwiches, pork chops, and more. Plus a mouthwatering selection of pies and cheesecakes, so you'll want to make sure you save room for dessert. For all of you on that side of the debate, a candy corn cheesecake is among their current seasonal offerings.
Hammett House
918-341-7333
1616 W. Will Rogers Blvd., Claremore
hammetthouse.com
If you love home-cooking, you must stop here. Since 1969, Hammett House has been a landmark of Claremore for a reason. Their extensive menu holds everything from freshly prepared country-fried chicken and rib-eye steak to lamb fries and Atlantic salmon. Don't forget the pie. Their impressive pie menu has all the classic flavors and more served fresh each day. Try the double-crust blueberry or the lemon-pecan pie delight, and you won't be disappointed.
White Dog Hill
580-323-6922
22901 Route 66, Clinton
whitedoghill.com
This is one of those places that's simply worth the drive on its own. Here you'll experience wide-open spaces and some of the most beautiful sunsets Oklahoma has to offer. Accompany those gorgeous views with an impressive cheeseboard and a fine wine from their curated collection, or go all-in with a fine dining experience you won't soon forget. From their KC New York strip to their grilled tiger shrimp skewers, every dish is incredible. Check out their chef's specials which offer unique dishes each week sure to delight your palate.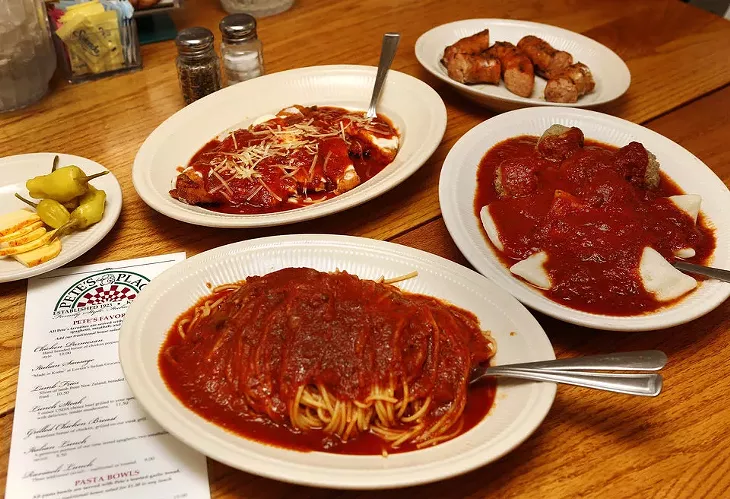 Petes Place
918-423-2042
120 SW 8th St., Krebs
petes.org
In the hills of Krebs, you will find a sweet little Italian restaurant with a rich history spanning more than four generations. Pete's Place, an Oklahoma landmark known for delicious home-cooked Italian and hand-crafted beer, serves family-style meals of all your classic favorites. Chicken alfredo, chicken parmesan, lasagna … The list goes on. Complete your experience by tasting a flight of their hand-crafted Choc beers which they've been brewing since before Prohibition.
The Rock Cafe
580-323-6922
22901 Rt 66., Stroud
rockcafert66.com
If you're heading towards Tulsa, a pitstop in Stroud can make a fun excursion for all ages. Kids will be delighted to find that the Rock Cafe is an inspiration behind Disney Pixar's Cars. Adults will find themselves fascinated by the historic rock walls, foundation, and original grill, all intact since WWII. To refuel yourself, try classic German dishes like Jägerschnitzel and Spätzle or go all American with a chili cheeseburger or their "cowboy candy" onion strings and jalapeño rings lightly breaded and fried served with honey mustard.
Kendalls
405-872-0303
100 S. Main, Noble
kendallsrestaurant.com
If you hope to catch something spooky during your meal, Kendall's might be your spot. The century-old restaurant has long been rumored to be haunted, with multiple stories of ghosts and spirits marking its rich history. If frights aren't your thing, perhaps the food is. There's a homestyle meal for everyone, from perfectly cooked burgers and fresh sandwiches to savory pork cutlets and fried catfish. Best of all, every meal comes with a warm, delicious cinnamon roll for dessert.