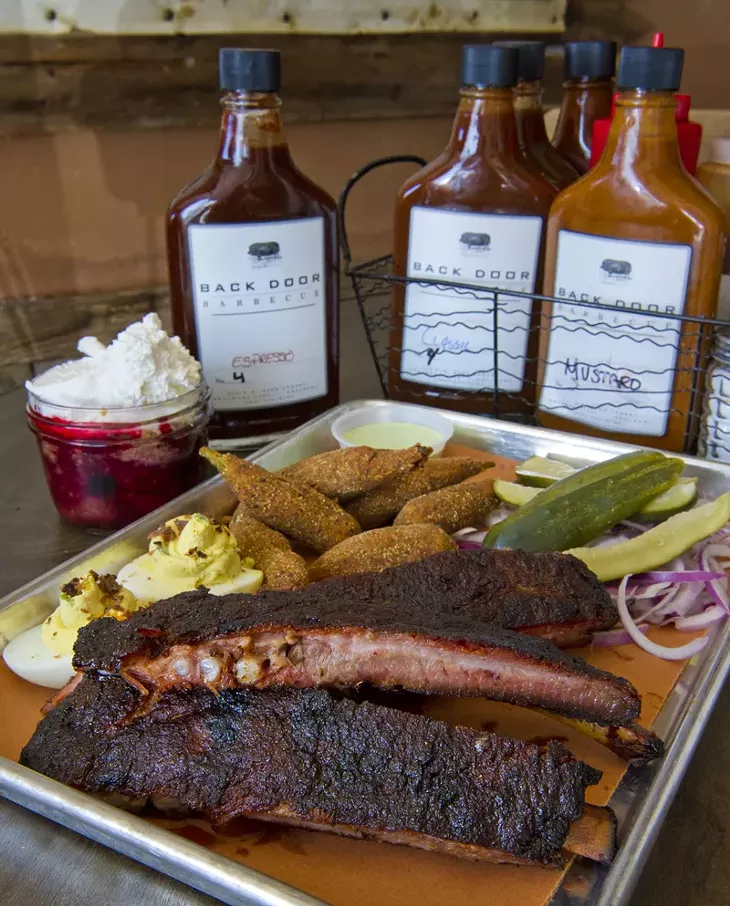 Backdoor BBQ ribs, homemade pickles & onions, fried okra, deviled eggs and mixed fruit cobbler. Housemade BBQ sauces
Back Door Barbecue 315 NW 23rd St. 525-7427 What works: The ribs, the Daily Beast, almost everything What needs work: The texture of the smoked burgers. Tip: Park behind the restaurant and go in through the back door.
Be an insider and skip the front door at this barbecue eatery on NW 23rd Street.
You have to give it to the practical jokers at Back Door Barbecue, 315 NW 23rd St. They've created a prank so esoteric it's almost invisible, yet it gets me every time. First, they created a maddeningly large number of delicious sauces. Then they make barbecue so tender, moist and flavorful that it doesn't need sauce. Just ... c'mon, everybody. This deserves a slow clap. OK. Stop. Stop clapping. You can't read this with your hands moving. Just ... stop. Good. Back Door Barbecue, like the successes Big Truck Tacos and Mutt's Amazing Hot Dogs before it, begs the question, "Is there anything these two can't do?" No offense to owners Chris Lower and Kathryn Mathis, but when I heard they were trying barbecue, I thought it would be their stumbling block. Then I went. I ate. And I realized that, as usual, I have no idea what I'm talking about. God almighty, that is some tasty barbecue. And it doesn't matter that it's in the middle of Oklahoma City or that the decor is kind of faux-rustic or that it's clean (rarely the sign of great barbecue), because the food is wonderful. If you would like to try a bit of everything, the Grandad's Platter (named for Grandad's Bar next door) is $28.50 worth of brisket, pulled pork, ribs, turkey, sausage and bologna. And it's a bargain. The brisket is fall-apart tender with a flavor that doesn't quit. Get it either fatty or lean (get the fat) and enjoy. I like it fine on a plate (one-meat plate $10, two-meat plate $13, three-meat plate $16), but it also makes a very satisfying sandwich ($8). And while I wouldn't call its brisket run of the mill, if you're looking for something more adventurous, check out the Daily Beast. Once a week, they choose something different. Pork cheek. Duck. Venison. If they can get something different and make it delicious, they do. Prices vary, but I've yet to walk away disappointed no matter how much I paid. Still, if I was told I could only have one meat from Back Door, it wouldn't even be a contest. The ribs ($2.25 a piece, half rack for $12, full rack for $24). Get the ribs. Try the ribs. Oh my god, did you taste those ribs? For my money, you won't find a better example in the city. I am absolutely and utterly obsessed with the ribs. Deep, dark, flavorful bark that peels away to reveal tender, but not mushy, smoked meat below. If you must use some sauce, for the sake of trying it, you will want the espresso barbecue sauce. On the ribs, it's amazing. It kicks the turkey and brisket up, too. Sandwiches? The Back Door Club ($8) is the hands-down winner. And while I like the idea of the smoked burgers, none of them capture my heart the way that club does. On the side, I recommend you get everything. But, barring that, the fried pickled okra is wonderful; the homemade pickles and onions are a treat; and the deviled eggs, like all deviled eggs, will disappear so fast you will not be sure they were ever there. If you have room left for dessert, I assume it's because you've done something wrong. Did you accidentally become a vegetarian halfway through your meal? I will pray for you. If, however, that has occurred, you are hereby required to get a jar pie ($3.50, or $4.50 if you get it to go). There's much more to the Back Door menu, and I encourage you to do some exploring. Or be like me and just keep getting those ribs every time because seriously, did you try the ribs?