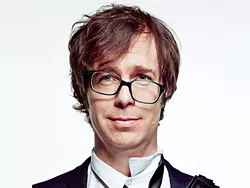 Allan Amato / provided
Ben Folds
A sold-out concert nearly seven years ago with superbly talented pianist and suburban poet laureate Ben Folds proved an important moment for Oklahoma City Philharmonic, which gained citywide pop cred overnight through the collaboration.
As Folds prepares for round two with the orchestra, OKC Phil is hoping lightning strikes twice. The former Ben Folds Five frontman and solo songsmith is scheduled to perform with the city's orchestra 7:30-10 p.m. Tuesday at Civic Center Music Hall, 201 N. Walker Ave. Alexander Mickelthwate, who will succeed founding OKC Phil conductor and music director Joel Levine full-time next season, will conduct the concert. Tickets are $29-$283.
The program, which was added to OKC Phil's scheduled season just a few months ago, comes at a transitional time for the orchestra. OKC Phil started in 1988 on the foundation set by the former Oklahoma Symphony Orchestra. It has known no musical leadership other than Levine in its 30-year history. Levine is expected to retire at the end of this year.
A return to one of the orchestra's most memorable recent concerts will be a good start as OKC Phil readies its next chapter.
Folds earned the adoration of many music fans through wry lyrical songwriting and a charming, unfiltered public persona. The North Carolina native went to music school for percussion (though he eventually dropped out) and is widely known for his proficiency on piano. Time has proven his 2001 solo debut Rockin' the Suburbs as a landmark recording of turn-of-the-century alt-rock and a lasting testament to his instrumental aptitude.
But Folds' frequent orchestral appearances are no novelty act. Orchestra was among his first musical loves, and as Folds' career has progressed, classical work has taken an increasingly large role in his output.
Last year, he was named artistic director of the National Symphony Orchestra, which makes its primary residence at The John F. Kennedy Center for the Performing Arts in Washington, D.C. The position is just the most recent development in a long relationship between Folds and the national orchestra.
Folds debuted a three-movement piano concerto with the Nashville Symphony Orchestra in 2014. The piece is featured on his 2015 album So There, a collaborative release with the New York-based chamber sextet ensemble yMusic. So There was Billboard's No. 1-selling classical album for several weeks after its initial release.
There are a number of other projects keeping Folds busy outside orchestral work. He is currently wrapping up years of off-and-on writing on a to-be-published memoir. Last month, Folds announced a co-headlining tour with the eclectic alternative rock band Cake, set to begin its national jaunt in August.
Oklahoma Gazette recently caught up with OKC Phil's incoming musical lead Mickelthwate ahead of his biggest concert in the city yet. Mickelthwate, who is moving to Oklahoma from his role as music director of Winnipeg Symphony Orchestra, hopes this concert is just one of many ways OKC Phil will overlap with popular culture under his watch.
Oklahoma Gazette: When did you hear that Ben Folds would be performing with OKC Phil and that you would get a chance to conduct the show?
Alexander Mickelthwate: I heard in maybe autumn that they were adding another concert. The whole season was already booked, and then this one special came up with Ben. It was great, and I'm very excited for it. It is a great honor to work with him.
OKG: Are you a fan of Folds?
Mickelthwate: Well, now I am. I'm very classical, but I really love his music. One thing I really find interesting is not only his songs over the years, but also his piano concerto. It's for full symphony orchestra and it's its own style — it's not really jazz. It's really cool. I'm thrilled to play with him.
OKG: What does a show like this do for OKC Phil and the kind of crowd it can attract to see the orchestra?
Mickelthwate: Well, I've done this a lot now with really creative artists working with symphonies. I love it — I think it opens up the classical world to a whole bunch of new audiences. It's very exciting to connect with a crowd that is younger, but also not younger. I mean, a lot of people love him. It's a really cool thing to have an artist like Ben come in to work with the orchestra. It helps us put out a new face to the community, to be Beethoven but also 21st century.
OKG: Do you see other ways that classical and orchestral music have intertwined or connected with pop culture? Are there other areas where those two worlds are colliding?
Mickelthwate: Yeah, lots of them. For me, there's been lots of crossover in the last 10-12 years. I actually hear orchestras performing music from video games and music from different films and with live accompaniment by film. But also performing with, like, really cool indie bands. The live orchestra sound enhances the experience. It's really cool, and it's really changed in the last 10 years where the orchestra has more front in those crossover genres and creates these really cool experiences — something that one might not realize.
In film, you have John Williams, but you also have orchestral soundtracks in all sorts of amazing indie films. It changes the way one feels about the film. It's awesome.
OKG: Are you excited to take over at OKC Phil full-time next year?
Mickelthwate: Oh yeah; it's really cool. It's amazing to have Joel [Levine] here for like 30 years. He's like this institution almost. We get along really well, and it's great to have someone like that to talk to here in Oklahoma.
OKG: Hopefully you'll build your own epic legacy here.
Mickelthwate: Hopefully. It's a great place to move to right now. There's so much happening here. It's a young place. People are moving back, it seems. Something is happening.

provided
Alexander Mickelthwate will take over as OKC Phil's full-time music director at the end of its current season.