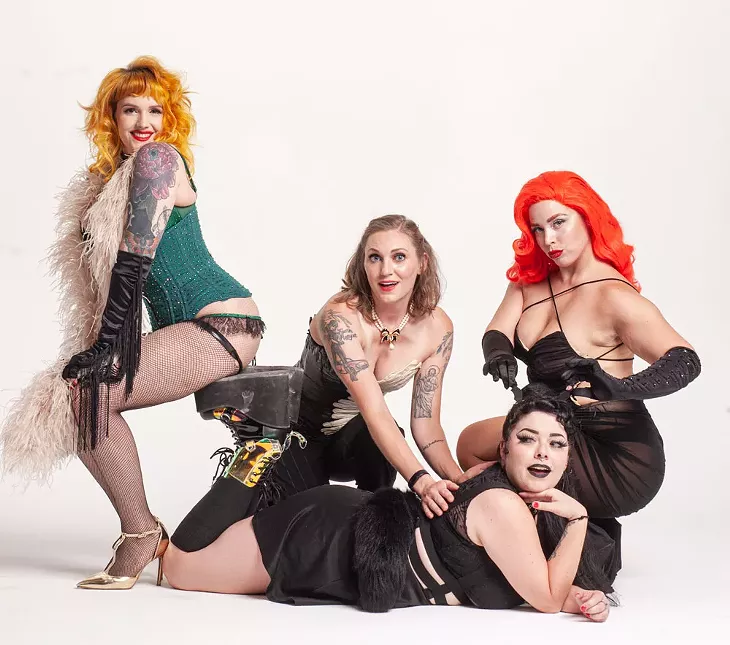 Photos By Jared Kinley at Light Box Studio
If you wander into the Bunker Club or R&J's late one night, you might catch Merry McGinnis Monaco spraying herself with an underwear-mounted oil derrick to the tune of Rodgers and Hammerstein's "Oklahoma." For the last decade and a half, Merry and her burlesque troupe, the Dust Bowl Dolls, have been a staple of OKC nightlife. Their special blend of seductive, uproarious and insightful entertainment propelled them to be the state's longest- running act of its kind.
The Dust Bowl Dolls weren't necessarily founded on the show-stopping confidence their performances are drip- ping with. Merry was a trained opera singer but suffered from "terrible stage fright." While attending the University of California Berkeley in San Francisco, she began taking burlesque classes.
"I had been so afraid and anxious, but I felt like if I could dance and sing in front of people, I could do whatever I wanted," Monaco said.
After returning to Oklahoma, Monaco encountered entertainers producing off-kilter variety shows at the Blue Note and the HiLo Club in 2016. It was from this collective that the first Dust Bowl Dolls were formed, kickstarting an avalanche of personalities that shows no signs of slowing down.
Even with the number of dancers that have performed under the Dust Bowl Dolls banner, there's no open application.
"I don't want to sound mean, but you don't just join," said Panhandle Perle, co-owner and fixture of the troupe. "You wouldn't approach your favorite band after a concert and ask if you can play with them. It's a burlesque troupe, but it's also a lifestyle. We naturally acquire people."
A Dust Bowl Doll is not created, but found. Cha Cha Nova, for instance, began her career at pinup pageants and modeling for hot rod competitions. After catching the eye of Perle, Cha Cha worked as a stage kitten—an assistant that gathers clothing and other pieces of attire from the stage—before she was given her own set. This allowed her to further stretch the legs of her fiery persona.
"Cha Cha Nova is my protector, mouthpiece and a love letter to myself," she said.
In the 21st century, the nature of a burlesque show has changed. Likewise, it's not enough for a performer to just look the part. Each Dust Bowl Doll pours hours of time and energy into crafting a routine that, despite only lasting a few minutes, sticks with their patrons for generations. Cha Cha's acts have ranged from direct parody, such as her Breaking Bad inspired performance to Nancy Sinatra's "It's a Pretty World Today," to an expectation-subverting, green flapper bit to DMX's "X Gon' Give It to Ya."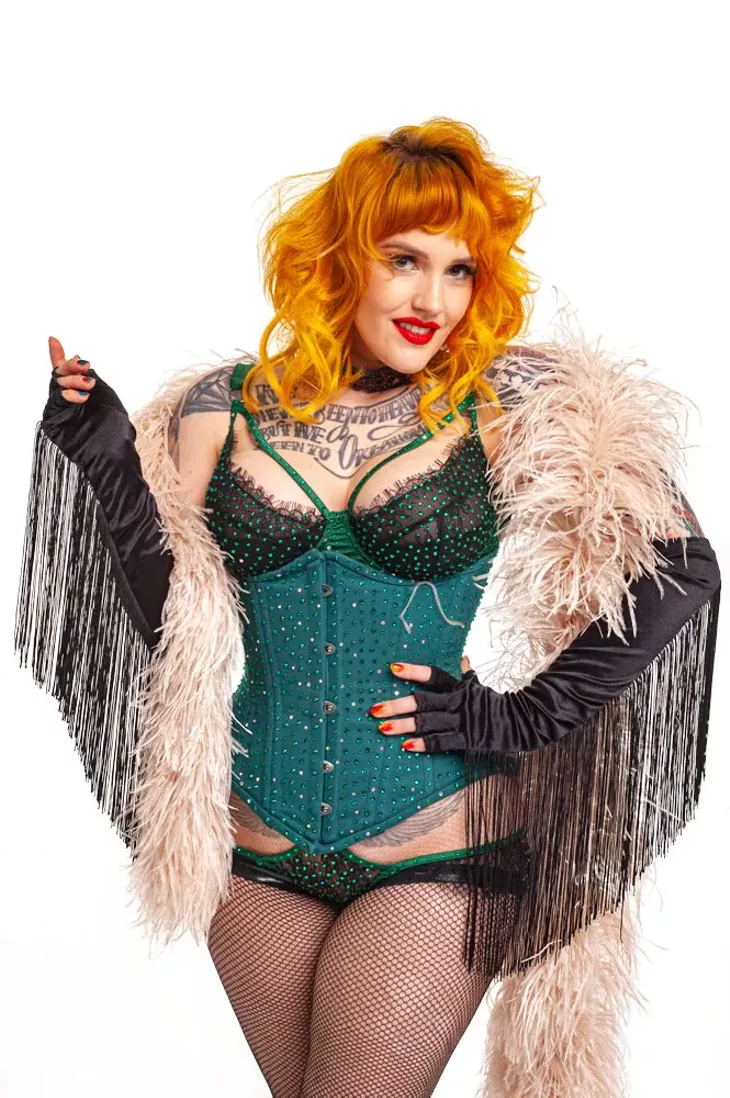 Photos By Jared Kinley at Light Box Studio
"We're theatre strip- ping, or stripping with a story," said Perle.
Some opt for feats of athleticism. Cat Carter, also known as the Bendy Broad, puts her stage name to the test. After "paying with her blood" to join the Dust Bowl Dolls
courtesy of a ceiling fan during her debut at the late Drunken Fry, refined by years of practice through aerial silks, Carter is a standout with her handstands that feel like an eternity with her seemingly effortless poise.
Monaco, on the other hand, uses her technical imagination to push the limits of her art. In addition to her oil derrick, Monaco has also fashioned a bra with functioning headlights and stuffed her lingerie with pasta in a comment on sploshing. For a perform- er to be successful at burlesque, they have to adapt.
"There's a lot of performers that fantastic on a big stage with custom light- ing cues and thousand-dollar props," said Elijah Farmer, the "Beethoven" and periodic prop for the troupe. "But what I love about us is that we can go into any bar, take a 10' by 10' space to perform and just kill it."
For the Dust Bowl Dolls, burlesque works its greatest magic up-close and personal. This made the pandemic particularly devastating, as it halted burlesque just as quickly as it shut down every form of live entertainment. While they dabbled in live streaming, it couldn't meaningfully replicate the feeling that proximity brings.
"There's something cool being that close to the audience," said Monaco. "I don't want to be touched, but I do want to be close enough to the patrons' expressions and how happy they are to be here. You can't be depressed around twirling nipple tassels."
Burlesque is a position of joy, but it's a beacon of empowerment for many of the performers. Monaco recalled that in several larger clubs, the patrons were unclear what to make of the performance. Some felt the need to hit on the artists, if not "directly body shame them." With the right management and venue, like the Bunker Club, a burlesque show becomes a reciprocal affair.
"It's not an escape. It's an entrance to this awesome, hidden world of supportive women, men and an incredible community that's so nice to us," Carter said.
The art works at a deeper, more personal level as well. Bucking stereotypes and ill-informed notions of beauty, the Dust Bowl Dolls put the fun back in sexy. For some, practicing burlesque has become an opportunity to heal.
"I love being in this environment," said Nova. "It is super positive to women of all different background and creeds. In a lot of ways, burlesque has mended my relationship with my body as a woman."
Personalities come and go from the Dust Bowl Dolls, but they're never quite the same once they snap the garter belt. At their current speed, it's likely the troupe will be a spark in the metro for decades to come.
"This monster we've created is beautiful, and you're going to love it," Carter said. "We want to enhance someone's confidence. Burlesque is about doing badass things while you can. You have just one life to live, so you might as well take your clothes off on stage while you can."
The Dust Bowl Dolls next performance, their annual back-to-school special, is on August 15 at 10 p.m. at the Bunker Club.