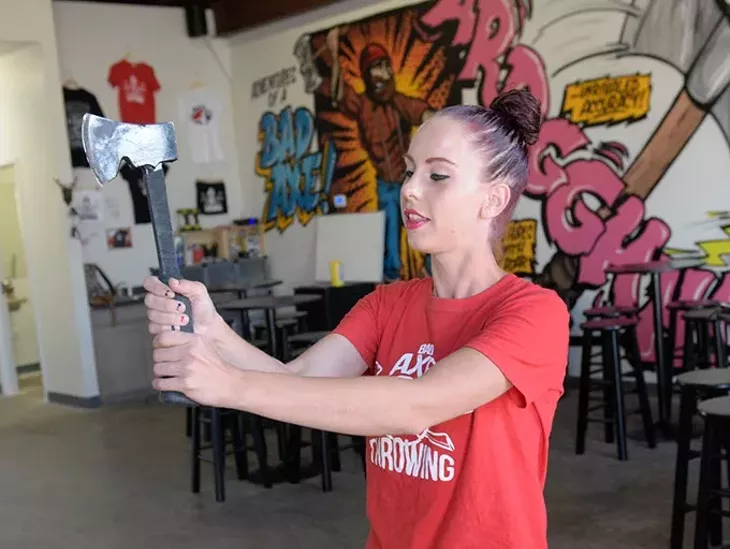 Photo Garett Fisbeck
Katie Morlock, axe master at Bad Axe Throwing, demonstrates proper throwing technique.
Tell a coworker you're going to spend the weekend hurling axes over your head and they are likely to have a few follow-up questions — after they've backed a safe distance from your cubicle.
"Where?" they might ask. "And why?" Eventually, they might get to, "Is it safe?" and after you have eased concerns about your emotional volatility, even, "Can I join?"
People tend to have lots of questions for the staff of Canadian-based Bad Axe Throwing's new Oklahoma City location. When Oklahoma Gazette recently stopped by to fling hatchets firsthand and pose some of the most common queries, it was greeted with unexpectedly simple answers.
Answering questions
Where is Bad Axe Throwing? The new location officially opened in July at 1201 W. Reno Ave. near the OKC Farmers Market District.
Why throw axes? That's easy. Because it's fun. Bad Axe Throwing, founded in Ontario in 2014, is aggressively expanding into new markets across Canada and the United States in an attempt to take the sport of ax throwing into the realm of hobby and leisure physical activities currently occupied by sports like bowling and rock climbing. OKC is one of 16 current Bad Axe locations.
The simplest way to think of ax throwing is like a game of darts. The player flings an ax (usually three to five pounds) over their head, sending it hurtling end-over-end at a target painted over a broad sheet of plywood.
The most basic tossing form is like throwing a soccer ball. Gripping the long-handled ax like a baseball bat, throwers lift the blades straight over their heads and rest the dull end against their backs. While stepping forward with their dominant foot, the thrower quickly raises the blade and releases the handle when it is directly overhead.
It is important to merely release the ax handle and not flick one's wrist as if shooting a basketball. The centrifugal force of one's forward momentum will be enough to send the ax into the target, which is about 12 feet away.
Is ax throwing safe? There is potential for injury in any sport, especially one with sharp blades involved. Despite that potential, Bad Axe claims on its website that there has never been a case of injury at any of its locations.
Individual players throw axes in their own caged-off lanes. Newcomers are first asked to sign a waiver and are then given a short demonstration on the proper way to toss an ax. If throwers follow straightforward instruction, there is no reason the ax blade should hurt them.
"It's 100 percent safe," said Katie Morlock, axe master at OKC's Bad Axe Throwing location. "But, obviously, there could be accidents if people don't use common sense or pay attention to the rules."
Bad Axe's most common safety hazard is not a gash from an ax, but a prick of the finger.
"Splinters are the biggest threat here," Morlock said.
The wooden targets get pretty beat up after they have taken a few throws. The wood peels up and could possibly stick one's hand as they retrieve their ax. Throwers are instructed to dislodge the ax from the target by jostling its handle until the blade comes loose.
Who can join in the fun? Anyone strong enough to stick the ax to the target, which is doable for most able-bodied people older than, say, 10 years old.
"Really, it's a strength thing," Morlock said. "It's really not something that can be matched with age."
Bad Axe primarily caters to special events — bachelor and bachelorette parties, birthdays and corporate teambuilding. Reserved sessions usually last two and a half to three hours. Walk-in times ($20 an hour) are set each week and can be checked on the website.
Garett Fisbeck
Leslie Hensley prepares to throw an ax at Bad Axe Throwing in Oklahoma City's Farmers Market District.
Ax master
Another question Morlock often gets is how one finds themselves with a job in the ax-throwing business.
It would be nice to imagine Morlock as a former Canadian lumberjack (lumberjill?) who spent years splitting timber with the mighty swing of a steel blade. Instead, her history with the ax is more limited. Morlock, an Oklahoma native, was trained for less than a week in OKC. Before that, she managed fast-food restaurants for more than a decade.
"I was working for 11 years, and the highest they would pay me was $9 an hour," she said. "They treat you like crap, so [Bad Axe] is a wonderful change, honestly."
Morlock had been searching online job listings for months before she came across a post about Bad Axe Throwing. The business name alone caught her interest.
"I thought, 'What's that?'" she said. "'That has to be cool.'"
When Morlock was named the new location's ax master — essentially the site manager — she immediately looked into getting a gym membership.
"I have no upper body strength," she said. "I was flipping burgers and carhopping and stuff, but it's nothing compared to this."
Simply getting an ax to stick to the target takes surprisingly little effort. Morlock said it is probably easier than bowling. But throwing an ax for hours at a time can be quite a workout.
However, for the most part, throwers are having too much fun to think about being tired.
"It's not so physically overwhelming that you don't want to do it," Morlock said. "If you don't get it the first couple of times, you can kind of get bummed out, but as soon as you get it to stick, you're like, 'Oh, dude! Now let's do it again!'"
Split decision
The thought of throwing an actual weapon for sport can be intimidating to those who have never attempted it, but Morlock encouraged anyone curious to give it a try.
"It's seriously a sport/activity that anybody can do," she said. "During the open house, I had my 6-year-old nephew come up here and he threw. He was pretty excited."
While Bad Axe spends most of its time hosting special events, Morlock said she would like to see the sport become a common pastime in the city. As more people in OKC experience the cathartic thrill of tossing an ax, she expects the effect to ripple across the state.
"I feel like the more people who come out and experience this, the more we're going to have a wave of happiness," she said. "You can kind of de-stress a little bit — a little less anger. It's going to be a good addition, especially when traffic is really high and you're on edge a little bit."
Visit badaxethrowing.com.