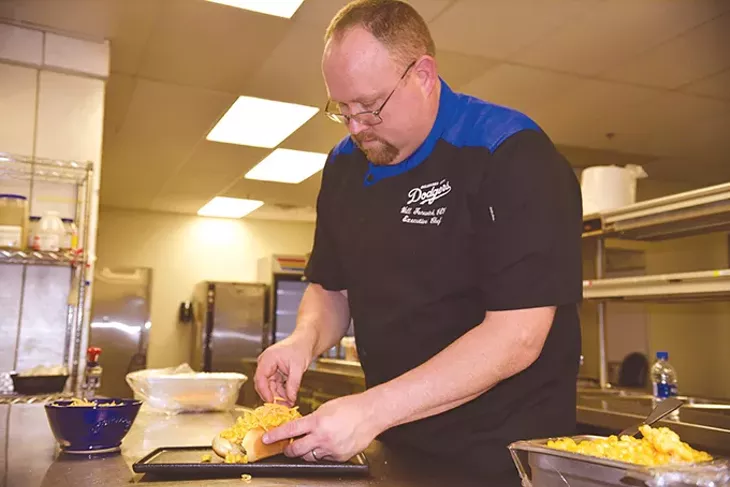 Jacob Threadgill
Executive chef Will Fenwick assembles a macaroni and cheese hot dog inside a kitchen at Chickasaw Bricktown Ballpark.
Long before the lines on the base paths are drawn or even before a batting practice pitch is thrown, Oklahoma City Dodgers' executive chef Will Fenwick and staff are cutting produce and getting items ready for that day's concessions.

"It's a daily operation of getting items ready for the concession and the buffet [in the club level]," Fenwick said. "I usually get in at 7:30 a.m., and the earliest I leave is 8 p.m., but sometimes it's more like 10 or 11 p.m. It's a long day."

"Since I've been here, I've been trying to improve the overall quality of ballpark food," Fenwick said. "I try to go outside of the box for the home stand specials."
A home stand special will stay on the menu for an average of 12 games but could stay as long as 15, depending on the amount of home games each month. When guests arrive for the opening home stand of the season this week against Round Rock Express and New Orleans Baby Cakes, they will have access to a Juicy Lucy, the Minnesota staple that stuffs cheese inside a beef burger, at the newly relocated Burgertopia stand.
Dodgers general manager and president Michael Byrnes said the relocation of the Burgertopia stand from down the first base line to right behind home plate was a significant offseason investment.
"Some of our most popular items were not in the most accessible locations," Byrnes said.
The Burgertopia stand will also offer a few Oklahoma-style concepts like meatloaf and pot roast sandwiches in addition to 8-ounce burgers and freshly cut fries.
"Nobody went down there unless it was a packed house," Fenwick said. "We wanted to get it in front of people because we're proud of the product."
Local flavors
Fenwick listens to customer feedback throughout the season, and one refrain that kept coming up was that people wanted concession items that reflected Oklahoma tradition.
One of last season's most popular home stand specials — the OKC Original burger, which combines the classic Oklahoma onion burger and the Theta burger — is now a permanent menu item. Onions are cooked into the beef patty, and the staff combines barbecue with mayonnaise instead of serving them separately like on the Theta burger.
The commitment to local flavor extends into alcoholic beverages. A beer garden featuring taps from local brewery COOP Ale Works will be operational on opening day, filling in the area down the first base line formerly known as Brickyard.
"It's a space most people have used to grab a bite to eat before a game or to connect with a friend during the game. [It] will be a beer concept, and we will have a number of their offerings throughout the season. … I think it will be a space that really becomes popular pre-game throughout the game," Byrnes said.
In addition to the relocation of Burgertopia and the Beer Garden, guests at Chickasaw Bricktown Ballpark will notice that the movement of a few other vendors like the hot dog stand Franx, which is now a standalone cart on the first base side.
Its new featured item is the macaroni and cheese hot dog. An all-beef hot dog is topped with creamy macaroni and cheese and bacon on a thicker-than-average bun. Fenwick said he is a fan of adding jalapeños to the dog for some extra kick.
Jacob Threadgill
The special chorizo burger will be available during eight Cielo Azul games this season.
Unique eats
The salsa cart also received an overhaul, and it will be heavily featured during Minor League Baseball's
Es Divertido Ser Un Fan
campaign in which the team will wear special
Cielo Azul
jerseys and concessions will feature special items.
chorizo
burger that combines beef and
chorizo
in the patty and be topped with
chipotle
mayonnaise, caramelized onions, peppers and pepper jack cheese on a brioche bun. The salsa cart will serve platters of
tamales, empanadas
and
carnitas
tacos. The club-level buffet will feature dishes from a different region of Latin America each of the eight nights of the campaign to celebrate Hispanic and Latin fans.
Fenwick said he listened to fans who said they wanted something unique. He created helmet nachos and a funnel cake sundae, which also fills an oversize helmet bowl. The nachos are available with chicken and beef and are topped with nacho cheese, rice, beans, sour cream and
pico de gallo
. The sundae is a funnel cake topped with soft serve, whipped cream and raspberry, caramel and chocolate sauces.
"You see all of these food shows that have unique eats," Fenwick said. "Ours is now the nacho helmet or the funnel cake helmet. They are ginormous. It is something unique where fans can say, 'Oh wow! This is awesome.'"