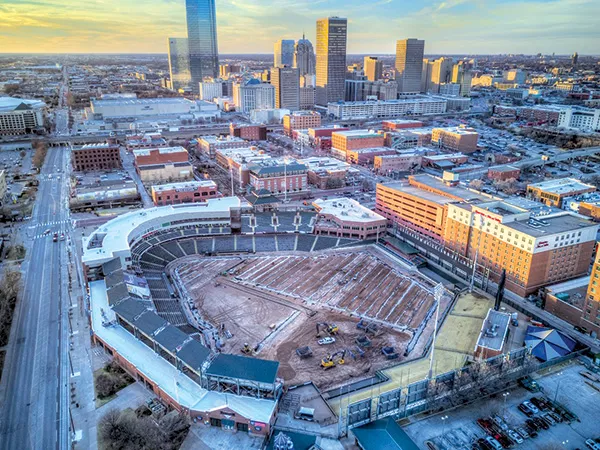 Peter J. Brzycki / OKCTalk
Chickasaw Bricktown Ballpark is undergoing a $2.5 million facelift that includes a completely new playing surface.
Coming off a season in which the Oklahoma City Dodgers were recognized as Baseball America's Triple A Franchise of the Year and the team won its third division title in four years as an affiliate of the Los Angeles Dodgers, the organization is not resting on its laurels.
On a cold day in late January, OKC Dodgers president Michael Byrnes introduced the club's new manager Travis Barbary and outlined a $2.5 million facelift for Chickasaw Bricktown Ballpark that includes complete field renovation, new state-of-the-art LED field lights and patio seating along the first baseline.
"I learned long ago that you never want to invite people into your facility until it is looking its best," Byrnes said at a press conference Jan. 28 as the field was completely torn up for an overhaul that includes drainage, irrigation and a new playing surface. "Today is a little counterintuitive; however, there is a lot to talk about that will lead to a beautiful-looking field on (opening day) April 4th."
The multi-million dollar project is funded through the city's 10-year general obligation bond as part of the Better Streets, Safer Cities initiative and a city-instituted facility fee on event tickets.
The ballpark hosted over 1,500 baseball games since it last installed new sod — when it opened in 1998. The new grass is currently growing on a farm in Tiago, Texas, and will be installed in early March. Its new 30 thousand gallon water reclamation tanks will save approximately 1.9 million gallons annually.
Fans will immediately notice other improvements, like a new baseline patio atop the visitors dugout in Section 115 that can accommodate 30-50 people with mesh seats, lounge benches and high-top tables in a two-tiered patio that Byrnes said will provide a unique experience and builds off last year's addition of a beer garden and the opening of the Oklahoma Sports Hall of Fame in the former restaurant space.
Crews are in the process of installing six new LED light systems produced by Musco Lighting, and the ballpark is one of 20 major and minor league ballparks in the country to have the top-of-the-line system that reduces energy costs and on-field glare and has the ability to immediately turn on and off. No more waiting for the lights to "warm up" to take effect.
"We have the ability to add elements of fun," Byrnes said. "The immediate on and off [adds the] ability of synchronization to music to celebrate home runs and wins."
An additional 14 smart screens are being installed throughout the ballpark thanks to a partnership with Allegiant Air. The screens offer team facts and trivia and have the ability to be integrated into a fan's individual mobile device.
Baseball America's recognition of the Oklahoma City Dodgers organization has had much to do with its on-field success as its community initiatives. Minor League Baseball recognized the organization as one of five best for its implementation of the Es Divertido Ser Un Fan campaign to increase outreach to the Latino community. The organization played eight games with special Cielo Azul uniforms and unveiled special menu items and programing during the games. Overall, attendance increased by over 20,000 people in 2018 from the previous year, including its playoff run.
The team will again play as Cielo Azul in seven games June 20-23 against Memphis and July 19-21 against San Antonio in 2019.
Baseball America also recognized the organization's initiative to create a youth baseball league with Oklahoma City Parks & Recreation, after the department failed to have a league for ages 10 and under in 2017.
"We understand there are barriers to playing baseball," Byrnes said. "There are a number of pieces of equipment that go beyond a bat and ball."
OKC Dodgers funded equipment and uniforms for 20 youth teams across four age divisions that registered 240 children at Stars & Stripes Park. The commitment continues into 2019, and registration is underway.
New manager
Jacob Threadgill
New Oklahoma City Dodgers manager Travis Barbary with team president Michael Byrnes at an introductory press conference Jan. 28
Before introducing Barbary, Byrnes noted that the team won its first 15 home games last season, with a joking aside of "good luck" to Barbary — a veteran of the Dodgers organization of 25 years, who rejoins a managerial role for the first time since 2006 after serving as the organization's coordinator of catchers.
Barbary joked that he has had the reoccurring dream that he is unable to get the opening day lineup implemented into the computer system, perhaps the manifestation of how much the game has changed since he last filled out lineup cards on carbon paper.
"The biggest challenge for me is getting back into the flow of the game after being so focused on the catchers," Barbary said. "It'll take time. The one thing I'm looking forward to the most is spending a majority of the season with a lot of the same 25 guys."
Barbary will likely get a chance to guide two of the organization's top prospects Will Smith and Keibert Ruiz — both catchers — at different points during the season. Baseball has changed over the last decade and a half, with a reliance on advanced analytical statistics and defensive shifts. Barbary said he has plenty of people in the organization to lean on for the implementation of those metrics.
"I'm going to lean on a lot of people. One of them is Jeremy Rodriguez. He has managed a couple of years (2017 with the Great Lakes Loons in Midland, Michigan, and 2018 with the Odgen Raptors in Ogden, Utah) and been through learning the shifts all of the information you have to be able to digest. He'll be a big resource for me," Barbary said. "They give us information on shifts before the game starts, and it's just a matter of being able to interpret it and putting guys in the right spot to be successful."
Visit milb.com/oklahoma-city.