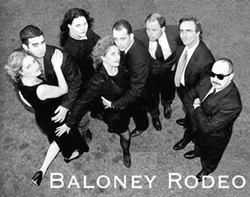 Fans of a pioneering '90s and early-2000s Oklahoma City improvisational comedy troupe have reason to rejoice.
For a limited time, Baloney Rodeo is back in the saddle again after a seven-year hiatus. The improv team disbanded in 2009 but was recently contacted by Individual Artists Oklahoma (IAO) about a possible reunion.
David Dobson, a Baloney Rodeo founding member, sent out a blanket text to past members to gauge interest in a return. Responses were overwhelmingly positive.
The troupe performs 8 p.m. Aug. 26 and 27 at IAO Gallery, 706 W. Sheridan Ave. Admission is $15 each night. The shows include seven of the past members, including Dobson, Mike Waugh, Lance Farley, Stacy Farley, Kathleen Hope, Rebecca McCauley, Clarke Stroud and Charles Kuykendall.
Dobson said he looks forward to revisiting the good ol' days. The group might have left improv for several years, but improv never left them.
"People would be weeping, they were laughing so hard," he said. "Mainly, it's just that connection [with the audience]. I've always thought of it as being pure, spontaneous theater. That's what it is."
Some of Baloney Rodeo's earliest shows were at IAO after the troupe formed as a four-man group in 1989. Dobson said IAO organizers told him the reunion show concept meshes with their ongoing efforts to reconnect with the poetry and performing arts communities.
Baloney Rodeo was also known as a mainstay at the former Jokers Comedy Club in Bricktown. The troupe performed for private and corporate parties, especially around the holidays.
"I'm amazed that we did it as long as we were able to," he said. "Part of it was that people kept calling us. They were willing to pay, and sometimes we got paid quite a bit to do them."
They added people here and there along the way. Dobson estimates 20-25 players came in and out of Baloney Rodeo through its 20-year run.
However, all good things come to an end. Waugh, another founding member, said time and life events ultimately spelled the end for Baloney Rodeo. Members were getting married, having babies and starting careers.
"We became middle-aged," Waugh said. "We just couldn't do it."
Waugh and Dobson do not expect a full-fledged comeback after their reunion shows at IAO, but both would be open to occasional gigs or private parties.
Oklahoma City is home to several improv troupes, but Dobson said he believes Baloney Rodeo was the city's first. Through the years, the performers saw improv comedy become more popular than ever.
It's hard to rehearse for an improv set. Baloney Rodeo's material is fueled by audience suggestions.
Still, the troupe is getting together to run through some of its old games and formats, knocking off the rust that has built up over the last few years. A deep sense of friendship and chemistry makes it easier to get back into the swing of things. Waugh said the performers will be more than ready come showtime.
"We're not going to reinvent anything," he said. "We're going to go back to our old tried-and-true stuff, but it works."
Print headline: Last laugh?, Local improv troupe Baloney Rodeo reunites for its first shows in seven years.