Banh mi: the perfect fusion of French and Vietnamese cultures that marries a perfectly crispy French baguette to clean southeastern Asian flavors. The banh mi's prevalence can be seen in abundance in OKC's Asian District, but its influence has spread across the metro.

By Jacob Threadgill | Photos Gazette / file | with photos provided @405eats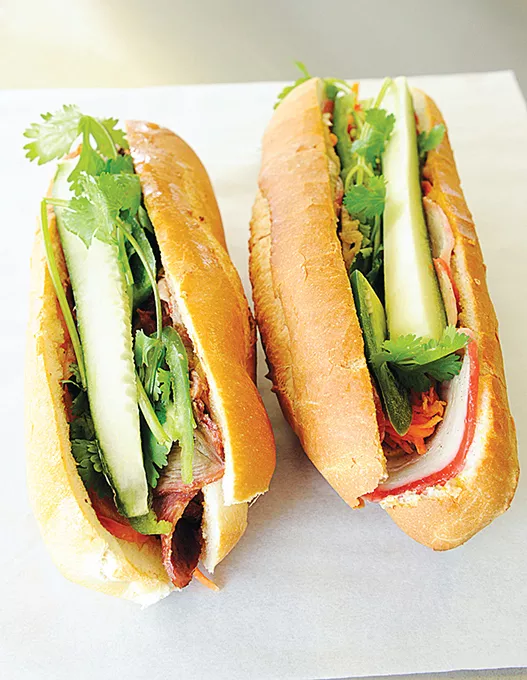 Quoc Bao Bakery
2501 N. Classen Blvd.
405-760-6322
The biggest hurdle between you and one of the best banh mis in town is just a little of that pesky cash. In addition to supplying a variety of yeast and cake doughnuts, sausage rolls and muffins, Quoc Bao has one of the best sandwich deals in town: Buy three, get one free. You can get four sandwiches for about $10, depending on which of the eight varieties of sandwiches you choose.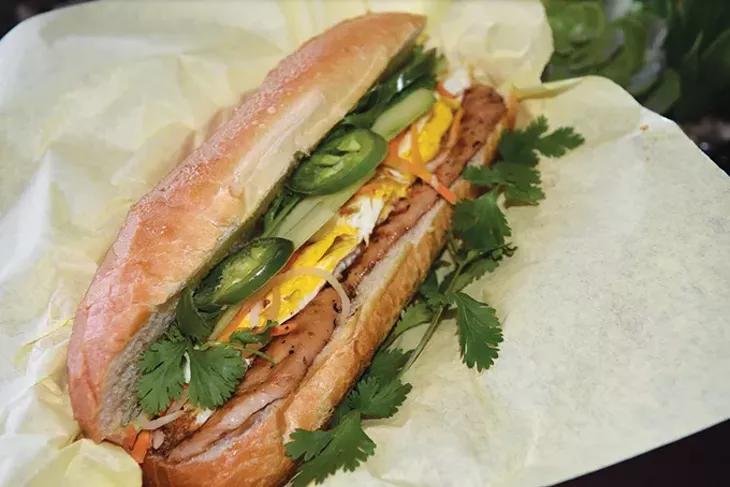 Family Pho
13325 N. MacArthur Blvd.
405-470-0648
If you live in north Oklahoma City, there is no need to come all the way to the Asian District for a tasty banh mi. The lemongrass beef banh mi consistently earns high marks from reviewers on Yelp, and it will only set you back $4. As the name indicates, pho is a large portion of the menu, which includes a vegan option made with vegetable broth.
Republic Gastropub
5830 N. Classen Blvd.
republicgastropub.com | 405-286-4577
Although this version costs a little more than the average banh mi ($12), Republic ups the ante with braised short rib at the center of its baguette. There are few things quite as succulent as a slow-cooked beef short rib, and when combined with the brightness of pickled vegetables, cilantro and Sriracha mayonnaise, it is tough to beat.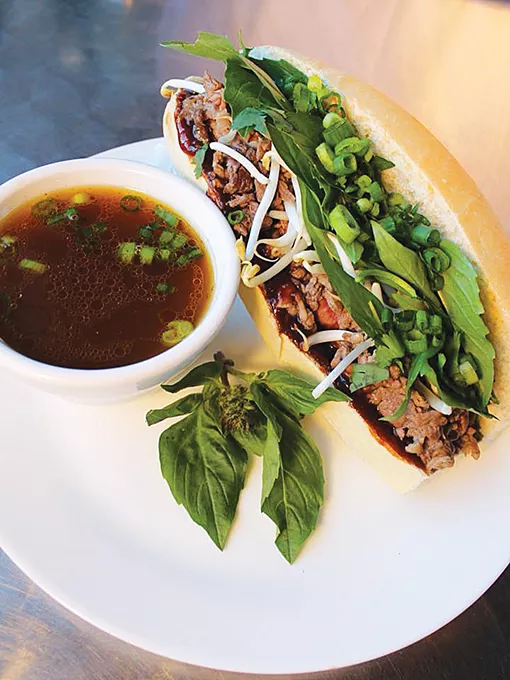 The Pump Bar
2425 N. Walker Ave.
pumpbar.net | 405-702-8898
One of the newest full-time additions to the always-creative menu at The Pump is this mash-up: Pho Rench Dip. It's like a Vietnamese version of a French dip, but a pho-style broth serves as the au jus dipping sauce. Tender beef is placed inside a baguette with plenty of fresh veggies like bean sprouts, basil and cilantro. Owner Hailey McDermid said she was inspired to add the dish after regular visits to neighborhood grocery store Super Cao Nguyen.


Ooo Cha
2000 W. Danforth Road, Suite 120
405-726-8188
While the brightly colored smoothies topped with chewy boba are eye-catchers, the banh mi — or as they're labeled on the menu "French sandwiches" — are the real heart of the menu. A freshly prepared sandwich will only set you back $3 plus tax, and if you go between 2 p.m. and 4 p.m. on the weekend, you can get an extra banh mi or three egg rolls if you buy two sandwiches.


Wich Pho Vietnamese Kitchen
1781 Garth Brooks Blvd., Yukon
facebook.com/wichphoyukon | 405-577-6432
Opened about six months ago, this family-owned eatery is making sure folks in Canadian County have a location for good banh mi, pho and vermicelli bowls. Its cold-cut sandwich with pork belly, Vietnamese ham and pâté is the most popular banh mi, but there are also grilled chicken, pork and lemongrass steak varieties that can be topped with sweet chili or peanut sauce for a little extra kick. Each order comes with crispy shrimp chips.


Bistro B
1620 SW 89th St.
bistrobokc.com | 405-735-6358
It's easy to get lost in the 30-page diner-style menu at Bistro B, but if you make it all the way to page 25, you'll find 14 varieties of banh mi, including lemongrass tofu, fish filet and even a sunny-side-up banh mi so you can enjoy a nice, runny egg yolk over your freshly baked baguette.