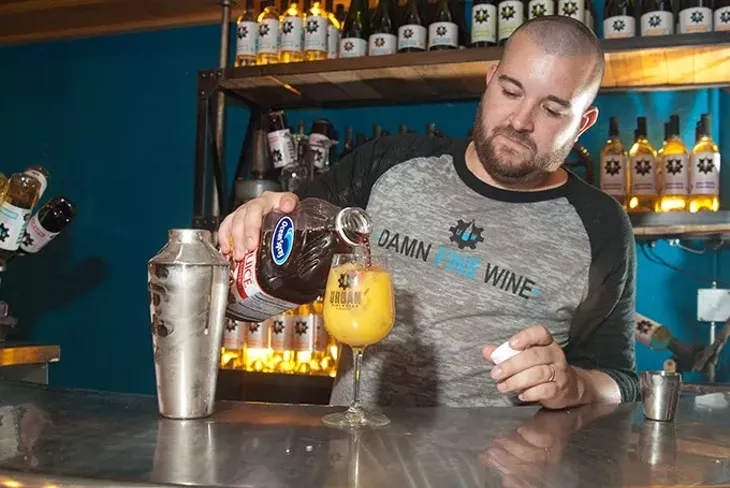 Mark Hancock
Joe Dixon makes his winning cocktail, Morning Sex
How often is it your job to get drunk for a good cause? In one of the most anticipated events of the season, that's exactly what Other Options, Inc. encourages you to do.
Bar Wars started with David Rackley and Nancy Struby, board members for Other Options, a nonprofit that helps with food and other necessities for families impacted by HIV/AIDS.
Held annually, it started with just Struby and Rackley serving drinks at different locations, donating all tips to Other Options. Now, it's all in one place 7-11 p.m. Saturday at IAO Gallery, 706 W. Sheridan Ave., on Film Row.
All Bar Wars proceeds go to help nearly 700 families during Thanksgiving, and about 250 additional families are helped during the Christmas holiday.
"The event completely has Nancy and [my] name all over it," Rackley said.
Since its inception four years ago, the event has grown to epic proportions.
This year, 10 bartenders from local bars and restaurants will compete for Best Signature Cocktail and Best in Show. And yes, guests get to sample all the potions and vote for their favorites.
The beauty of the event is the outpouring of support that Other Options gets every year. In its third year, the event raises vital money to improve the lives of countless Oklahomans at the hardest times of year. And it's a heck of a lot of fun.
"The first year, we just approached friends of ours in the [restaurant] industry," Rackley said.
This year, so many groups wanted to enter that they had to turn some away.
Participating restaurants and bartenders donate time and food for the cause. The bites will be wheeled to guests by members of the Oklahoma City Outlaws Roller Derby team.
"IAO was generous to donate the venue," Rackley said, "and we have so many more local businesses who go out of their way to help us."
In addition to cocktails and "flair" demonstrations from the drink wizards, there will be a silent auction that offers everything from salon packages to home furnishings. Then, at 11 p.m., the winning bartender will be chosen from voter ballots and receive a trophy provided by McNeil Liquidations.
If that excitement isn't enough, Party Panda from Candy Nightclub, will be there through the night, dancing with guests as DJ J2O provides the music.
Oh, and about that heavy drinking mentioned earlier? Designated drivers are admitted for a reduced rate, which includes all soft drinks you can handle and food. Also, if you do find yourself too drunk to drive, Lyft ride service will offer a special code for customers to use: It'll be found on Bar Wars III Facebook page.
"While last year we encouraged the theme of 'flare', this year we are letting them get as creative as they want, and I can't wait," Rackley said.
To purchase tickets and learn more about Other Options of OKC, visit otheroptionsokc.org
Participating establishments:
Dollhouse Lounge & Burlesque
Iguana Mexican Grill
Picasso Cafe
Rococo Restaurant and Fine Wine
VZD's
Candy Nightclub
Pink Cadillac
Circus Party Bar
Empire Slice House
Moonshiners
O Bar
Tramps
Urban Johnnie Bar & Grille
Urban WineWorks