provided
The Cocktail Office's patio features live music on the weekends and a converted Airstream trailer turned bar.
As the craft cocktail scene has exploded over the last decade, it has become fashionable for all types of cocktail-themed bars across the country to add "speakeasy" to their names, harkening to a time when spirits had to be consumed in clandestine fashion.
Eatery & Cocktail Office @ The Union, 616 NW Fifth St., not only offers a full menu with small plates, fine dining and craft cocktails from three different bars, but one of those bars is a speakeasy located in a bar used as a speakeasy during the 1950s, as by-the-drink liquor sales didn't become legal statewide until 1985.
The Union building began its life as home to the city's Electric Union, where members created a small speakeasy on the bottom floor — behind a series of winding hallways — to drink alcohol and play cards.
The building changed hands over the years. It served as a credit union for decades and a few other establishments before developers created the bar The Union @ SoSA two years ago.
Facing difficulties with operations, owners brought in restaurant consultant Lee Morris, owner of Sculpture Hospitality in Yukon.
"Unfortunately it was too far gone for them, and it had only been four months," Morris said. "They had problems, but I did like the bones [of the property]."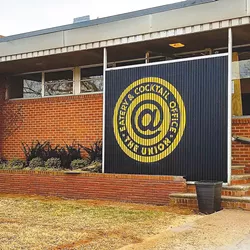 provided
The Eatery & Cocktail Office @ The Union is located at 616 NW Fifth St.
Eatery renovation
Morris became the majority owner of the Union building and closed down The Union @ SoSA and put the building through an extensive renovation. Morris said the local community homeowner's association complained about the building being used strictly as a bar and wanted to see a restaurant take its place.
The second floor underwent a transformation to mid-century modern décor complete with a stunning wood bar in a project overseen by designer Larry Pickering. The downstairs bathroom was removed to install a small but full-service restaurant and put in a more direct route to the speakeasy room, which kept the crushed velvet couches and chandeliers from The Union @ SoSa design. The speakeasy can be rented out for private "happy hour" buffets with food and alcohol service.
Morris said he was attracted to The Union's 1970s steel Airstream trailer located out back that the previous establishment used as a short-order kitchen. Morris overhauled the trailer to become a bar and installed a fire pit and awning on the back patio that also includes green space for cornhole games or Frisbee golf practice.
"It's got three different places to hang out," Morris said. "That's what people are looking for: diversity in the experience. If you want fine dining, go upstairs. If you want a cool and casual conversation, go to the speakeasy. You can come out to the patio every Thursday and Friday for live entertainment."
provided
The Hipster flatbread features fig preserve, goat cheese, fresh prosciutto, caramelized onions, pistachios and microgreens.
Eatery & Cocktail Office's menu is already on its second phase since opening three months ago. The staff added protein-based entrees like Creole butter rib-eye steak with smashed potatoes and vegetables ($25), grilled pork chop with apple puree ($18) and grilled or blackened grouper ($22).
They are joined on the menu by appetizers, small plates like Okie tuna poke, Spanish spiced pork skewers, main dishes like a Black Angus burger, fried chicken sandwich ($10), carbonara mac and cheese ($12) and grouper bánh mì ($15).
The menu is rounded out with savory and sweet flatbreads like The Hipster ($11) with fig preserve, goat cheese, fresh prosciutto, caramelized onions, pistachios and microgreens.
"The guests that were coming in were saying, 'This is a great wine selection, but you don't have anything foodwise to pair up with that,'" Morris said. "We listened to the guests and came up with entrée menu to go along with small plates and mains. It is a very diverse menu."
provided
Classic cocktails pair perfectly with the restaurant's mid-century aesthetic.
More than a name
Eatery & Cocktail Office's name is more than cute wordplay. Morris envisions it as a place where business can be done. Its upstairs bar and dining area is retrofitted with plenty of USB and traditional power plug-ins.
"I travel a lot, so I'm always looking for a place to plug in to use my computer," Morris said. "It's like a businessman's office away from the office."

We want you to relax and also be able to get work done if you need to," said operating partner Robin Briscoe Todd.
The establishment of Eatery & Cocktail Office adds a full-service attraction to the Midtown-adjacent SoSA District (South of Saint Anthony's). SoSA extends from Sixth and 10th streets to Classen Boulevard and Walker Avenue and was known to many as the Cottage District for many years.

"It is a beautiful growing area, and everyone is building new, nice homes here," Morris said of SoSA. "I knew it would be a great time to get in on the ground floor. I took the leap of faith. The neighborhood said, 'We don't want a bar; we want a restaurant.'"
Morris' consulting business takes him to clients all over the country, but he has been an operating owner of Deep Deuce Grill for the previous eight years. He sold his shares back to the original owner when he took over control of the Union building.
"I really think that this area [SoSA] is the new Deep Deuce," Morris said.