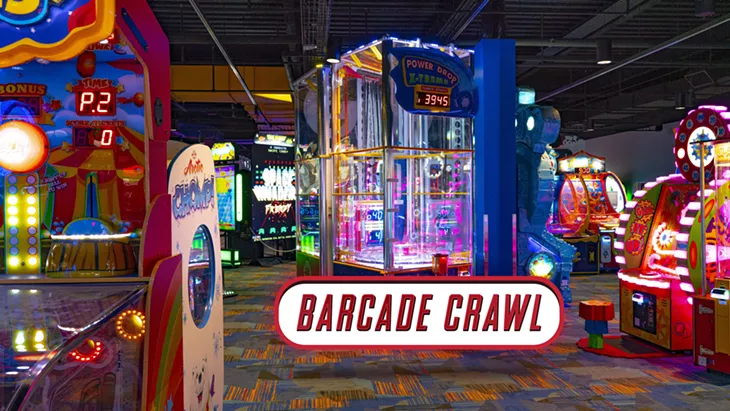 Phillip Danner
Round1 in Quail Springs Mall
I have a confession to make. I didn't go to arcades when I was a kid.
Part of the reason why is that I'm a child of the 90s. I was born a whole decade after the arcade boom and bust, and by the time I was ten years old - at the turn of the millennium - most arcades simply didn't exist in the public sphere.
Games themselves mostly lived in our bedrooms or basements or over at friends' houses, on consoles we had or consoles we wanted, and the desire to pinch pennies (or quarters, as the case may be) for a weekly trip to the mall was just never ingrained in me.
Still, the arcade has remained a popular part of the American imagination, a formative youth place that persists in pop culture. What drives this nostalgia? Can I access some vital part of it, even though I missed it entirely when it mattered most? I decided to pay a visit to some places that promised the classic arcade experience to see what was up. This is what I found.
Round1 Bowling and Amusement
My journey toward ludic enlightenment began at Round1 Bowling and
Amusement, a new "family entertainment complex" recently built into the side of Quail Springs Mall.
The first thing you need to know about Round1 is that it's cavernous. Truly sprawling. It takes up a huge chunk of the first floor of the mall, from the southwestern entrance to the food court. The second thing is this: there are different versions of Round1, de- pending on when you go.
During the day, the space is like a de-branded Chuck E. Cheese. Food – primarily pizza, burgers and other fast fare – is served, the party rooms lining the outer wall are open for parties and kids are free to run free on the premises. After 10 p.m., you have to be over 18 to keep hanging out. And after mid- night, Round1 is transformed into a full-on bar with $2 wine glasses and $4 pints along with an extensive selection of liquor. Anyone under 21 is kicked out.
There's certainly no shortage of things to do at Round1 for any age group. Billiards tables and a bowling alley take up a considerable amount of floor space for folks whose interests include rolling balls on a flat surface. Then there's the frankly silly number of claw games with all sorts of toys and stuffed animals inside. A few Skee-ball machines rest in the back, waiting for a few choice bullseyes.
And then, of course, there's the arcade itself: a few dozen cabinets from every generation lined meticulously up along the outer rim of the facility, blink- ing and flashing alluringly; there's a space over by the restaurant area where
the bigger machines sit, beckoning players to take a ride that must have blown kids' minds in their heyday.
The thing about Round1 is, as much as they make it a kind of all-purpose place to visit, it's less of a "barcade" and much, much more of a family fun destination. The place is primarily for kids, down to the prize wall filled with colorful toys up by the registers. The pizza's pretty good and you can get soda by the pitcher for like $7, which is genuinely a pretty good deal for events like birthday parties.
Does Round1 offer a classic "arcade" experience? Maybe a specific type. This sprawling and still-shiny entertainment compound above the food court replaces the smaller, dingier, arguably-more-"nostalgic" Tilt arcade that was tucked in the back corner of the food court for years.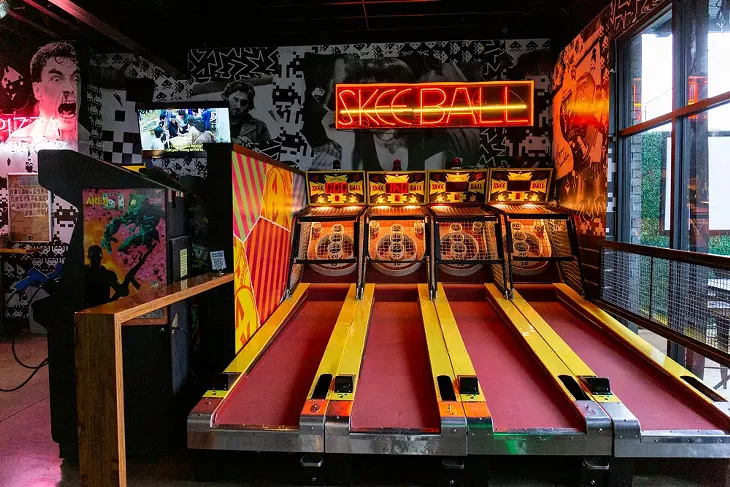 Berlin Green
UpDown in the Plaza District
Up-Down Arcade Bar
Walking into Up-Down in the Plaza District, it's clear this place's reputation precedes it. It's packed, even late at night on a Sunday before the work week. As other guests entered behind me, I overheard them whisper excitedly to their friends about the place. It's been open for a year, but we had only been in a COVID lull for a couple of months. The lights are turned down low, and the sound of arcade and pinball machines fill the air over the eclectic music play- lists piped in through the speakers.
I need to make another confession: I'm not a "bar" person, which is to say,
I don't drink and I don't really go out to bars, but this was the first bar I'd been in with two levels and an upstairs patio. I am easily impressed by new (to me) stuff, so after grabbing a couple slices of Up-Down's delicious pizza, I made my way up and out to soak in the atmosphere.
There is definitely a specific sense of nostalgia Up-Down wants to evoke in its patrons, and that nostalgia is targeted directly at my generation and maybe the cohort right behind it. Classic 80s and 90s arcade cabinets like Ms. Pac-Man, Mortal Kombat II and a six- person X-Men game sit alongside stations where groups of friends can play Nintendo 64 couch co-op games. Every game is one token to play (the equivalent of a quarter), and when the drinks are between $3 and $8 and the slices are $3.50, it's very easy to see how someone could end up effortlessly dropping a bit of cash here in a night.
But if I had to be honest, I don't think the appeal right now is the games them- selves. The vibe at Up-Down is simply immaculate. After a year and a half or so of the pandemic, going to a place that was just ... positive. Everyone was enjoying themselves. Good conversations were being had over tasty food and great drinks. That in and of itself has become a much stronger force of nostalgia than any game cabinet or pinball machine. I'd absolutely bring friends here just to hang out.
In her book "Coin-Operated Americans: Rebooting Boyhood at the Video Game Arcade," cultural historian Carly A. Kocurek describes a similarly-oriented Barcade in Brooklyn as "a children's play space reimagined as an adult entertainment venue. It is also a place where the history of the video game machine folds back into itself— here, the video game returns to its origins as a bar amusement."
Watching smiling crowds of people my age and younger mill around from machine to machine, I can see what Kocurek meant: the convergence of multiple generations of, for lack of a better term, "kid," here. Nostalgia erases the years, but one only needs to turn around and face the multipanel OLED displays reorient oneself in the present.
Phillip Danner
Cactus Jack's Family Fun Center, one of the original OKC arcades, in west Oklahoma City
Cactus Jack's Family Fun Center
When it comes to Cactus Jack's, located on Council Road and NW 10th, there is basically nothing manufactured about the nostalgia on display here. According to their website, Cactus Jack's is the oldest and longest-running pure arcade in the entire metro, and its current lineup of game cabinets and pinball machines spans literal decades.
It is situated in an old and extremely
long cinderblock building, with a sign advertising
"PINBALL
ARCADE
SKEEBALL
POOL&MORE"
out front. What you see is definitively what you get. You come here to do one thing, and one thing only: play video games. Everything in this facility is geared toward getting you to do that.
Yes, there are snacks. Yes, there is alcohol. Yes, you can hold your kid's next birthday party here. Yes, you can get prizes for winning Skee-ball. No, it is not a "Family Entertainment Complex" in the same way Round1, or similar venues like Chuck E. Cheese, Main Event or Dave & Buster's are. It's also not a barcade, catering to a form of nostalgia more akin to a vague notion of "what it must have been like." It is a true-blue arcade.
And to be honest with you, that's a good thing. If we're talking about the modern arcade being a portal to the past, this is the closest unvarnished experience you'll have in that regard, and there are not many places like that left, basically anywhere.
The atmosphere here is no-nonsense, but it is not unwelcome. You can buy tokens in bulk for cheap - I got 225 tokens on a plastic scannable card for $10 - but they only work on the games, not the pinball machines. For those you have to put in actual cash. There's a row of classic rock band-themed pinball ma- chines along a back wall, and tucked away in a corner, an Initial-D racing game machine, something I hadn't seen at any of the previous places, which stuck out to me. There was also a House of the Dead 4 cabinet hanging out, waiting for someone to pick up one of the light guns, and a bunch of classic cabinets, like Centipede, by the entrance. It felt like an arcade, full-stop.
And as I wandered down the midway, stopping to gaze at the extremely 90s cabinet art on some of the machines, I felt something like a memory form in my brain, from a childhood that wasn't mine: a vision of this place but full to bursting with kids experiencing Pac-Man for the first time. Or Street Fighter II, or Dragon's Lair.
There is a reason arcades remain at the center of our cultural mythology. By all accounts, the arcade should be dead, killed first by the home console and com- puter gaming markets and then again
by a whirlwind of other economic crises and burst bubbles, but places like this remain. The companies that maintain these increasingly brittle machines remain. The people who grew up playing these games - they also remain, and they bring their kids, and grandkids, here.
"Not only has nostalgia affected how we imagine and reimagine the arcade as a contemporary physical site, but it has affected how we conceive of the historical arcade," Kocurek wrote. "The rehabilitation of the video game arcade has become a major project. The arcade, once a cultural fad, has now become a privileged cultural site in need of protection; particularly successful games have become part of the arcade's canon. The classic arcade is presented as a kind of living time capsule that consumers can visit and play in, and even newer arcades are often presented as part of a proud cultural tradition."
So, if you happen to find yourself out and about on a weekend looking for something to pass the time, maybe when the Delta variant has settled down some, stop by one of these spots and play a few games. Your childhood might thank you.