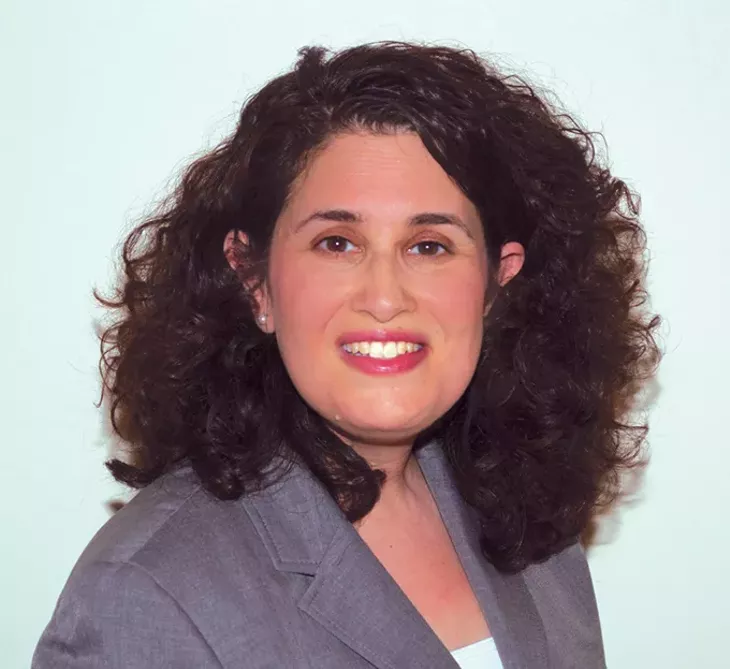 provided
Cheryl Drazin is set to speak on The Changing Face of Hatred 7 p.m. Aug. 2 at Emanuel Synagogue.
Interfaith Alliance of Oklahoma and Jewish Federation of Greater Oklahoma City are teaming up for a free one-time event to educate its attendees on the ways they can become better suited to handle the prevalence of prejudiced thought and discriminatory behavior in modern times.
The event is scheduled 7-8:30 p.m. Aug. 2 at Emanuel Synagogue, 900 NW 47th St.
"It's going to be a presentation on how expressions of hate and bias have changed over the past few years," said Rabbi Abby Jacobson, president of Interfaith Alliance of Oklahoma and rabbi of Emanuel Synagogue.
Several months ago, the Jewish Federation reached out in hopes of spreading the message beyond the Jewish community. Interfaith Alliance saw relevance in the matter and agreed to co-sponsor the event.
"We believe that hate is pretty much the same," Jacobson said. "It is very hard to find somebody who hates one group of people and who doesn't hate a different group of people at the same time. There are a lot of things we can learn from the same presentation."
According to Lori Blumenthal, president of Jewish Federation of Greater Oklahoma City, learning about the many ways hatred is manifested in today's society is an essential step in fighting its prominence, which has apparently grown in the past couple of years alone.
"We see people … sort of hurling insults towards each other," Blumenthal said. "It's always been there, but it feels like it's increased."
Based on information gathered by the researchers at the North Texas/Oklahoma regional office of the Anti-Defamation League (ADL) in Dallas, Blumenthal isn't wrong.
Cheryl Drazin, ADL regional director, cites a 67 percent increase in hate-related complaints, concerns and incidents. Though the numbers aren't in for the second quarter of 2018, she noted "a tremendous uptick at the beginning of this year."
Drazin was invited to speak at The Changing Face of Hatred and is planning to do so.
"Hate is a growth industry right now," Drazin said. "We've never been this kind of busy. The incidents that people are reporting, the help that people are needing is tremendous."
Global community
Social media and the internet are often blamed for the steady stream of hate-based rhetoric, but it comes with a trade-off.
"The beautiful thing about having everybody's ideas available at our fingertips is that we can learn so much about each other and so many diverse points of view," Jacobson said. "One of the terrible things is that an idea that seems bad or destructive anywhere in the world can also come visit you anywhere in the world."
In spite of the downsides, Jacobson believes the interconnectivity society has been allowed through technology is, overall, for the better. For example, people might be unsettled after watching a troubling televised report, which, in turn, "gives them cause for concern."
"An episode or event that may have before stayed in a neighborhood or a school or, you know, a small community, could be national news on the day that it occurred," Drazin said.
The rapid-delivery information systems that consume the public's attention for a large part of the day seem to be catching the eye of the people, leading to a national call for change. In what Drazin describes as "the post-Charlottesville effect," a number of people across the country are asking how they can prevent an episode like the one that transpired in the Virginia college town.
"Those were people who weren't hiding their face or their thoughts at all, you know; they were very much standing up for and sharing what they believed in a way that we really had not seen as far as modern hate before," Drazin said.
Gone are the days of brick-and-mortar hate groups, Jacobson explained. In the age of information and virtual friendships, anybody can join one of these organizations if they so desire. And that's what appears to be grabbing the attention of a nation.
"The shock element … is literally that changing face," Drazin said. "It looked so polished and normal and like somebody that they knew next door."
Drazin hopes to equip her listeners with the tools necessary to combat hatred in their communities. To this end, she plans to give a presentation focused on the visual aspect so the audience can truly grasp the importance of the matter. She's also looking at a brief series focusing on a variety of issues communities should be aware of.
"People sometimes tend to think that hate only happens on the fringes or it's not happening in their own backyard," Drazin said. "So we're gonna take some recent regional activities and really kind of deep-dive into what hate is and what it's looking like and ideas for responding when it impacts a person's own community or life and what those opportunities are."
Children are encouraged to attend the event. Their age(s) must be listed on the pre-registration form to ensure the appropriate activities are held.
"I'm hopeful that we'll have a really diverse group of folks come," Blumenthal said of the event. "That'll be a great opportunity not only to learn, but to get to know each other as neighbors."
Forming a tight network of individuals who fight to eradicate hatred from the places they call home is essential in the maintenance of a society working to free itself from the shackles of prejudice and discrimination.
"There's just no community that's immune. … There's not a vaccination or an inoculation that ADL or anyone else could give to fix the problem," Drazin said. "As a community, the awareness … starts at least the beginning of a meaningful conversation."
Visit tiaok.org or jfedokc.org.