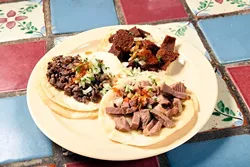 Garett Fisbeck
Azada, Milaneza, and Lengua tacos at Carnitas Michoacan in Edmond, Thursday, May 26, 2016.
The tongue looked like tongue.
I have no great love for bizarre foods, per se. Weird for the sake of weird does nothing for me, but spend a little time eating in this city and you're sure to run across a few ingredients you haven't tried before. Some of them will not make your list of new favorites.
But some of them might be like the lengua tacos at Carnitas Michoacan, 306 W. Edmond Road.
Hearty variety
Yes, the diced tongue inside the tiny corn tortillas looks like diced tongue. It's good when foods look like the things they are.
And once the cognitive dissonance fades and you remember that some of your favorite dishes come from cow tails or the fattiest parts of chickens, you take a bite and you understand.
You don't need to eat lengua if the thought of trying cow tongue bothers you. But it's still just muscle, like steak or roast beef or hamburger. And it's so tender, it's nearly criminal.
At $1.25 each, these tacos are a steal.
I recommend getting an assortment and sharing with friends, though you might find those bonds tested if you both decide you want the last bite of the juicy pork carnitas.
Good news, though: You can simply go to the counter and order another few of whatever you like. Or get new friends with worse taste, I guess.
The azada (steak, more commonly spelled asada locally) is delightful in taco form, with diced onions and cilantro sprinkled on top.
Flavor, savor
What would it take for me to put you in a burrito today?
A burrito regular ($4.65) masks hidden depths within its soft flour tortilla shell. I thought the azada mixed perfectly with a base of rice and beans, creating an ultra-filling savory treat in an appealingly petite package.
Garett Fisbeck
Azada burrito at Carnitas Michoacan in Edmond, Thursday, May 26, 2016.
For more heat, pick the milaneza (or milanesa, a breaded and fried cut of beef). The spice surprised me, but not in a bad way. Wrapped up in a taco, the beef has a nice crunch from the breading followed by a building warmth that will engage your salivary glands.
The pollo (chicken) never really did it for me.
It's difficult to make an impression with so many strong flavors in the other dishes. If you're looking for safe, get the chicken. If you're looking for flavor, check out the torta de jamon ($4.65).
Oh, look at that jamon (ham), speckled brown and orange where it sizzled on the griddle.
That's fat — glorious, succulent fat. The torta (sandwich) is not a particularly stable conveyance for all this flavor. Other versions on the menu will melt in your hands as that bread soaks up moisture. Is the same true for the torta de jamon? No one knows because nobody takes very long to eat the whole thing.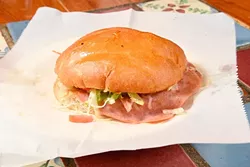 Garett Fisbeck
Torta de Jamon at Carnitas Michoacan in Edmond, Thursday, May 26, 2016.
Shrimp are important in Mexican cooking, and Carnitas Michoacan has them sprinkled all over the menu.
There's the tostada de camaron ($4.50), which is like a shrimp ceviche served on a fried-flat corn tortilla. It is simple. It is straightforward.
It is heavenly. The crisp tortilla and the slightly chewy diced shrimp make an enticing dichotomy of textures while the lime juice and pico de gallo give the entire dish a zing of flavor.
But perhaps you're looking for something hot. Fajitas de camaron ($10) are just shrimp fajitas. And I say "just" because they're not complicated. They're exactly what you expect, and that is exactly what I want. Perfectly cooked shrimp with onions and peppers that have melted into a sweet, sultry tangle of colors — there's almost nothing better.
Garett Fisbeck
Fajitas de Cameron at Carnitas Michoacan in Edmond, Thursday, May 26, 2016.
A taqueria so far north is a treat, and judging from the steady line of customers coming in and out, it's one the people of Edmond know they're lucky to have.
Print headline: Meaty matters, From steak and ham to — yes — tongue, Carnitas Michoacan brings taqueria flavor to Edmond.