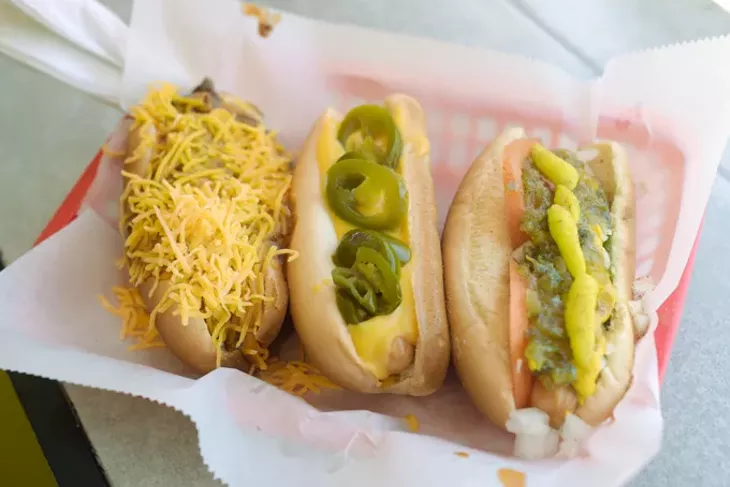 Garett Fisbeck
Chili Cheese Dog, Nacho Dog, and Chicago Dog at Chili Dog Express, Monday, Aug. 1, 2016.
Summer is winding down. In Oklahoma, that means it might finally get cool enough for food lovers to light the grill and enjoy their favorite charred meats and vegetables.
Dog park
Of course, one popular grill inhabitant is found year-round in Oklahoma City no matter the weather.
"People are always looking for the all-American chili dog," said Yolanda Oates, who owns Chili Dog Express with her husband Tyrus.
The restaurant, 329 NW Fourth St., was Tyrus' "brilliant idea," she joked. But it must be working, as the pair moved the business from Edmond to Oklahoma City two years ago.
Garett Fisbeck
Chili Dog Express, Monday, Aug. 1, 2016.
There is no end to Oklahoma City's appetite for hot dogs, Oates said. Whether it's over 100 degrees or below freezing outside, about the same amount of business comes through the door.
That taste for grilled dogs also catapulted Gale VanCampen from a small hot dog cart in Bricktown to a massive food truck.
Hot Dog OKC has fans "weinering up" with hot dogs, brats and Frito chili pies almost every night of the week. VanCampen's fame spread when her stand became a frequent stop for visiting basketball celebrities, including Dallas Mavericks owner Mark Cuban.
But this obsession has been long-brewing. Downtown favorite Coney Island Hot Dogs started business in 1924. It has changed owners (and buildings) since then, moving to 428 W. Main St. during the rush of Oklahoma City's urban renewal in the late 1960s.
The menu hasn't budged even though prices have increased. Coney Island still shovels hot dogs and plates of spaghetti covered in a Greek-spiced chili to hungry customers.
Dog sweaters
If chili wasn't hot enough, more than a few metro joints are trading in a carnival favorite: the corn dog.
It's the foundation of Deep Deuce's Anchor Down, 30 NE Second St., where the staff dips dogs made from beef, chicken, cheese and even — shudder — vegetables.
Guard Dog ($8) is a field roast sausage dipped in vegan masa batter with maple mustard for dipping.
If those flavors sound outrageous, watch out for Norman's Diamond Dawgs, 753 Asp Ave., which serves up the wonderful Wonderboy ($4.49).
A hot dog dipped in Cap'n Crunch batter gives it a sweet-savory balance that tastes better than a bowl of cereal at breakfast. And much like its cinematic origins, Wonderboy takes customers' taste buds deep into the stands.
Paired up
However, man cannot live by dog alone. In these summer months, he (and she) also need beer.
Local beer enthusiast Emerson Mounger, better known on Twitter as @405beergeek, said his favorite beer for grilling out is a nice ale.
"They typically aren't too high on the ABV (alcohol by volume), and they are lighter than a style that uses more malt," he said.
Local favorites COOP Ale Works Horny Toad Blonde and Roughtail Brewing Company's Pale Ale are good fits in that category, he said. Though it's a little higher in alcohol content, Mounger also recommends Anthem Brewing Company's Golden One, a Belgian-style blonde ale with a fruity finish.
That big punch is what makes Golden One work well with bold, spicy flavors.
Mounger said he's a "hops head" when it comes to beer, so he loves the sharp and bitter bite of India Pale Ales like COOP's F5 IPA and Anthem's IPA. Like a knife, these beers can cut through the richness of fatty grilled fare like hot dogs and burgers.
Roughtail's Everything Rhymes with Orange is a good pairing beer, as well. The citrus-tinged hops have enough flavor to stand up to big tastes like barbecue or spicy sausages, like chorizo.
Sausage symbiosis
Whether cooking them or pairing them, the spicier sausages call for the smooth, clean flavor of lager. To boil before grilling, be sure to puncture the skin on bratwurst, allowing the beer to get in and mix with the meat. Then a quick turn over the coals will give each link a pleasant crispiness and a tasty char.
Look for Anthem's OK Pils, but maybe don't waste it on the boiling. Drinking this malty brew is easy in the heat and a good way to quench the thirst brought on by a pile of dogs.
Lagers and pilsners are also a sure bet for lighter fare, including chicken, fish and veggies. Heavier beers, like stouts, can drown out the lighter flavors and sweetness of less fatty dishes.
The real test is what tastes best to the person eating and drinking. Whether it's a local craft beer, a light national brew or nonalcoholic concoctions like an Arnold Palmer, it's all about finding the right balance for the crowd's tastes.
That's why it's always a good idea to stock a variety of beers and other beverages when planning a cookout.
Print headline: Pairing pups, As summer's heat fades, hot dog fans and beer enthusiasts find the season's best companions.