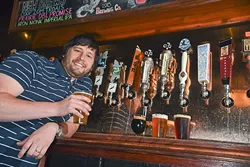 Greg Powell, TapWerks Ale House GM, with samples of local and area beers available during this years Craft Beer Fest, at TapWerks.
As it heads into its fifth year, Oklahoma Craft Beer Festival now has a theme: innovation.
Organizer Greg Powell wants people to know that this is more than just a festival where you can sample more than 200 brews. He said there is a lot to know about how that sip you just took is crafted, who makes it and why.
Choosing which to taste first from the expanding beer list might feel like a whole lot of decision-making. Powell said he hoped to make it easier, as he also asked brewers to bring along their one-offs and specialty beers.
"I want people to be able to try beers they wouldn't normally try or may not get to try ever again," Powell said. "We are trying to focus on the memorable, special beers."
TapWerks Ale House, 121 E. Sheridan Ave., hosts the event again this year. Powell is general manager at TapWerks and works closely with local brewers and brokers to bring patrons what he believes are the best local and national craft suds available.
Expanding a palate requires risk, he said, and one-off beers are a good way to do it, especially at a festival where all samples are covered by the cost of the ticket.
Last year, the festival featured 252 beers, and Powell believes the number will be similar this year.
Local and area beers will be featured during this years Craft Beer Fest at TapWerks. mh
Barrel-aged brews
Bourbon barrel (or whiskey or cognac) aging has been popular for a few years now, and there will be several limited-production brews aged in barrels, including Black Mesa Brewing Company's Cognac Barrel Aged Double ESB (Endless Skyway Bitter). It is aged in Rémy Martin cognac barrels and packs a wallop.
Anthem Brewing Company will offer several barrel-aged beers, including Uroboros Stout, which is aged in bourbon barrels and brandy barrels; Bourbon Barrel Golden One, a Belgian pale ale aged in bourbon barrels; and Pappy Burleson wheat wine ale, named for beer savant and local beer supporter Randy Burleson. The alcohol content of The Pappy offers a hearty pat on the back at over 16 percent.
Marshall Brewing Company out of Tulsa will have a barrel-aged beer: Black Dolphin Russian imperial stout. Marshall also will offer its special version of This Machine India pale ale called Pineapple Express, which debuted in March and is made with fresh pineapple and Citra hops.
Powell said there will also be a surprise firkin — a small, 41-liter keg — that will be revealed at the event.
Fresh tastes
The festival also welcomes two of Oklahoma's newest breweries, Iron Monk out of Stillwater and 405 Brewing Co. out of Norman, which will offer samples of their brews.
Powell said nearly every Oklahoma brewery will be there, as will more than a dozen out-of-state breweries, including Founders Brewing Co., Goose Island Beer Company, Green Flash Brewing Company, Left Hand Brewing and Tallgrass Brewing Co. Some of those will have special beers, too, and Powell said beer geeks are looking forward to Goose Island's Vanilla Rye, which makes its statewide debut at this fest.
For those looking to balance brews with a bit of sustenance, four food trucks will be on hand.
After guest response to past years' festivals, Powell decided to forego live music this time around. He said patrons wanted more opportunity to speak with the brewers, and band noise was cited as a distraction.
Print headline: Beer brouhaha, This popular festival showcases dozens of craft brews, special editions and longtime favorites.