Remember that beer you drank when you were on vacation in Houston or on a bus in Mexico or stopped off in a little brewery on the East Coast? Maybe it was the beautiful day or the feeling of freedom, but that beer tasted better than any other in recent memory.
There's just one problem: You're in Oklahoma. While the culture here is changing for the better, it's still not easy to find small-label brews from out-of-state beermakers.
Enter beer trading, a semilegal practice that has grown in popularity thanks to the internet.
"Beer trading in its simplest terms is trading beer between two people. It's a way to get beer that isn't available to you," said Mike Byrne, who helps moderate a beer-trading group on Facebook. "Trades can happen in person or by shipping and it gets more complicated the farther down the rabbit hole you go and the rarer the beer you want."
Managing risk
Trading is in a bit of a legal gray area, Byrne said. It's unlawful to sell beer without a license, but trading skirts the line because money isn't involved.
"It's illegal to ship via USPS, and FedEx and UPS have policies against the shipping of alcohol without a license," he said. "If caught, both [UPS and FedEx] will often confiscate your package and send a threatening letter to the sender — but people continue to do it despite that risk."
A lot of people, in fact. Oklahoma Beer Trader ISO:FT is a private group with almost 1,000 members. But on Reddit.com, the /r/beertrade subgroup boasts more than 17,000 members. Traders also use beeradvocate.com, thebeerexchange.com and even Instagram to arrange deals.
Byrne said his gateway into trading was one of Oklahoma's most sought-after brews: Prairie Artisan Ale's Bomb!
"I had just finished watching the TV show Brew Masters that showcased Dogfish Head [Brewery] and was itching to try Punkin [Ale] and Bitches Brew. Then I had heard about an amazing stout called Founders [Brewing Co.] Breakfast Stout," he said.
Part of trading comes from necessity, but also out of boredom, he said.
"I had tried nearly everything that was sitting on shelves in Oklahoma and Kansas and still wanted to try something new," he said. "You log your beers into Untappd, Beer Advocate or Rate Beer and eventually you run out of new beers to try. Trading was a way to find new beers."
Then Byrne got ambitious. He discovered a prized beer called Bourbon County Brand Stout brewed by Goose Island Beer Co. since the mid-1990s. When it is released on Black Friday each year, lines at liquor stores often stretch around the building, leading to immediate sellouts.
Byrne began collecting different vintages of the beer for a vertical — a year-by-year tasting of a beer to see how it changes over time. He's planning a 10-year vertical tasting for his birthday next year.
"Anymore, I've gotten mostly burned out on shipping trades," he said. "I still like to trade and love to try new beer, but I stick mostly to in-person trades and get what's available."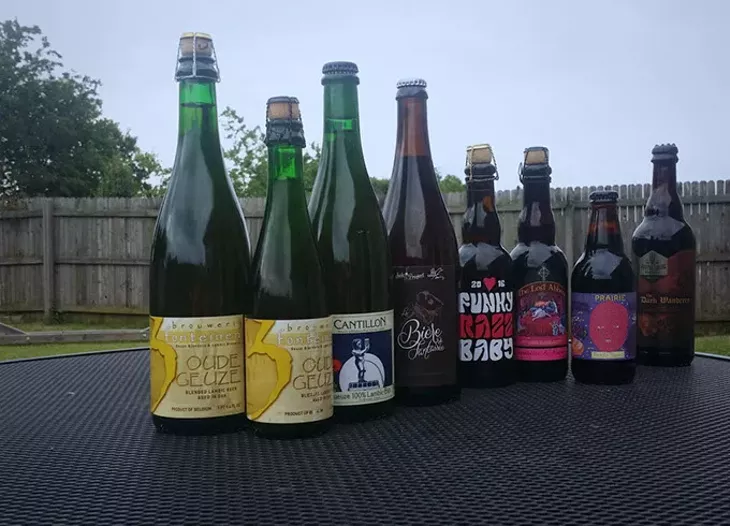 Networking
In-person trading has an added benefit, said beer blogger Patrick Glueck — it's a good way to make friends.
As the creator of YouTube channel Making It Grain, Glueck spends a lot of time trying new beers. Some are sent to him for review, but he also makes trades to keep his larder stocked. When he makes an in-person trade, they'll usually meet for a beer first and then exchange bottles or glassware.
"You meet those people and trade with them again and again," he said.
Trading in person is usually for limited release beers that could only be purchased at the brewery.
"Roughtail [Brewing Co.] or COOP [Ale Works] will have limited releases that sell out in a day, and you can't always make those," he said. "Sometimes you're trading with people who are getting beer from relatives or friends out of state, or when people go out of town, they'll ship themselves back big boxes of stuff and go crazy trading left and right."
Glueck said Prairie and Tulsa-based American Solera are big with out-of-state traders.
"The do a lot of special releases of barrel-aged beers you can only get at the brewery," he said. "People all over the country are dying to get them."
Byrne said shipping beer can get costly both in money and time.
"People tend to forget to add in the price of shipping and packaging on top of the price of the beer," he said. "For example, a bottle of Prairie Pirate Bomb! goes for $8-$12 on the shelf, but once you factor in shipping prices, it becomes closer to a $15 bottle … shipping costs overseas can double and triple very quickly."
The time spent searching for a good trade and finding the beers to trade with add up, too.
"To get the beer, you are calling and visiting liquor stores to load up on trade bait. It's very common to visit multiple stores when the next big limited beer drops so you can get more than the one or two bottles that some stores will sell you," he said.
Before novices get into trading, Byrne said they should explore what's already available in their local shops.
"Trading can be a bit addictive and expensive," he said. "Figure out which styles you like and trade for those."
Print headline: Swapping suds, Beer trading skirts the law to bring hard-to-find brews to the state.