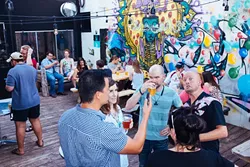 Pokémon GO might draw big crowds, but the owners of Plaza District's numerous restaurants and watering holes have a better idea: You gotta drink 'em all. Well, not all of them, said Oak & Ore owner Micah Andrews, who helped plan The Plaza Beer Walk.
Rather than tossing lures and trying to capture virtual creatures, Oak & Ore, 1732 NW 16th St.; Empire Slice House, 1734 NW 16th St.; The Mule, 1630 N. Blackwelder Ave.; and Saints, 1715 NW 16th St., worked with local and national breweries to bring visitors to the area to drink a few beers and capture some glassware and other giveaways.
"It started when we did a launch for [Colorado-based brewery] Oskar Blues [Brewery] and we basically said, 'Why not make this a Plaza-wide event?'" he said.
In July, the four restaurants joined Lagunitas Brewing Company out of Petaluma, California. Each hour, each venue tapped different Lagunitas kegs. Guests collected tickets at each stop when they bought a beer then continued on to Oak & Ore and turned them in for Lagunitas-branded glasses.
"People had a great time. We had a great turnout and brought a lot of people down to the Plaza," Andrews said. "Most of the restaurants down here are craft beer-oriented, so it makes sense."
The district has an active association head in director Cayla Lewis, but she gives the credit for this idea to business owners.
"Some of the restaurant owners just got together and said, 'Hey, we want to do something,'" she said.
The district hosts several events each month, including open mic nights and monthly Live! on the Plaza art walks. Lewis said Plaza Beer Walk is an opportunity for district restaurants to create something that raises their community profile. Andrews said it also raises something more important. The Plaza Beer Walk sends much-needed funding to local schools.
It's easy to think of Plaza District in terms of the many shops, services and restaurants along NW 16th Street, but the area is also a thriving neighborhood with several schools within walking distance.
Each quarter, participating establishments choose a school to receive a portion of beer walk sales. This quarter's funds benefit Eugene Field Elementary School, 1515 N. Klein Ave.
"Our goal this quarter is to raise $1,500, but we'd like to do more," Andrews said.
Donations are dependent on how much beer is sold. Holding the event on the last Wednesday of each month helps draw in customers on an otherwise slow night.
"Wednesday is nobody's busiest night," Andrews said. "So we can have an event where people spend two or three hours here and it's not as busy as if we did it on a weekend."
The mid-week timing also benefits people in the service industry, who can't always make it to events on busier nights, he said. From 6 p.m. to 10 p.m. during the Aug. 31 Plaza Beer Walk, participating venues will pour varieties of Marshall Brewing Company beers.
"People can go to any of the participating restaurants, buy a beer and get a ticket," Andrews explained. "Once you've bought a beer from two different places, you go to the place with the glassware to get a third ticket and turn them in for glassware."
Print headline: Pacing Plaza, The Plaza Beer Walk brings customers to the district for drinks while sending money to neighborhood schools.