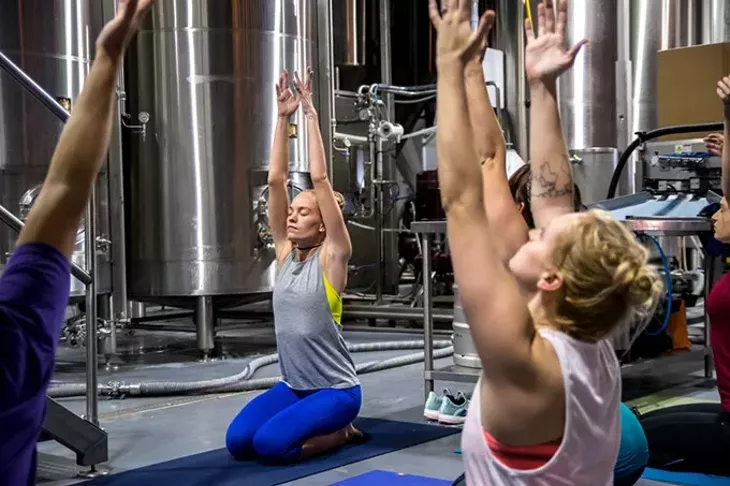 Mark Hancock
Surrounded by brewing equipment, Instructor Brooke Larson leads a class of Beer Yoga, at Coop Ale Works in southwest Oklahoma City, 10-15-2016.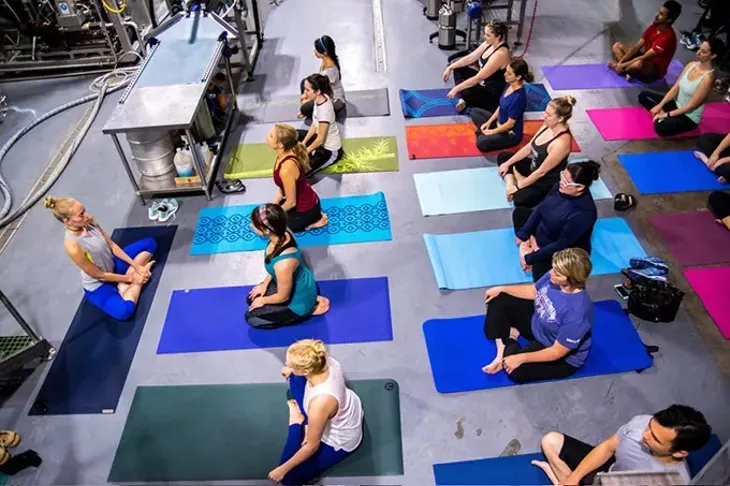 Mark Hancock
Surrounded by brewing equipment, Instructor Brooke Larson, left, leads a class of Beer Yoga, at Coop Ale Works in southwest Oklahoma City, 10-15-2016.
What began as a college class to fill credits grew into a popular local business with nearly 30,000 social media devotees. Brooke Larson, owner and creator of Beer Yoga, LLC and #BeerYoga, has redefined what exercise can mean.
Through her Beer Yoga classes in taprooms and breweries, she shares her love of craft beer and the Hindu philosophy-based exercise and meditation. Her passion has taken her to local venues and more than a dozen locations across four states.
"I started by enrolling in yoga for a physical education credit when I was a student at [the University of Central Oklahoma]," Larson said. "From there, I practiced yoga on and off for four years before I started practicing regularly in 2014."
It was then that the exercise became more of a goal than a hobby. One night when Larson was practicing yoga while her now ex-husband drank a beer, an idea came to her.
"I thought it would be funny to post a picture of me drinking a beer while in a yoga pose," Larson said. "Then I got over 100 likes."
The interest inspired her to launch a @BeerYoga Instagram account to share her photos. Soon, thousands of people followed her posts. By 2015, she was a 200-hour certified yoga instructor and began contacting breweries across the Midwest about offering yoga classes.
"A few breweries were totally down to have me out," Larson said. "Then the emails from other breweries came pouring in."
'Bring a friend'
While she knew her business was growing, Brooke Larson wasn't sure exactly how popular she was until this year.
"I really love that it has brought people together who enjoy yoga and beer, and it's a joy to meet people and drink beer with them," she said.
While her business has attracted those experienced in craft brews and yoga alike, the classes are designed with all levels of learners in mind. Each lasts about an hour and is beginner-friendly. Following the class, beer and brewery tours are optional, but recommended.
"I tell potential participants to just come out and try a class one time to see what they think and bring a friend if they are nervous," Larson said.
Although Larson prefers to keep her class schedule spontaneous, she shares planned event details at least one month in advance via her social media pages. She recently held a class at COOP Ale Works in Oklahoma City. This summer, she also led weekly, outdoor morning classes at The Bleu Garten. Events also are planned soon in Austin and Denver. Each class is about $20, requires registration (find and sign up for upcoming events via eventbrite.com by searching "Brooke Larson") and is BYOM — bring your own mat.
As for the beer, Larson recommends trying all beers to find one that speaks to you.
When she isn't scheduling and leading yoga classes, Larson teaches French at Oklahoma Christian University and the University of Central Oklahoma. She also enjoys reading and traveling to places where she can hike and camp with her boyfriend.
"Being able to road-trip around with friends to teach yoga and drink beer in different cities is so fun. What better job could you have?" she said. "I would love to travel to the coast or another country to teach yoga classes. We'll see what happens."
Find Larson on Facebook at facebook.com/beeryoga1.
Print headline: Active success, Brooke Larson's Beer Yoga business grows from a class project to a social phenomenon.