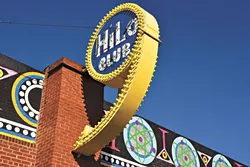 HiLo Club hosts Beers Not Braums Dec. 30. | Photo Jacob Threadgill
There were times this year when employees of the businesses located inside the Donnay Building thought 2017 would end with them looking for a new job or location due to a re-zoning standoff led by Braum's Ice Cream and Dairy Stores that would've razed the historic building.
Instead, the Braum's proposal stalled in the city planning commission after a vocal outcry from the community, and a developer has stepped up to renovate the building that dates back to 1948 without displacing its current tenants, which includes HiLo Club, Drunken Fry, Charlie's Jazz-Rhythm & Blues Records and Classen Grill.
A two-night end-of-the-year concert that originally started as a rally to save the building has turned into a celebration. Beers Not Braums is 9 p.m. Dec. 30 at HiLo, 1221 NW 50th St., and 9 p.m. Dec. 31 at Drunken Fry, 5100 Classen Circle.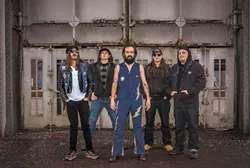 MF Ruckus organized Beers Not Braums at HiLo Club and Drunken Fry. | Photo provided
Helping hand
News of the Donnay Building's perilous situation reached Denver, Colorado, where Aaron Howell, lead singer of the metal band MF Ruckus, knew he had to do something to help his friends in Oklahoma City.
Howell met friends in Oklahoma City through a worldwide fun club of the Norwegian band Turbonegro called Turbojungend. Howell, along with MF Ruckus' guitarist Tony Lee and bassist Logan O'Connor, arranged to meet up with the Oklahoma City chapter of Turbojungend while in town for a concert at the HiLo five or six years ago.
"Out of all the chapters we've met from around the world, they're the nicest, most hospitable, most fun and insane group of people you'll ever meet," Howell said.
The friendship continued as MF Ruckus came back into town to play at The Blue Note, spending most of their time eating and drinking at the HiLo, Classen Grill and Drunken Fry.
"That little circle of businesses is kind of the nexus of the dirty rock scene in OKC," Howell said. "It houses a thriving underground cultural scene."
Howell organized the double bill of Beers Not Braums, which will feature two separate performances from MF Ruckus, with no repeats. Lee's band the Blind Staggers will provide support, along with local band Your Mom. Howell said each of the shows will be recorded for a live album, and a videographer has been hired to create a few accompanying music videos.
"We wanted to go down and show support for our people for a thing that keeps their community [together] that was in danger of being taken away," Howell said. "Now that we've gotten some good news, it's kind of a victory celebration. Score one for the counterculture."
Howell's high-energy rock and roll career began in 1997 while still in high school, but MF Ruckus was formed in 2011 as the nexus of bands from Chicago and Denver. MF Ruckus has earned fans across the United States and Europe for its brand of classic rock-infused metal.
"MF Ruckus is incredible live and a sight to be seen," said Topher Copeland, HiLo's bar manager. "Aaron is insane because he climbs rafters, ceiling fans, and generally is all over the place."
Topher Copeland is HilLo Club's bar manager. | Photo Jacob Threadgill
Approaching light
Copeland said it was a "no-brainer" to book the band when it inquired about the end-of-the-year show.
"It's a nice way to close out 2017, especially now with a positive light of being able to stay in the building and not being run off by a burger joint," Copeland said.
Local developers Josh Thomas and Don Hays are working to finalize a deal to refurbish the seven-decade-old building, Sauceda-Copeland said.
"[Thomas] is a young guy with great ideas," Copeland said. "It's nice to have a fresh mind on the situation that understands the dynamics of the building and the tenants. It's still a work in progress. T's have to be crossed and i's have to be dotted, but for us, it's a light at the end of the tunnel. They are coming in with the idea of keeping us there and giving the building the TLC that is so desperately needs and keeping us established as one of the iconic landmarks of the city."
Copeland moved to Oklahoma City from San Francisco in 1999 and experienced quite a bit of culture shock, he said, until he discovered the HiLo, which is one of the city's oldest LGBTQ venues.
"I walked in for the first time, I was in love. It reminded me of so many places in San Francisco," he said of the club where he has worked for 10 years. "I found something I could relate to and feel comfortable being out."
The rezoning application was submitted by Braum's in July and withdrawn in October after stalled votes in the planning commission and public demonstrations organized by Ward 2 Councilman Ed Shadid.
Copeland said he heard from older generations of people who frequented the HiLo 30 and 40 years ago, who were bolstered by enthusiastic younger generations on the ground.
"We were coming at it from all directions," he said. "We were able to scare [Braum's] off, or maybe they came to their senses. They're an Oklahoma-based company that is about family, and I think they realized it was a fight they didn't want to be involved in."
Print headline: Victory party; Beers Not Braums celebrates the Donnay Building's future after an uncertain 2017.