The Oklahoma County Sheriff race is considered one of the most important in the history of the sheriff's department. The candidate county voters elect Sept. 12 will not only be tasked with cleaning up the alleged financial mismanagement left by the former sheriff but will also set the tone for much-needed reforms at the overcrowded and deteriorating county jail. The next sheriff could play a role in shaping a countywide sales tax proposal to fund a new jail.
Former Sheriff John Whetsel abruptly retired in March, just a few months after winning the election. Less than a month before the November election, the state auditor's office released a special audit, requested by District Attorney David Prater, on the law enforcement agency that concluded, "All funds were not expended in a lawful manner."
The audit results surprised few, as Whetsel frequently came under fire by the Oklahoma County Commission over spending and funding. While the former sheriff's financial statements were an ongoing issue, so were reports of violence and inmate deaths at the Oklahoma County Detention Center, which was designed poorly, causing numerous problems since it opened in 1991. Elected officials and the public alike have repeatedly raised concerns that overcrowding in the jail would put the safety of detention center staff and inmates at risk.
"I am convinced that new leadership is required to solve the problems with the jail and overall funding of the many responsibilities of the Sheriff's Office," Whetsel stated in his resignation letter to citizens.
All three candidates agree a new kind of leadership is needed, and all promise to reform the beleaguered agency.
Candidates for sheriff are acting Sheriff P.D. Taylor, a Republican; Ed Grimes, an Independent; and Mike Hanson, a Democrat. The new sheriff will head an agency with a $34 million annual budget and oversee more than 600 employees. In addition to policing the county's unincorporated areas, the sheriff runs the state's largest jail.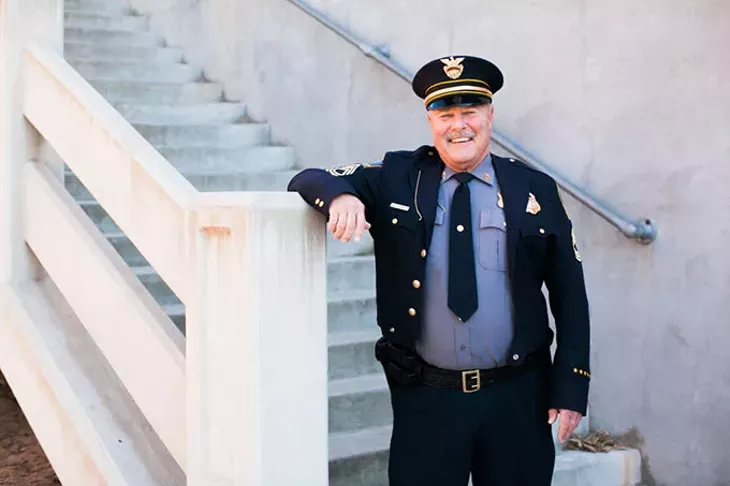 Ed Grimes
With more than four decades of law enforcement experience, Grimes said running for sheriff is the next step in his career.
"The system is broken," said Grimes, who began his career with Oklahoma City Police Department and most recently served as undersheriff of neighboring Canadian County. "I am really disappointed in the direction it is going. … As undersheriff of Canadian County, I did a lot of good things, and I want to do those things here. This is the county I live in. This is the county I've raised my children in. I am proud of this county, but the sheriff's office needs to change. It needs a new vision. This is not it. What we have today is absolutely uncalled-for."
Making transparency and accountability main tenets of his campaign, Grimes is a supporter of keeping the public aware of the finances of the Sheriff's Office. Grimes said he believes the agency can work within a balanced budget while meeting its duties to the courthouse, executing the civil process and maintaining the jail.
"We have to maintain what we have the best way we can," Grimes said. "I don't believe that has been done in the past."
If elected, Grimes said he wants to review the jail's command structure. He connects recent jail violence and poor treatment of inmates to a lack of manpower. He plans to bring a new philosophy about inmates, who should be "treated as human beings" with access to showers, clean clothes and exercise. He wants to work with mental health professionals to develop solutions and programs to help serve the jail's mentally ill inmates.
Mike Hanson
In 1986, Hanson joined the sheriff's office as a reserve deputy before becoming a full-time employee two years later. While some connect him to the problems of the past, Hanson's response is, "At my level, you couldn't move a mountain." Hanson not only acknowledges those problems, from financial waste and employee reprimands to jail violence and policy decisions, but he made a list to record incidents in which he believed leadership failed.
"I was always up against forces — you might call it the good-old-boy system," Hanson said. "I decided someone needed to run, get in and make the decisions that needed to be made. It is turning around an upside-down pyramid."
While Hanson agrees the jail was poorly designed, he doesn't believe it is an excuse for not maintaining a safe and secure jail, which is possible with the right number of trained employees. If elected, he said he would review all employees and their duties, making changes to the agency to best serve the public and the jail.
One concern Hanson has is the 24- to 48-hour process it takes inmates to be released from the jail. Hanson believes the agency can better serve inmates who make bond, have been acquitted or receive not-guilty verdicts.
"Once a judge says you are released, we as the sheriff's department and as citizens of Oklahoma County, we have to release that man or woman immediately," Hanson said. "I would find a way to get that done. Anyone going to court, their papers go with them. At the courthouse, we sign them out."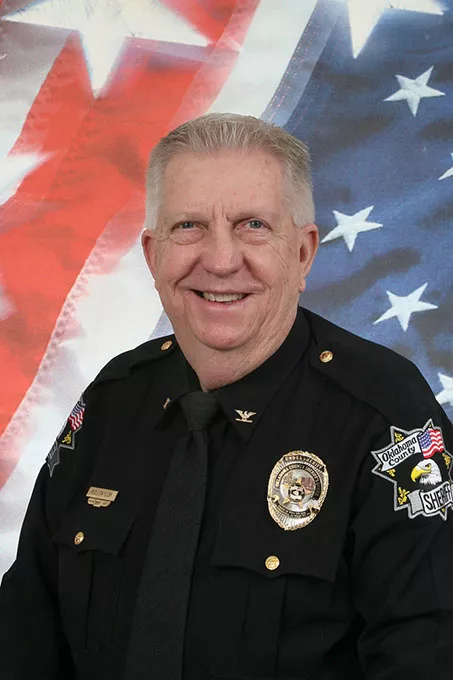 P.D. Taylor
Following a long career as an OKC police officer, Taylor joined the sheriff's office, where he has been for 20 years and served as undersheriff for more than a decade. When Whetsel retired March 1, Taylor became acting sheriff. A month later, he clinched the Republican nomination for the position.
Taylor faces criticism from the other candidates, who say he was Whetsel's second in command when problems began to trouble the agency. Taylor said his experience in the agency is what sets him apart from the others. He has made changes, like providing more supervision to the jail, adding officers to property and the courthouse divisions and cutting costs with uniforms purchases.
"I've got a great knowledge of this place and what direction I want to go and what needs to be fixed," Taylor said. "The main reason is the employees of the Oklahoma County Sheriff's Office. This agency has been so underfunded. You have to fund the sheriff's office, and you have to fund this huge jail. It just hasn't been funded properly."
Taylor cited overcrowding and lack of funds as reasons behind the jail's problems. Like the other candidates, Taylor backs efforts to bring a countywide sales tax proposal for public safety. In a "perfect world," the county would be home to a new jail but also a separate detention center to adequately serve inmates suffering from mental health issues.
"Fund me properly," Taylor said. "We can do a lot. I certainly have already started to save money, and it will add up. … Whatever I have to work with, I will do the best I can."
Print headline: Sheriff succession: Oklahoma County voters will determine the next sheriff who will head an agency with a $34 million budget and run the state's largest jail.