Alexa Ace
Broncho frontman Ryan Lindsey
Keeping an accurate count of untoward actions, ugly manners and poor form in any given 24-hour news cycle or endlessly scrolling social media timeline seems impossible, but Broncho's Ryan Lindsey has been taking notes.
"Everybody's behavior is on full display," Lindsay, the band's vocalist and lyricist, said. "And you watch that stuff, you pay attention to it, and then you write a record, and then you call your record Bad Behavior. I guess maybe this is my therapy, talking about it and figuring it out, where it all came from."
The Tulsa-based band's fourth album might have been written in response to the current state of the world, but Lindsey said it's not meant as a condemnation.
"I don't think we're passing judgment," Lindsey said. "We're more just reporting on ourselves and other people, whatever it is that we've made … but I'm not fighting to make a point. It's not editorial. It's maybe a little more facts-based. We're a facts-based band from Oklahoma, digging deep for the truth."
The truth is keeping count of the instances of bad behavior in Bad Behavior would be more difficult than tallying the social gaffes on social media because the album's lyrics are mostly impressionistic images and innuendos, puzzle pieces that not even their author has fully fitted together until after the fact.
"I think the way that I write music, it doesn't have to be about anything," Lindsey said, "but I think I start figuring out that it is about something."
Lindsey, who recently relistened to his band's discography to prepare for the current tour, said he sees Bad Behavior as a logical continuation of 2016's critically acclaimed Double Vanity, which Spin called "perfection refracted."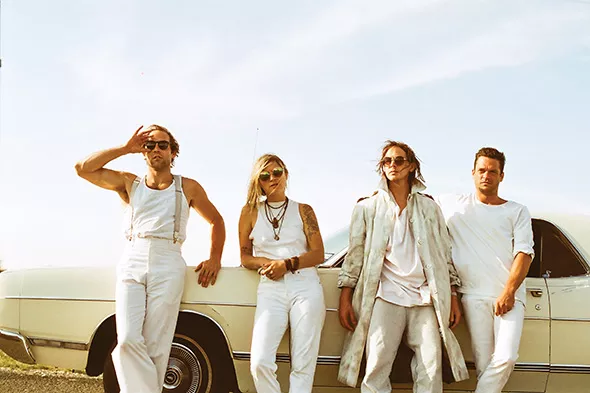 Pooneh Ghana / provided
Broncho plays Nov. 21 at The Jones Assembly, 901 W. Sheridan Ave.
"The last record had a lot more reverb on it, but there's a connection there for me, character-wise," Lindsey said. "I feel like the same character is in there somewhere. Whatever Broncho is, that character, he's there on both records. For that matter, I can listen to all four records and hear that person, see that person. I can picture him. It's just like looking through different yearbooks, different ages of whoever this person is. It kind of depends on where I am mentally or even physically. I think the character evolves in seasons one through four. Stream all the episodes."
Slower-tempo, reverb-soaked Double Vanity — the follow-up to commercial breakthrough Just Enough Hip to Be Woman and the first to feature bassist Penny Pitchlynn alongside drummer Nathan Price and guitarist Ben King — marked a stylistic shift for the band formerly known for fast-paced, hook-laced songs such as "Class Historian" and "It's On." To Lindsey, however, the albums all sound remarkably consistent.
"Maybe it's because a lot of people tell me how different we are record to record so that I expect it to shock me when I listen to everything," Lindsey said, "and then shockingly, everything sounds more similar. … It's all the same thing really."
Bad Behavior is the second album recorded by Broncho's current lineup, and Lindsey said relationships within the band have only improved with age.
"We all came together pretty easily in the end, but we've gotten better at all the things you need to get better at to keep things going," Lindsey said. "It's always a continuing process to figure out how to communicate better."
Opening for long-lived iconic acts including Billy Idol, Mission of Burma, Queens of the Stone Age and Guided by Voices has taught Lindsey several valuable lessons about how to front a rock band.
"Josh [Homme] from Queens of the Stone Age, he's so easy and light," Lindsey said, "and the way he handles his stuff, he does it in a way that's good for a band like us to watch, and Bob [Pollard] from Guided by Voices, he has his own way of doing things. He cruises through the whole thing."
While playing support for high-profile musicians is an educational experience, Lindsey said, most interactions can be if you approach them the right way.
"I've learned a lot from all of them, and you learn from the people opening up for you, too," Lindsey said. "You can learn from everybody. Keeping an open mind and being open to learning more is the easiest way to stay happy in our world. … Those things can, I think, lower your blood pressure. I don't know for sure, but it seems like it lowers mine. … It almost keeps me from making all my things so sacred to myself."
provided
Bad Behavior, Broncho's fourth album, was released in October.
Touring in Europe has also been a learning opportunity, but Lindsey said he quickly discovered he should be on his best behavior when he's representing his home state.
"Meeting anybody there, or even going around the U.S. and talking to different people, it gives me a different perspective on us at home," Lindsey said, "because a lot of times maybe I'm the first person from where I'm from that somebody's met, and so they're like, 'Oh, you're from Oklahoma. It surprises me that you're here.' And then they find out why I'm there and it makes sense to them and they have a different perspective on where I'm from. … I think it's important for almost anybody to travel because they become an ambassador from their place that they come from. … It helps, diplomatically, keeping in contact and keeping a dialogue going. So you know everything's OK, and that lowers blood pressure, I'm pretty sure."
Lowered blood pressure aside, Bad Behavior marks a return to uptempo indie power pop with catchy single "Get in My Car," kinky come-on/troll "Family Values" and funky Chordettes riff "Sandman," but the richer sonic textures explored on Double Vanity return to reward the repeated listens the catchy hooks require. Produced by Chad Copelin, the album was initially recorded at Broncho's studio/performance space in a former Jacuzzi warehouse but was finished at Copelin's Blackwatch Studios in Norman. To date, a portion of every Broncho album has been recorded at Blackwatch.
"It's just like going home," Lindsey said. "'Should we eat out or go home?' 'Well, let's go home. Home sounds real cozy. Let's go there.'"
Visit broncho.tv.