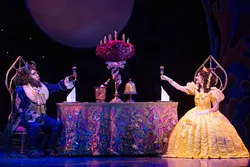 Broadway musical Disney's Beauty and the Beast, onstage this weekend at Civic Center Music Hall, is important for at least two reasons.
The production — from costumes to choreography — was reimagined by the original creative team that put Belle and her Beast on Broadway in the mid-1990s.
And, as fate would have it, everyone in that enchanted castle might blow out the candles and move out.
After this tour, the show will be banished to "the vault," to use Disney's parlance, lock, stock and Lumière.
The musical centers on Belle and the Beast. He trapped her in his castle, wherein its inhabitants are cursed and slowly turning into objects. Beast himself is really a young, cocky prince. As he learns to give and receive love, he sheds his beastly burden — first emotionally and finally physically — to become an emotionally healthy man.
And somehow, Belle makes this happen. It's a beloved and enchanting tale about the transformative power of tenderness.
Director Rob Roth is enamored with the production.
After working with the show for more than two decades, he still finds himself transported by the magic the Broadway musical brings its audiences.
"It's very emotionally powerful. My current favorite moment in the show is in act two. You feel it happen in every performance — literally every person in the audience leaves the theater and exists in the world of their imaginations," he said. (Spoiler alert.) "It's when the Beast lets her go, when he's deciding to let Belle leave. You can hear a pin drop — you can tell the audience has left you and isn't even in the theater anymore."
Roth said he also loves the spectacle of the show. It's boisterous, sweet, funny and charming.
"It's a great big, beautiful, touching love story," he said. "Kids are watching the show, and the looks on their faces are incredible. Then you look at the parents watching their children watching the performance and the looks on their faces. Well, I cry during every single show. Even after working on this for so many years, it's something I never take for granted."
For him, the theater bug bit early and hard.
"I saw Fiddler on the Roof when I was 5 years old, and it changed my life," he said. "I've seen it a few times since, and it's always the same. … During every performance of Beauty and the Beast, I look out into the audience and I see that magic repeating itself. You really can see it."
Oklahoma City hosts five performances of Beauty and the Beast this weekend at Civic Center Music Hall, 201 N. Walker Ave. The tour hits more than 20 U.S. cities before it closes in March.
"When it was announced that this is the last year of this tour, there was immediate public outcry," Roth said, "so I suspect it will come back at some point. I really think it will. So cross your fingers, but buy your tickets. Better safe than sorry."
Print Headline; Bye, beastie, Belle and the Beast might blow out the candelabra and move out of the castle after this tour ends in March.