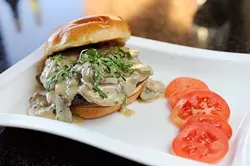 Garett Fisbeck
Mushroom marsala burger at Bellini's Ristorante in Oklahoma City, Monday, Feb. 1, 2016.
"How is the burger?" is an odd question to ask at an Italian restaurant.
But this is Oklahoma. It's hard to find a restaurant here that doesn't have a hamburger in it. That's not a bad thing, by the way. I like burgers. A lot. And that is how one ends up looking over a menu with cured salmon salad and a crab, cauliflower and almond casserole and choosing a cheeseburger.
But this is Bellini's Underground, 6305 Waterford Blvd., so when I see "8 oz. house grind Black Angus beef on brioche bun," the ears on my stomach perk up.
As a rule, I don't go to Italian restaurants and order American fare, but I had a feeling this would be different. When my server asked how I would like my burger cooked, I knew I'd made the right choice.
The mushroom Marsala burger ($10) is a beast. The patty is almost too perfectly shaped, but one bite lets you know it's not some mass-market beef hockey puck. It's incredibly tender and cooked to a perfect medium (as I requested). The mozzarella on top is melted just right for the cheese to wrap around the beef, like a hug that won't let go.
The Marsala wine sauce and sautéed mushrooms add a slightly sweet kick of umami flavor that had me floating. It is hard to savor a burger when you're eating it like someone is about to take it away, so I recommend you slow down and really give each bite its due.
Going to a fancy-pants Italian restaurant just for the burger isn't wrong, per se, but that's far from the only dish worth the trip. I think the fettuccine carbonara ($19) is one of the most gorgeous plates of pasta I've seen in a long time. The fettuccine is strewn with crisp, thick-cut pancetta nibs and peas in a Parmesan cream sauce, with egg yolk mixed in.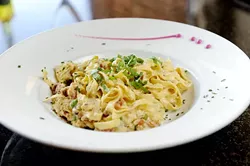 Garett Fisbeck
?Carbonara at Bellini's Ristorante in Oklahoma City, Monday, Feb. 1, 2016.
When I ate there, the yolk was served in the shell, and it's a beautiful presentation. But, bowing to customer suggestions, new owner Diana Buthion said the chefs will be mixing the yolk into the sauce in the kitchen.
But if you take joy in a little DIY, watching as the sauce gains a rich, yellow tinge, just ask your server and you can get it done the old way. The flavor is fantastic — rich and creamy and intoxicating.
I'd had high hopes for the arrosto cavolfiore ($13), which is a whole roasted cauliflower head served over a cheese fondue. Roasting brings out a nutty sweetness in cauliflower, but as visually appealing as the whole-head approach is, the vegetable's surface area isn't enough to take full advantage of the technique. The cheese sauce also needed a touch more salt to really stand out. As it was, the appetizer was a little bland. Don't fret, though — management said this particular dish is not long for the menu.
The sea scallops orzo ($26) is also packing it in. The basil-caramel sauce adds a sweet herbaceous flavor to three large seared scallops and the lemon confit, which I found addictive. The scallops were cooked perfectly throughout, solid but not chewy, though they needed a little extra work to get out the remaining grit. The tomato orzo was OK, but couldn't hold up against the other, more intense tastes.
In its place are plenty of Italian favorites returning to the menu, including veal piccata, Buthion said.
Since I go to Italian restaurants and order burgers, are you even a little surprised that I also got some pizza? It's so hard to resist when it has a name like Burning.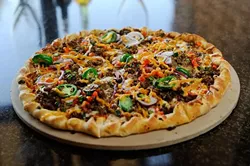 Garett Fisbeck
Burning pizza at Bellini's Ristorante in Oklahoma City, Monday, Feb. 1, 2016.
If you'd like a whole pizza, it's $18 (or just $9 during Thunder games) and $10 at lunch for a half pie with a small salad.
Burning — no surprise — has a little kick with spicy ground beef, red onion, poblano peppers, red peppers and jalapeño with mozzarella and cheddar cheeses. But this isn't going to destroy your taste buds or set your tongue aflame if you've got a reasonable tolerance for spice.
The dough was a little bland, and the bottom of the crust needed some more time on the grill to brown up, but the toppings were on point.
A brief word about the wait staff: In a restaurant with a laid-back feel like Bellini's, it would be easy for the servers to slip into a lower gear. While their approach is genial and friendly, what stood out to me was their level of focus. Coffee cups do not sit empty. Finished plates are quickly spirited away. And when a burly gentleman with a beard wants to order a drink called a Park Ave. Princess, the waitress is kind enough to bring it to him (me) and call it a Dragonslayer.
Bless you, kind server.
Print headline: Under Water, Hidden under the Waterford, Bellini's Underground combines excellent service with classic dishes.