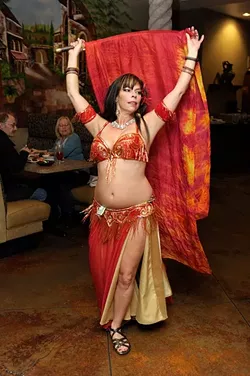 Belly dancing usually conjures up images of the exotic, of colorful costumes and mysterious dance movements. What many people might not know about this folkloric dance is that there are multiple versions of its origins.
"The leading theory is that this was a type of dance created by women for women. It's perfect no matter if one is young or old, or what size," said Ayperi Al Jawahir, vice president of Aalim Bellydance Academy, 2520 N. Meridian Ave.
With origins in the Middle East, each region had its own style and specific dances, including Egyptian, Lebanese and Turkish. Within these cultures, men and women led primarily segregated lives, and the women would often dance for each other as entertainment, for sheer fun.
Today, belly dancing can be watched close to home every Friday during the 7:30-8:30 p.m. dinner show at Gopuram Taste of India, 4559 NW 23rd St. When you walk in the restaurant, you can hear the Middle-Eastern music but don't see the dancers. They're in the mysterious-sounding back banquet room, surrounded by tables of families. (Yes, it's popular with kids.) The audience encourages the dancers by clapping while the dancers perform in a swirl of chiffon and sequins. One of the dancers is Ayperi herself.
Ayperi did not have belly dancing in her heritage growing up.
"When I was a teenager, I wanted to take a class with my mother … pottery or yoga, or something, and she came up with the idea of belly dancing. I was sure she was joking, so I said OK. And after the first class, I was hooked," she said.
It's easy to get hooked at Aalim Belly Dance Academy, 2520 N. Meridian Ave. — the first class is free. All you need to wear is something comfortable to move in, such as yoga pants and tank tops. Shoes are not required. Here's the fun part: Hip scarves can be purchased at the on-site belly dance boutique.
Also in the boutique are consignment costumes of every quality, from handmade to top-of-the-line.
Garett Fisbeck
Theda Borja Lothrop, 6, tips Sevi Amar as she dances at Zorba's in Oklahoma City, Nov. 22, 2014.
"We get all types and sizes of students with different backgrounds, ages, cultures, including doctors, attorneys, stay-at-home moms, everyone," said Ayperi. "An introductory class begins with a warm-up to get the body moving. In belly dance, we use muscles that are sometimes neglected in our regular daily activities."
Basic introductory movements include hip shimmies, hip bumps, half circles and belly rolls.
A traditional dance costume begins with a bra, but not just any bra. These are weighty, substantial and highly decorated with coins, beads, sequins and fringes. Next is the hip belt, a snug belt or scarf fitting around the hips to showcase the belly rolls and undulations. Then, either long, gauzy skirts or chiffon harem pants with slits are worn, gathered at the ankle. Scarves accompany the costume and are used for swirling.
Zorba's Mediterranean Cuisine, 6014 N. May Ave., offers belly dancing entertainment every Saturday night from 8:30 to 9:30 p.m., featuring three talented Aalim dancers.
Dancer Shira Amar was born in the Philippines and came from a performing arts background.
"I love sharing the joy I feel when performing," she said.
She danced using small, flirty finger cymbals called zills in Turkish.
"Belly dancing is highly addictive," said dancer Sevi Amar.
Sevi did a flowing dance routine while she balanced a tray of four candles on her head, no small feat.
"It's a beautiful, feminine and fun way to exercise your core; it's a perfect workout," said Aini Amar, who did an elaborate dance with a sword balanced on her head.
Are Sevi, Aini and Shira related? No, these are all their Aalim academy belly dance names.
"Almost everyone has the same last name in Aalim, except a few of us who became known dancers when we studied with other studios," explained Ayperi. "It adds to the mystique of becoming a belly dancer."
Amar is Arabic for "moon."
"Everyone learns at a different pace and everyone's bodies are different, so one step may come very naturally for one lady while it may be really difficult for another. Emotionally, letting go of one's day might be the easiest thing to learn in belly dance," said Ayperi.
"But as class starts and we start moving, we let go of that stress and start enjoying ourselves. We're a community of women who are there for each other. And if someone is feeling down, we're there to reach out and help that woman up. We're sisters."
The most difficult thing to learn in belly dance might be stage presence and eye contact; it's what really pulls the dance together.
"Eye contact is a way of engaging the audience by creating a connection and lets the audience know that we appreciate them," said Ayperi.
And by the wild applause at these performances, the audience both young and old clearly appreciates belly dancing.
Print headline: Beautiful belly, Shimmy up to traditional belly dance — it's easy to watch and learn.