By Greg Elwell, Ben Luschen, Laura Eastes, Candice Macis, Jennifer Chancellor and Brittany Pickering Photos Gazette staff, file and provided
Best Place to Volunteer
Central Oklahoma Humane Society
7500 N. Western Ave.
Time is valuable, but the best way to donate it is by helping furry friends. Central Oklahoma Humane Society saves homeless cats and dogs from euthanasia at local shelters and gives them a second chance through its adoption program. Whether you're looking to open your home for foster pets or get down and dirty in the kennels, this nationally recognized organization offers many ways to help. It's open seven days a week at five locations. New volunteers must attend OK Humane 101 and can register online at okhumane.org.
Favorites: Regional Food Bank of Oklahoma; Infant Crisis Services, Inc.; Central Oklahoma Habitat for Humanity; Pets and People Humane Society
---
Best Free Entertainment
Festival of the Arts,
Arts Council Oklahoma City
500 Couch Drive
This downtown arts festival has been a spring staple since 1967. Boasting hundreds of visual, culinary and performing arts, this event is a sight to see for the entire family. Performers donate time between three different stages, and juried artists show off skills in paint, woodwork, photography and more. Admission is always free. Children also can take part in hands-on activities.
Favorites: Myriad Botanical Gardens; Bricktown; Sonic Summer Movies at Myriad Botanical Gardens; Sunday Twilight Concert Series, Arts Council Oklahoma City
---
Best Live Music Club
The Blue Door
2805 N. McKinley Ave
Dubbed the best listening room in Oklahoma, The Blue Door lives up to the hype. Greg Johnson returned to Oklahoma City in 1992 after living in Austin, Texas, for many years as a music journalist and publicist. He began what is an encouraging environment for singer/songwriters and folk, bluegrass, rock, country and blues musicians. It hosts names like Jimmy Webb, David Lindley and Tom Rush, and guests can enjoy an intimate venue with great music and little pretense.
Favorites: The Blue Note Lounge, Wormy Dog Saloon, The Deli, Opolis
---
Best Concert Venue
Chesapeake Energy Arena
100 W. Reno Ave.
Perhaps best known as the home of the Oklahoma City Thunder, this 581,000-square-foot arena also holds more than 23,000 fans. Some of the biggest names in music come to Oklahoma City's biggest concert venue. Stars like Blake Shelton and Carrie Underwood are set to perform there and regularly do. The three-tier arena has featured sold-out tour stops for Lady Gaga, Cher, Justin Bieber and The Rolling Stones, among many others. Loud City gets loud for basketball and music fans alike.
Favorites: The Zoo Amphitheatre, The Criterion, Civic Center Music Hall, Diamond Ballroom
---
Best Dance Club
Groovy's
5705 Mosteller Drive
When it comes to dance clubs, there really isn't anything better than classic disco, strong drinks and regulars who know how to have fun. Gazette readers agree. The throwback music of the '70s, '80s and '90s is a hit among this diverse crowd, so be prepared to wait in line. Groovys opens at 9 p.m. but gets packed by 10 p.m. on the weekends. Inside, you might see trendy 20-somethings dancing with people who look like they stepped out of
Saturday Night Fever
. It's open Wednesday through Saturday until 2 a.m.
Favorites: The Copa, Kamps 1310 Lounge, Dollhouse Lounge & Burlesque, Club One15
---
Best Karaoke Bar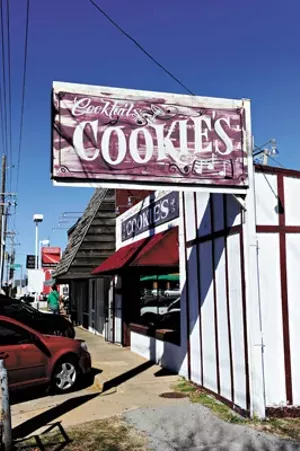 Cookie's
2304 N. Western Ave.
If you want to hear some of the best karaoke singers in Oklahoma City in a charming little dive bar, then Cookie's is your place. It has long been known as a fun place to sing and be sang to. The décor might appear unchanged since the '70s, but the friendliness of the bartenders and the regulars make Cookie's a welcoming place to practice your favorite Elvis or Katy Perry song. The drinks are made well to infuse patrons with liquid courage.
Favorites: Henry Hudson's Pub, Nancy's 57th Street Lighthouse, Don Quixote Club, By George's Tavern
---
Best Public Art/Mural
Plaza Walls project in Plaza District
N.W. 16th Street and Indiana Ave.
The Plaza District has cultivated a mecca of creativity with its unique shops, dining and art galleries. The Plaza Walls project, lead by co-creators and co-curators Dylan Bradway and Kristopher Kanaly, is a natural extension of this creativity. Since September 2015, hundreds of feet of rotating mural space at 1708 N. Indiana Ave. have displayed more than 30 pieces of public art, essentially turning Plaza District into an open-air art gallery. More than 20 artists have contributed to this transformative visual masterpiece.
Favorites: New Zealand Thunder player Steven Adams mural on The Paramount building in Film Row, Taste of Western murals in Western Avenue District, Cultivation mural at EK Gaylord Boulevard and W. Reno Avenue, Flamenco memorial to John L. Belt in Paseo Arts District
---
Best Place to Buy Local Art
Paseo Arts District
Paseo St. from 28th St. and N. Walker Ave. to 30th Street and N. Dewey Ave.
Each passing decade, Paseo Arts District seems to experience a rebirth. The 1920s brought The Elms, Oklahoma City's first art studio and gallery. By 1930, the district had its name and became the city's first retail district located north of downtown. The '50s and '60s brought with them business growth, college partiers, jazz venues and free-spirit counterculture. The '70s welcomed Paseo's growing gallery scene and its first Paseo Arts Festival. The area officially organized when the nonprofit Paseo Arts Association formed in the '80s. Development continues today as the district boasts restaurants, shops, music venues, art schools, more than 20 galleries and more than 80 artists.
Favorites: Festival of the Arts, Plaza District, DNA Galleries, Paseo Arts Festival
---
Best Museum
Oklahoma City Museum of Art
415 Couch Drive
One-of-a-kind exhibitions like
Matisse in His Time: Masterworks of Modernism from the Centre Pompidou, Paris
and permanent Dale Chihuly free-blown and sculptural glasswork displays set this museum on the art world's map. Oklahoma City Museum of Art connects people and the world around them to art. Its many youth programs cultivate a love for the arts with classes, camps and workshops. Interactive programs like drop-in yoga and glass blowing also are available, and family workshops welcome children as young as 15 months old.
Favorites: Science Museum Oklahoma, Oklahoma City National Memorial & Museum, National Cowboy & Western Heritage Museum, Sam Noble Museum
---
Best Fine Jewelry
x
BC Clark Jewelers
several metro locations
Oklahoma was still Indian Territory when BC Clark opened in 1892. Operating as the oldest jewelry and retail store under its original name, BC Clark Jewelers has been family owned and operated for four generations. Today, the full-service jewelry store has multiple Oklahoma City locations that offer designer jewelry, diamond rings, luxury watches, fine china, bridal registry, repair and more.
Favorites: Naifeh Fine Jewelry, Lewis Jewelers, Mitchener Farrand, Huntington Fine Jewelers
---
Best Thrift Store
Bad Granny's Bazaar
1759 NW 16th St.
Search through unique collectibles, vintage clothing, furniture, jewelry and art to find hidden treasures at this charmingly idiosyncratic thrift store. Bad Granny's specializes in all things upcycled, recycled, repurposed and gently used. Look for a Halloween costume or find a retro evening gown. This is the place to find the perfect sweater for this year's ugly sweater Christmas party. The store is open noon-7 p.m. Tuesday through Saturday.
Favorites: Goodwill Industries of Central Oklahoma, Uptown Thrift, Nearly New Shoppe, EARC Thrift shop (Employment & Residential Centers)
---
Best Clothing Consignment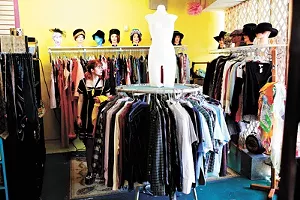 Bad Granny's Bazaar
1759 NW 16th St.
This is the best place to buy and sell gently used wearables. Bad Granny's loves all things retro and vintage, so your grandma's leisure suits from the '70s will find good homes if you take them here. Whether you're looking to sell a high school prom dress or 1920s jewelry, Bad Granny's has the consignment market on lock-down. Unique items are appreciated but not necessary there. Trendy clothes are accepted, too.
Favorites: Daisy Exchange, Nearly New Shoppe, Cindy's Resale, The Bottom Drawer
---
Best Furniture Consignment
RINK Gallery
3200 N. Rockwell Ave., Bethany
This huge space acts as an antique store and furniture gallery. You can buy and sell thoughtfully bought French armoires as well as repurposed and repainted coffee tables. This gallery features a variety of vendors and opens seven days a week. Free hot dogs with chili are known to be served on weekends. Plus, you can meet many sellers of the unique collectibles and furniture around the consignment store on Sundays. Everyone is friendly, so arrive prepared to chat with workers, sellers and guests.
Favorites: RetrOKC, The Green Attic, 2 Doors Down, K&N Interior Consignment
---
Best Men's Clothier
Blue Seven
7518 N. May Ave., Suite A
Any man who shops at Blue Seven knows he will be dressed in style from head to toe. More than a retail shop, this locally owned business supports and promotes Oklahoma artists and designers with its Just OK specialty boutique. Social consciousness is sexy, and Blue Seven values people above all else. Men can choose from a variety of denim jeans, coats, T-shirts, boots, shoes, jewelry, watches, shoes, beard oil, bowties, manicure kits and more.
Favorites: Mr. Ooley's, S. J. Haggard & Co., TRADE Men's Wares, Steven Giles
---
Best Women's Clothing Boutique
Blue Seven
7518 N. May Ave., Suite A
Voters have spoken, and Blue Seven is best for women's clothing, too! Shop for the latest delicate chain necklaces, bohemian tops, perfumes, home fragrances, dresses, cardigans, sandals, strappy tanks and more at this locally owned retail store. Support Oklahoma-based companies and designers by visiting the Just OK boutique to find comfy and housewarming gifts, tees, gift cards and more.
Favorites: Lucca Fashion Boutique, Lush Fashion Lounge, Balliets, The Black Scintilla
---
Best Place to Dine Before a Show
Empire Slice House
1734 NW 16th St.
Whether you're catching a show at Civic Center Music Hall or Lyric Theatre of Oklahoma, Empire Slice House has your quick-and-delicious pre-show dinner plan taken care of. New York-style pizza by the slice in the beloved and centrally located Plaza District makes Empire an easy pick before before any show. The delicious slice varieties are as influenced by pop culture as its décor and feature names like Fat Tony, MCA, Figgy Stardust and Rocksteady.
Favorites: Cheever's Cafe, Museum Cafe, Red PrimeSteak, Flint
---
Best Place for Continuing Education
University of Oklahoma (OU)
660 Parrington Oval, Norman
Since its founding in 1890, the University of Oklahoma has been a much loved public research university. Located just 20 minutes south of Oklahoma City, its campus population hovers between 20,000 and 30,000, just large enough to give students a private campus feel with public university affordability. But you don't have to live in Norman to benefit from OU — the public school has campuses in three locations across the state.
Favorites: University of Central Oklahoma (UCO), Oklahoma State University-Oklahoma City (OSU-OKC), Oklahoma City Community College (OCCC), Francis Tuttle Technology Center
---
Best Bookstore or Comic Shop
Full Circle Bookstore
1900 Northwest Expressway
Oklahomans love our independently owned businesses, which is why
Oklahoma Gazette
readers voted Full Circle Bookstore the best bookstore or comic shop in Oklahoma City. The state's largest independently owned bookstore, located inside 50 Penn Place, has been dedicated to helping people expand book collections for more than 30 years. With selections in every genre imaginable and 60,000 new titles, Full Circle has something for everyone, including a full cafe, author signing events and discussion groups.
Favorites: Second Chance Books & Comics, New World Comics, All-Star Comics, Best of Books
---
Best Place to Get Fit
YMCA of Greater Oklahoma City
several metro locations
Looking to get in shape? Look no farther than your local YMCA. The greater Oklahoma City area has more than a dozen locations to choose from. Pick your sport and YMCA has it, from aquatics to youth soccer leagues. Family and youth programs are also available. A Y membership joins you to an organization that focuses on youth development, healthy living, social responsibility and strengthening communities.
Favorites: Lake Hefner, 10Gym, Hidden Dragon Yoga, Four Star Fitness
---
Best Park
Myriad Botanical Gardens
301 W. Reno Ave.
More than 15 acres of gardens offer a lush escape in the heart of downtown Oklahoma City. Myriad Botanical Gardens offers lush outdoor grounds including water features, live music and performing arts events, festivals, walking and running trails, an amphitheater and a water stage and is well suited for family visits, special occasions, education and art programs, health and fitness classes, running and more. The campus also features Crystal Bridge Tropical Conservatory, the Great Lawn, Meinders Gardens and a Children's Garden.
Favorites: Will Rogers Garden Exhibition Center; Mitch Park, Edmond; Stars and Stripes Park; E.C. Hafer Park, Edmond
---
Best Med Spa
Renaissance Salon and Spa
10440 N. Broadway Extension
This spa is located in a charming 1920s-era farmhouse right off Broadway Extension near Edmond. In 2001, the current owners renovated the multi-family structure into a full-service salon and spa. The spa offers a double massage room for couples, a nail boutique and a sunless tanning salon, and its services include refresher, full body, Swedish, pregnancy, hot stone, aromatherapy and couples massages, along with reflexology/acupressure. The center also offers body, face and specialty treatments, detox, exfoliation and hair, nail, makeup and waxing services.
Favorites: Mariposa Aesthetics & Laser Center; Dr. Tim Love, MD; Bliss Medical Spa, Udånder
---
Best Place to Get an Aesthetic Update
Dr. Tim R. Love M.D.
11101 Hefner Pointe Drive, Suite 104
Dr. Tim Love believes a strong client/physician rapport is integral to exceptional plastic surgery results, and his clinic developed that bond during Love's more than 30-year career as a plastic surgeon. He is board-certified by the American Board of Plastic Surgery and is a member of American Society of Plastic Surgeons and American Society for Aesthetic Plastic Surgery. His undergraduate studies were at Oklahoma State University, and he earned his Doctor of Medicine from University of Oklahoma College of Medicine.
Favorites: Rejuvena Cosmetic Medical Center, Mariposa Aesthetics & Laser Center, Advanced Aesthetics, Premier Plastic Surgery and Aesthetics
---
Best Bicycle Shop
Al's Bicycles
several metro locations
Multiple locations and more than three decades in business establishes Al's as the largest independent bike dealer in Oklahoma. Friendly and knowledgeable staff know cycling is a way of life, whether you ride recreationally or professionally, across the city or in your neighborhood. You'll find Al's Bicycles locations in northwest and southwest OKC, Edmond and Norman, and each offers free test rides and lifetime adjustments after the sale.
Favorites: Schlegel Bicycles, Wheeler Dealer Bicycle Shop, Celestial Cycles, Melonbike
---
Best (National or Regional) Retail Establishment You Wish Was Locally Owned
Sprouts Farmers Market
several metro locations
At Sprouts Farmers Market, customers find fresh, natural and organic foods at affordable prices in a welcoming atmosphere. The bright, open floor plans of all stores resemble local farmers markets and boast full-service delis, seafood and meat counters and barrels of whole grains. Shoppers also can fill their baskets with raw food, paleo, organic, vegan, gluten-free and non-GMO products, from melons and stone fruit to grass-fed beef and coconut milk. Pick up your favorite probiotic, multivitamin or essential oil in the health and beauty section, as well. Find locations in Oklahoma City, Edmond, Norman, Yukon, Tulsa, Bixby and Broken Arrow. Its newest shop opens in October in Stillwater.
Favorites: Whole Foods Market, Target, Anthropologie, H&M
---
Best Family In-State Staycation
Beavers Bend State Park
435 Oklahoma Highway 259A, Broken Bow
The picturesque hideaway nestled on the shore of Broken Bow Lake in the highlands of southeast Oklahoma has welcomed Oklahoma staycationers and out-of-state visitors since 1937. Rentable cabins, fishing, hiking, an 18-hole golf course and amphitheater keep everyone in the family entertained. The Owa-Chito Festival of the Forest — an art, music and culture festival highlighting Choctaw County — welcomes June visitors. The Beavers Bend Folk Festival & Craft Show is a major draw every November.
Favorites: Turner Falls Park, Wichita Mountains Wildlife Refuge, The Oklahoma City Zoo, Grand Lake o' The Cherokees
---
Best Local District
Bricktown
Area west of S. EK Gaylord Boulevard, around Reno Ave.
The marked growth of downtown Oklahoma City's entertainment and dining hub is well-documented. Oklahoma City Thunder games are an obvious draw, but there is always something happening no matter when you visit. Guests can make a night of seeing a movie at Harkins Bricktown Cinemas 16, play miniature golf at Brickopolis Oklahoma City or listen to music at Michael Murphy's Dueling Pianos. Even a free stroll along Bricktown Canal is a fun and healthy way to sightsee.
Favorites: Midtown, Plaza, Paseo Arts, Uptown 23rd
---
Best Adult Entertainment Establishment
Dollhouse Lounge & Burlesque
210 E. Sheridan Ave.
Dollhouse Lounge & Burlesque is a Bricktown club featuring drinks, dancing and heart-racing shows from the establishment's cast of burlesque performers. The non-nude lounge opened its doors in 2012 and features weekly vintage, modern and themed performances. Dollhouse offers a fancy, classy alternative to the city's other dance clubs. The 21-and-older venue, open Friday and Saturday only to the public and Sunday through Thursday for private events, is a great and swanky way to cut loose with your friends on the weekend.
Favorites: The Boom, Night Trips, Red Dog Cafe, Little Darlings
---
Best New Retail Establishment to Open After 6/1/15
Rust & Rot
161 Jack Terry St., Edmond
Woodworking is local craftsman and designer William Graeber's passion and living. Customers can buy ready-made furniture at Rust & Rot, but the store prides itself on bringing to life ideas and visions that pull homes together. Rust & Rot creates pieces from repurposed materials and salvaged items, challenging the idea that beauty can only be plucked off a glossy assembly line.
Favorites: Forever Young Toy Shoppe, Bison Shop, Mode, AMP Variety, Reference Point
---
Best Nonprofit
Central Oklahoma Humane Society
7500 N. Western Ave.
Since 2007, Central Oklahoma Humane Society has worked to increase city adoption rates and reduce avoidable pet euthanizations. The organization enriches communities while promoting the well-being of animals. It works closely with local shelters and offers programs encouraging spaying and neutering and readjusting pets to life in a home. For those interested in adopting, a society specialist can assist you in finding a pet that fits your lifestyle.
Favorites: Regional Food Bank of Oklahoma; Infant Crisis Services, Inc; Goodwill Industries of Central Oklahoma Inc.; Sunbeam Family Services
---
Best Vapor Shop
OKC Vapes
3710 NW 50th St.
This locally owned and operated electronic cigarette and e-liquid supplier works with every customer to make sure their specific needs and tastes are met. OKC Vapes' in-house e-liquids are created with pharmaceutical nicotine in a food-grade environment to ensure quality and safety. A knowledgeable service staff educates customers and steers them toward equipment, liquids and accessories that fit their needs.
Favorites: 23rd Street Vapes, Vapor World, Party Moore, Liquid Vapor Lounge
---
Best Place to Meet a Hipster
Plaza District
NW 16th Street between Classen Boulevard and Pennsylvania Ave.
Look at that funny hat. How tight are those jeans? If everyone around you looks like they crawled out of a giant Urban Outfitters bin, you're probably in Plaza District, the city's focal point for arts and trendy eateries, located along 16th Street. Whether it is the Saints Pub patio or at the bar inside ever-bustling The Mule, Oklahoma City's young counterculture has definitely claimed the district as its own.
Favorites: Paseo Arts District, The Mule, The Pump Bar, Saints Pub
---
Best Place to Buy a New Vehicle
Bob Moore Auto Group
several metro locations
Bob Moore is a simple name, but the quality of service the auto group offers is anything but plain. Since its founding in 1970, the car dealer has long been a local favorite for anyone searching for an Audi, Buick, Cadillac, Chrysler, Dodge, Ford, GMC, Infiniti, Jeep, Kia, Land Rover, Maserati, Mazda, Nissan, Porsche, Ram or Subaru. The sales staff at Bob Moore makes sure every buying experience is efficient and painless.
Favorites: Fowler Auto Group, Bob Howard Auto Group, Hudiburg Auto Group, David Stanley Auto Group
---
Best Place to Buy a Used Vehicle
Bob Moore Auto Group
several metro locations
Bob Moore sells preowned vehicles, too. No car is unaffordable with the auto group's wide selection of financing options, regardless your credit situation. Check out a dealership near you or browse its wide selection of used cars and trucks at bobmoore.com. Online or in-store, customers know they'll experience the same quality buying experience Bob Moore has become known for during its more than four decades of operation.
Favorites: Fowler Auto Group, Bob Howard Auto Group, Hudiburg Auto Group, Eskridge Auto Group
---
Best Place to See or Be Seen
Oklahoma City Thunder games
Chesapeake Energy Arena, 100 W. Reno Ave.
So Mary Fallin, Wayne Coyne, Toby Keith and Russell Westbrook walk into the same building. No, this isn't the setup for a horrible bar joke. It's for a fantastic, true-to-life quip about what makes Oklahoma City Thunder games marquee events during basketball season. Even if celebrity-watching isn't your thing, there's more than a decent chance you'll run into a friend or two at Chesapeake Energy Arena.
Favorites: The Bleu Garten, Plaza District, Bricktown, Fassler Hall
---
Best Place to Spend Adult Time That Is Kid-Friendly
Myriad Botanical Gardens
301 W. Reno Ave.
Parenthood doesn't mean date night has to end forever. In fact, bring the kids along. Maybe dinner and wine for two in that swanky hotel isn't an option this weekend, but that's OK. What more romantic setting is there than lush, expansive and community-oriented Myriad Botanical Gardens? Walk hand-in-hand as the kids occupy themselves with Pokémon GO! before the free Sunday Twilight Concert Series or Picnics on the Great Lawn events.
Favorites: Oklahoma City Thunder games, The Bleu Garten, Plaza District, Oklahoma City National Memorial & Museum
---
Best Place to Take a Selfie
Myriad Botanical Gardens
Chesapeake Energy Arena, 100 W. Reno Ave.
One day, you log into Facebook and think, "Gee, this picture of my dog that I set as my profile pic seven years ago does little to highlight my newly defined, post-diet jawline." What do you do? Put on a fancy suit and call your friend with the hand-me-down Nikon? No need. Just grab your smartphone and head over to the gorgeously landscaped downtown oasis that is Myriad Botanical Gardens. Selfie sticks are optional.
Favorites: Oklahoma City Thunder games, Bricktown, Plaza District, Devon Energy Center (Devon Tower)
---
Best Place to Pay It Forward
Regional Food Bank of Oklahoma
3355 S. Purdue Ave.
Volunteering at Regional Food Bank of Oklahoma is a good option for large groups looking for a service project or people wanting to spend time bettering someone else's day. The food bank provides enough food for more than 116,000 Oklahomans every week. Food drives are popular around the holiday season, but the pantry accepts nonperishable donations and cash gifts year-round.
Favorites: Central Oklahoma Humane Society; Infant Crisis Services, Inc.; The Curbside Chronicle; S&B Burger Joint's Pay it Forward
---
Best Pet-Friendly Patio
The Bleu Garten
301 NW 10th St.
Look at Fido over there in the corner. He looks like he has had just about enough of that monkey-shaped squeak toy. Fido wants to see the town; Fido wants to be social! Give Fido what he wants. The open-air patio and chatter at The Bleu Garten food truck park is perfect for Fido or just about any other dog. Oh, and a great bar makes it cool for pet owners, too. Please don't give Fido beer though.
Favorites: Sauced on Paseo, The Pump Bar, Fat Dog Kitchen & Bar, Fassler Hall
---
Best Place to Treat Your Pet
Barking Dog Bakery
10455 N. May Ave.
Cake is so good, it's almost cruel not to let the dog have some, too. No, it can't have a slice from the Boston cream in the fridge, but breathe easy and know there is a whole bakery dedicated to high-quality treats created with pets in mind. Barking Dog Bakery offers cake, a tasty selection of cookies, ice cream, popcorn and bones. All products are made without added sugar or sodium so your fluffy friend can be happy and healthy.
Favorites: Midtown Mutts Dog Park, Edmond Dog Park, A1 Pet Emporium, Midtown Vets
---
Best Place to Get a Home or Auto Loan
Tinker Federal Credit Union
several metro locations
For those who find themselves in need of a home or auto loan, Tinker Federal Credit Union has stood out for more than 70 years. Oklahoma's largest credit union is a not-for-profit, member-owned financial association that promises lower interest rates on loans and negligible, if any, service fees. Online visitors can apply for loans, check rates and calculate payments. There are several hundred ways to qualify for membership, which might be one reason Oklahoma Gazette readers voted the credit union the Best of OKC.
Favorites: Bank of Oklahoma, BancFirst, Oklahoma Employees Credit Union, Weokie
---
Best Place to Celebrate an Anniversary or Birthday
Cheever's Cafe
2409 N. Hudson Ave.
The Cheever's building has a history that dates to early statehood, but it's likely that won't be what you're thinking about as you chow down on its famous chicken-fried steak while celebrating another year of significance for you or a loved one. There is something about Cheever's that makes every moment special. It could be the elegant ambiance or the delicious food, or maybe it's the generous portions. We'll go with all three.
Favorites: Ranch Steakhouse, Vast, Red PrimeSteak, Broadway 10 Bar & Chophouse
---
Best Casino
Riverwind Casino
1544 W. State Highway 9, Norman
The 219,000-square-foot Norman-based Riverwind Casino is an ornate shrine to gaming. Guests have more than 2,500 electronic games to choose from, and weekly poker tournaments are a popular draw. If gambling isn't your thing, Riverwind regularly brings major musical acts, comedians and entertainers to its Casino Showplace Theater and River Lounge venues. The casino also offers a wide selection of delectable food and beverages.
Favorites: WinStar World Casino, Remington Park Racing & Casino, Grand Casino Hotel & Resort, Lucky Star Casino
---
Best Place to Pick Up Your Gazette
Jimmy's Egg
several metro locations
There are few more classic pairings in the world than a hot cup of java and a newspaper. Jimmy's Egg is an excellent place to find both. The content in your favorite fiercely independent alternative newsweekly pairs well with omelets, bacon, gravy or any item on the local diner's menu. So gladly take that refill, prop your leg up and chuckle to yourself over the latest batch of Chicken-Fried News.
Favorites: City Bites, The Pump Bar, OKC Vapes, Party Moore
---
Best Pub Quiz/Trivia Night
The Garage Burgers & Beer
several metro locations
For 10 points, which local dining establishment was awarded a 2016
Oklahoma Gazette
Best of OKC award for Best Pub Quiz/Trivia Night? If you or your team answered The Garage Burgers & Beer, congratulations! You can read! You're also pretty smart! These 10 points won't do you any good at The Garage, the
Gazette
or any other metro area business, but you're free to take your newly boosted self-esteem to a Garage Burgers & Beer trivia night near you.
Favorites: 51st Street Speakeasy, Belle Isle Restaurant & Brewing Company, Henry Hudson's Pub, Saints Pub
---
Best Place to Get Pierced or Inked
23rd Street Body Piercing
411 NW 23rd St.
23rd Street Body Piercing is committed to providing its clients with safe, quality piercings. The business performs above and beyond Association of Professional Piercers and Oklahoma State Department of Health standards, and employees also routinely participate in continuing their education. The state's largest piercing studio also offers an array of jewelry and is happy to special order anything not already in stock. Please remember to tip your piercing artist; they work hard to make you happy!
Favorites: Atomic Lotus Tattoo, No Regrets Tattoo, Mystical Illusions, Mind Bender Tattoo
---
Best Place to Spruce Up Your Home
Hobby Lobby
several metro locations
Does that wall look a little bare? Need a side table to tie the room together? Look no farther than Hobby Lobby. From picture frames to wicker baskets, the locally owned craft store has just about everything customers could want or need, with a wide range of looks and styles. If handmade is more your style, you can find the supplies you're looking for in-store, too. Its website is also loaded with project inspirations, step-by-step guides and instructional videos that will help put together a picturesque space.
Favorites: Plenty Mercantile, Mathis Brothers Furniture, Decades Revisited A Vintage Mall, K&N Interior Consignment
---
Best LGBT Bar or Club
The Boom
2218 NW 39th St.
If you despise good times, stay clear of The Boom. Metro-area readers voted The Boom as the city's best LGBTQ-and-everyone-else bar and club for great reasons. There are few things funnier in OKC than The Boom's weekly Sunday Gospel Brunch featuring Kitty Bob Aimes and Norma Jean Goldstein. Sunday and Tuesday karaoke nights are guaranteed hits for a crowd of friends. A number of plays and other shows also make their way through The Boom's theater throughout the year.
Favorites: HiLo Club, The Copa, Angles, Tramps
---
Best Pre-Game or Pre-Concert Spot
The Garage Burgers & Beer
several metro locations
The big event is in a few hours, but you have a monster-sized case of hunger to sate before you can even think about enjoying that show. Let The Garage Burgers & Beer help slay that beast. Oklahoma Gazette readers agree The Garage has the area's tastiest selection of burgers. (It also offers a wide selection of craft beers!) With locations across the metro, this is an ideal place to meet your crew no matter where the post-eats game or concert is located.
Favorites: Bricktown Brewery, The Mont, Flint, KD's Southern Cuisine
---
Best Post-Game or Post-Concert Spot
Fassler Hall
421 NW 10th St.
Adrenaline still pumping from the thrilling Oklahoma City Thunder victory? Did that concert leave you in existential bliss? Oh, but the fun has just begun. Take your friends over to Fassler Hall and grab a bench and a pint on the breezy, open patio. The international beer selection is top-notch, so there's a good chance Fassler will have what is needed to extend the celebration or comfort fans after a tough loss.
Favorites: The Pump Bar, The Mont, Guyutes, Flint
---
Best Rooftop (Bar or Restaurant)
Roof Terrace at Oklahoma City Museum of Art
415 Couch Drive
Grab a cocktail from the bar atop the Roof Terrace at Oklahoma City Museum of Art (OKCMOA) and you'll feel like you're on top of the world. There are a few locations in which you can take in a breathtaking sunset while appreciating the city skyline, and Gazette readers know this one tops that list. The rooftop view alone is reason enough to visit OKCMOA, and its Art After 5 event on Thursday nights lets guests explore the many art galleries below through 9 p.m.
Favorites: Packard's New American Kitchen, O Bar at the Ambassador Hotel, Guyutes, Bossa Nova Caipirinha Lounge at Cafe do Brasil
---
Best Farmers Market or Farm Stand
OSU-OKC Farmers Market
400 N. Portland Ave., OSU-OKC campus
There is a decent chance that apple in the produce bin at the national chain supermarket was picked at least a week ago. That's why Oklahoma Gazette readers know OSU-OKC Farmers Market is a top choice for fresh, locally cultivated fruits, vegetables, meats and other commodities. The market regularly features around 50 vendors at its year-round gatherings Wednesdays and Saturdays. Food from the market is fresher and of higher quality. Shopping there also is a great way to make sure your money stays local.
Favorites: OKC Farmers Public Market, Edmond Farmer's Market, Uptown 23rd Farmers Market, Urban Agrarian
---
Best Optical Shop
Blue Seven
1106 Classen Drive
Do not trust eyecare to just anyone. Midtown Optical goes above and beyond to make sure its customer needs are met. The most up-to-date technology ensures your vision is assessed as accurately as possible. Midtown also offers many frames and lenses that their opticians will help you choose from. Award-winning Dr. Cody Greenhaw also excels in laser procedures and nonsurgical corrections to nearsightedness.
Favorites: Sam's Optical, Black Optical, Dick Story Optical, TSO Optical
---
Best Florist
A Date with Iris
4201 N. Western Ave.
Finding local, high-quality floral arrangements and centerpieces at A Date with Iris is easy. Weddings, get-togethers and holidays are immediately elevated by this shop's colorful, expertly customized displays. Want to perk up someone's day? Have an arrangement delivered through the florist's citywide delivery service. A Date with Iris' quaint and colorful studio space is a great place to stop and look around during your visits to Western Avenue.
Favorites: New Leaf Florist, Trochta's Flowers & Garden Center, Capitol Hill Florist and Gifts, Tony Foss Flowers
---