Best place to buy liquor

Byron's Liquor Warehouse
2322 N. Broadway Ave.
Freeman's Liquor Mart, 4401 N. Western Ave.
Moore Liquor, 914 SW Fourth St., Moore
Quicker Liquor, 9109 S. May Ave.
Sean's Wine & Spirits, 6969 Northwest Expressway
Best vapor shop

OKC Vapes
3710 NW 50th St.
Liquid Vapor Lounge, 6608 N. May Ave.
Prodigy Vapor Co. + CBD Supply, several metro locations
The Intake Vapor & Smoke, 1000 Alameda St., Suite 140A, Norman
Vapor Shark (formerly Vapor World), several metro locations
Best furniture store

Mathis Brothers Furniture
3434 W. Reno Ave.
Ashley HomeStore, several metro locations
Bob Mills Furniture, 3600 W. Reno Ave.
Galleria Furniture and Mattress Outlet, 3700 W. Interstate 40 Service Road
Suburban Contemporary Furniture, 201 N. Portland Ave.
Best credit union

Tinker Federal Credit Union
several metro locations
Communication Federal Credit Union, several metro locations
Oklahoma's Credit Union, 3001 N. Lincoln Blvd.
True Sky Credit Union, several metro locations
Weokie Federal Credit Union, several metro locations
Best fine jewelry

BC Clark Jewelers
several metro locations
Huntington Fine Jewelers, 10633 S. Western Ave.
Lewis Jewelers, 2705 S. Interstate 35 Service Road, Moore
Mitchener Farrand Fine Jewelers, 2844 W. Wilshire Blvd.
Naifeh Fine Jewelry, 6471 Avondale Drive, Nichols Hills
Best thrift store

Bad Granny's Bazaar
1759 NW 16th St.
Community Thrift Store, several metro locations
Goodwill Industries of Central Oklahoma, several metro locations
Save-U-Moore, 1320 N. Santa Fe Ave., Moore
Uptown Cheapskate ,1724 24th Ave. NW, Norman
Best women's boutique

Lush Fashion Lounge
14101 N. May Ave., Suite 114
Opened in March 2009, Lush Fashion Lounge is designed to combine the variety of a bigger department store with the personalized service of a boutique.
"I think what sets us apart is not only are we a one-stop shop where a girl can grab something for a wedding or a night out or a workday or casual, swimsuits, gifts, game day, shoes — you name it — not only do we have, really, something to offer everyone, but we focus really hard on the customer and the customer's experience," said owner Carrie Boevers. "That's what we strive to do, is really put the customer first, give them that boutique experience and really personalized customer attention, but also our selection is very large, too. So they're getting a boutique experience combined with almost a very large store experience."
Boevers, a Piedmont native with a degree in fashion marketing, said she started Lush as an affordable alternative to the higher-end boutiques she saw around Oklahoma City. Though the clothing at Lush is less expensive, she still wanted to offer trendy options and provide a personalized shopping experience.
"After Lush had been in business a little bit, I had made good relationships with customers," Boevers said. "I was the one working the sales floor, and we strove to remember our customers by name. That's kind of where that all started, and as we grew, we still try and remember our regular customers by name. We just grew into this role and really wanted to keep our customers coming back with good service."
While she still works on floor "every now and then," Boevers now primarily focuses on "behind-the-scenes creative work." Lush collaborates with local vendors to provide exclusive clothing options, most notably official game-day fashions for University of Oklahoma, Oklahoma State University and University of Central Oklahoma fans.
"When you're shopping our local section, whether it be game day or just local general Oklahoma stuff, you're supporting not only Lush, which is locally owned, but other local vendors as well while you're getting stuff that you can't find anywhere else," Boevers said.
Remembering customers' names and preferences is always appreciated, Boevers said, but actually listening to them and responding is crucial to getting them to come back.
"We're always open to feedback," Boevers said. "We're always asking our customers what they want to see more of, what they don't like. I'm definitely open-minded when it comes to criticism, too. … We're flexible with our customers and our policies. They're spending their hard-earned money with us. We want to make sure they're happy with every purchase."
Blue Seven, 7518 N. May Ave.
Boutique 206, 206 E. Oklahoma Ave., Guthrie
mode, 1227 N. Walker Ave.
The Black Scintilla, 1112 N. Walker Ave., Suite 104
Best men's clothing

Blue Seven
7518 N. May Ave.
Bad Granny's Bazaar, 1759 NW 16th St.
Gil's Clothing & Denim Bar, 7644 N. Western Ave.
GQ Fashions Fine Menswear, 3525 NW 23rd St.
Mr. Ooley's, 1901 Northwest Expressway, Suite 1023A
Best bicycle shop

Al's Bicycles
several metro locations
Bike Lab, 2200 W. Hefner Road, Suite 2, The Village
Celestial Cycles, 2929 W. Hefner Road
Schlegel Bicycles, 900 N. Broadway Ave.
Wheeler Dealer Bicycle Shop, 2729 NW 50th St.
Best pet-friendly patio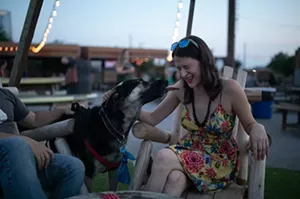 The Bleu Garten
301 NW 10th St.
The Bleu Garten, 301 NW 10th St., opened in Midtown in 2014 as Oklahoma's first food truck park "to give the consumer an outdoor dining experience that is completely unique." Its goal is to serve as a venue where food trucks can essentially be hired as independent contractors while serving customers in a welcoming environment. Furry friends are more than welcome at the family-friendly park any day of the week as long as they are kept on a leash and owners clean up any messes.
Visit its website or social media pages for its food truck and live performance calendar.
Visit bleugarten.com.
The Bleu Garten provides clean restrooms, a full-service liquor bar,
shaded seating
, misters when it's hot, heaters when it's cold and entertainment.
Open six days of the week
(it's closed Mondays) for roughly 58 hours, The Bleu Garten can host six food trucks at a time.
It also hosts a
live music series each Tuesday
at 7 p.m. and can be rented out for private events.
With about
50 food truck partners
, The Bleu Garten is able to offer space to myriad food truck concepts like The Saucee Sicilian, Let's Do Greek, Whole Latte Pie and Pitchfork Kitchen and Bakery.
Though it only has about
375 seats
, it has a capacity of more than
600 people
.
Angry Scotsman Brewing, 704 W. Reno Ave.
Sauced on Paseo, 2912 Paseo St.
The Jones Assembly, 901 W. Sheridan Ave.
The Pump Bar, 2425 N. Walker Ave.
Best naughty business

Christy's Toy Box
several metro locations
Adèle Wolf Productions
Patricia's, two metro locations
Red Dog Saloon, 6417 NW 10th St.
Terre Rouge Burlesque
Best place for continuing education

University of Oklahoma
660 Parrington Oval, Norman
Oklahoma City Community College, 7777 S. May Ave.
Oklahoma State University-Oklahoma City, 900 N. Portland Ave.
Rose State College, 6420 SE 15th St., Midwest City
University of Central Oklahoma, 100 N. University Drive, Edmond
Best public bathroom

OnCue
several metro locations
Bar Arbolada, 637 W. Main St.
Love's Travel Stops & Country Stores, several metro locations
The Jones Assembly, 901 W. Sheridan Ave.
The Pump Bar, 2425 N. Walker Ave.
Best new retail establishment

The Peak Dispensary
several metro locations
1032 Space, 1 NE Second St., Suite 210
Get Bak'd, 518 S. Coltrane Road
Lotus Gold Marijuana Dispensary by CBD Plus USA, several metro locations
Ringside Medical, 14201 N. May Ave., Suite 205