provided
After the Gold Rush Party will be released Jan. 14.
In 2015, Husbands released Golden Year. Five years and about 70 discarded songs later, the OKC duo is ready to release the follow-up.
Husbands celebrates the release of After the Gold Rush Party 8 p.m. Jan. 18 at Tower Theatre, 425 NW 23rd St. The collection of bright, Strokes- and Beach Boys-influenced garage pop started out as a "batch of Nirvana-inspired songs."
"At the moment we finished our last album and even a month before, we were trying to get another set of songs done, and we've gone through tons of iterations of albums," Danny Davis said. "We had a bit of a grunge album going for a while. We were inspired by Day Wave and dream pop bands for a while and started trying to write some dream-pop songs, and then we went through a Talking Heads sort of phase. I feel like there are, like, four albums that we basically made on the way to this one. … It was basically a matter of both of us kind of getting to a point where we thought we were actually saying something and the songs got to a point where they felt like they were growth from what we've done before."
What Husbands wanted to talk about was growth — specifically balancing personal growth and maturity with creativity after turning 30.
"It's a number that causes you to reflect on the differences between the times before," Davis said. "All the songs do kind of touch on the theme of trying to understand yourself as time has gone on. You're basically asking yourself, 'Are you an adult now?' You don't feel much different, but things are different."
Fellow Husband Wil Norton agreed.
"I think it's kind of natural that a lot of the work does reflect this period of life," Norton said. "I think ultimately we're just kind of reflecting on the changing nature of our lives. I've had a daughter in the last three years, and I'm kind of taking on responsibilities and trying to kind of figure out how to negotiate, just, 'How do you be a creative person? How do you keep writing and kind of filtering your life through your songs as you get older?'"
Though Norton and Davis originally chose the album's name because they thought it was funny to "rip off" a classic Neil Young title, it ultimately fit the theme.
"If there is some kind of gold rush, we're celebrating something that happens after the gold rush happened," Norton said. "We're enjoying this time of life but also being aware we're getting older and we kind of see things differently, coming to terms with professional lives and family responsibility as well. … We're trying to keep excitement and glee about writing music."
Maintaining their excitement for songwriting led Davis and Norton to take a more thoughtful and studied approach to music making.
"We're both pretty prolific as songwriters, and our old model of songwriting was very much just put out a song at a time," Norton said. "We didn't really necessarily care much if the songs were cohesive from one to the next. And I think, naturally, we were trying to put together an album where we really tried to hold ourselves to a higher standard with sound quality. I think that was a bigger focus on this album. We wanted the album to sound pretty good. So I think with both of those things happening, it caused us to work and rework."
Reworking the songs inevitably caused the duo to reconsider some of them entirely.
"As a result of not being satisfied with the sound, we would eventually tire of that song, basically," Davis said. "We were waiting for ourselves to get better at recording almost to the point that the songs would become stale, and by necessity of wanting to stay inspired, we'd just keep writing songs and the newer ones outdid the better ones as we went along and naturally kept weeding out the older ones."
Some of the oldest songs did make the cut, but the album's overall theme did not become entirely apparent until toward the end of the recording sessions.
"As time went on, some songs made sense as part of the story, and others kind of stopped making sense," Norton said. "There was a lot of experimentation along the way and messing around a lot, too.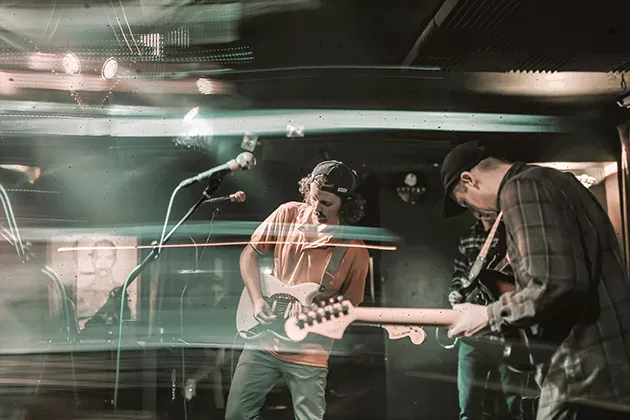 Madi Rae Jones / provided
Husbands plays 8 p.m. Jan. 18 at Tower Theatre.
"We've got songs that are as old as four years old on this album that have been kind of worked and reworked over that period of time. Hopefully, they're cohesive with the rest of the album, but really it wasn't until some of the last songs that we finished that I think we felt comfortable saying, 'OK, now we have a statement. We have an album that has kind of a meaning to it.'"
One of those songs is "Speed Racer," inspired by pioneering, Buddy Holly-obsessed producer Joe Meek, who killed his landlady and himself on February 3, 1967 — the eighth anniversary of Holly's death.
"He constantly had these dreams that Buddy Holly was talking to him and telling him to do a good job," Davis said. "So I thought it's a cool idea if, 'What if this guy is talking to you, kind of guiding you from beyond, artistically?' Then there's that song 'American Pie' by Don McLean, and he talks about 'the day the music died,' which was referring to Buddy Holly dying. … He's kind of bemoaning the loss of something that he used to relate to, bemoaning the loss of his idols. The song's kind of just about trying to make something that people that you admire would be proud of while also trying to be a person that people would be proud of — like your parents or something like that — continuing to be a regular person at the same time, and talking about the difference between those two kind of lives."
The subject matter might have changed over the course of the album's creation, but Davis and Norton — currently reunited in OKC after long-distance collaboration from Seattle; Washington, D.C.; and Costa Rica — continue to find inspiration in their creative conversations.
"A lot of times, the song we write may end up being like we found a language that we want to explore," Norton said. "Maybe there's a certain kind of guitar sound or certain kind of lyrical themes or certain kinds of drum machine-type rhythms or real rhythms that we think are cool, and we'll text each other all the time and talk about the language and the sort of rules we want to work with going forward. We're always trying to kind of create a game for ourselves. … I think we are pretty good about trying to keep our ego out of things and trying to be open to critique and open to revision. I think it's super fun and super easy."
Tickets are $8-$13. LCG & the X and Lust share the bill. Call 405-708-6937 or visit towertheatreokc.com.