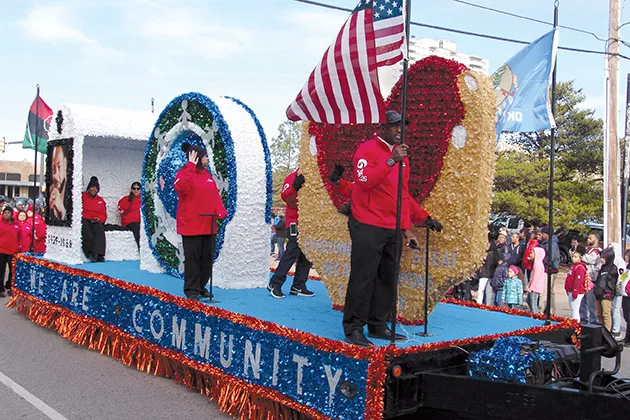 Provided
The annual holiday parade begins 2 p.m. Monday at NW Sixth Street and Walker Avenue.
The Dr. Martin Luther King Jr. Holiday Coalition has never done quite as much outreach as it's doing this year. The coalition is going the extra mile as it readies to celebrate four decades honoring the late civil rights icon with the theme "40 Years — Better Together."
Anthony Sherrod, the group's volunteer coordinator, has been reaching out to local businesses, news outlets and individuals to help spread the word, join in on this year's events and learn about other events the coalition hosts throughout the year.
"It's important to let people know how important this parade and making sure we're getting the word out. It's not just a parade; it's a celebration of Martin Luther King," Sherrod said. "We want to start having more events for young people so they can get involved and help out. A lot of people know about the parade, but they don't know about other events we do like the prayer breakfast and fundraisers. Actually, this last December, we had a cigar night to celebrate and fundraise. … In April, we actually have an essay contest for high school students."
Events hosted by the coalition kick off Saturday and culminate in the annual parade Monday on Martin Luther King Jr. Day.
"My goal is for people to come to one of these events, they learn what we're doing, they learn what the coalition is and they think, 'I want to volunteer for the coalition next year' or 'I'll come out just to support or buy a T-shirt,'" Sherrod said. "It's about getting more people involved. That's been my plan this year. What can we do to get the word out?"
Sherrod said he wanted to make this year's events the biggest yet. He started buying digital ads, designed a T-shirt, secured sponsorship and generally promoted the coalition as much as he could.
"People have never seen ads before. We have all these things to celebrate Martin Luther King and help the community," he said. "We have a job fair; a lot of people didn't even know about the job fair we have on the same day. … It's free, and we have companies there ready to hire people the same day. And everybody wants a job."
The parade will be led by OKC sit-inners and Minutemen as its honorary marshals, with various organizations, businesses, individuals, high schools and college bands following behind. Various entities including the Oklahoma City Thunder sponsored this year's events.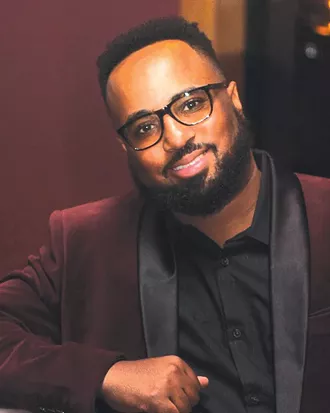 Provided
Anthony Sherrod, volunteer coordinator for Dr. Martin Luther King Jr. Holiday Coalition, wants to get more people involved in celebrating the life and legacy of King.
"When people attend, they'll see different cultures. We even have a group of huggers that actually walk the parade route, giving hugs," Sherrod said. "It's just about showing community affection. We all want community. We all have to be in it together. It's about coming together and as a community saying, 'What can we do to better our communities? How can we be more involved? How can younger and older crowds come together?'"
Sherrod said the emphasis on community and bringing people together is an important way to honor the legacy of King and what he envisioned.
"It's very deep to me because what he did when he was living and the passion he had was trying to bring everybody together, working together for a common goal of less violence and making the world a better place," he said. "That's actually why I joined this coalition. I want to get the word out and say, 'OK, there's other ways to work together to address violence. … Let's work together to make the community safer and get people to enjoy their communities.'"
During the most recent city council meeting, councilwoman Nikki Nice talked about the connection King had with Oklahoma City and civil rights leader Clara Luper. She encouraged people to attend and honor the memory and legacy of King.
"I just ask that we remember and commemorate the legacy of Dr. King, who during his lifetime came to Oklahoma City not once but twice because of the important things that were happening here. One of the main reasons is because those things were spearheaded by the late Clara Luper and the children in the movement that was happening here in Oklahoma City, and the first was because he was being courted … to be the pastor of Calvary Baptist Church when he was told he was too young," she said. "As we know, he went on to do some other and better and greater things for our city, our state, our nation and our world."
Visit okcmlk.org.
---
40th Annual Dr. Martin Luther King Jr. Celebration
26th Annual Gospel Extravaganza

6 p.m. Saturday
Tabernacle Baptist Church
1829 NE 36th St.
BLAC, Inc Presents: The Spoken Word — Community or Chaos: Are We There Yet?
7 p.m. Saturday
The Auditorium at The Douglass
600 N. High St.
Annual MLK Celebration Program
3 p.m. Sunday
Saint John Missionary Baptist Church
5700 N. Kelly Ave.
Annual Cross-Cultural Program
6 p.m. Sunday
Temple B'nai Israel
4901 N. Pennsylvania Ave.
Prayer Breakfast
7 a.m. Monday
Sheraton Midwest City Hotel at Reed Conference Center
5750 Will Rogers Road, Midwest City
MLK Coalition Job Fair
9 a.m. Monday
Douglass High School
900 N. Martin Luther King Ave.
Opening Ceremony and Silent March
9 a.m. Monday
Starting at Freedom Center
2609 N. Martin Luther King Ave.
Annual Bell Ringing Ceremony
11 a.m. Monday
Oklahoma History Center
800 Nazih Zuhdi Drive
Annual MLK Program with Panel Discussion
12:10 p.m. Monday
St. Paul's Cathedral
127 NW Seventh St.
Annual Holiday Parade
2 p.m. Monday
From NW Sixth Street and Walker Avenue to Reno Avenue and Walker Avenue