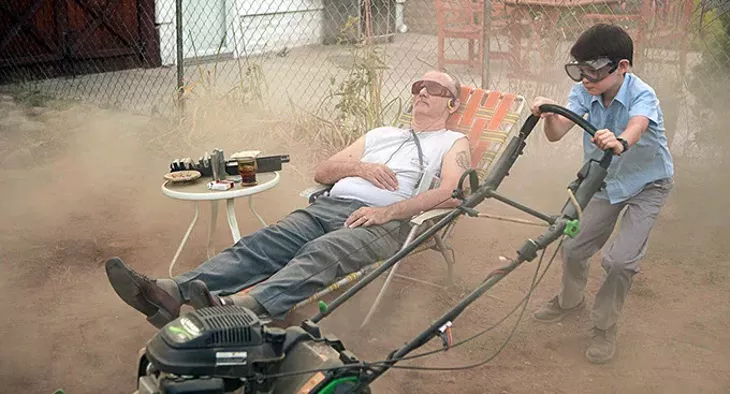 Theodore Melfi's feature film directorial debut, St. Vincent, though not revolutionary, does provide a seasoned cynicism layered with therapeutic gags.
Vincent (Bill Murray, The Monuments Men and Hyde Park on Hudson), a liquor-fueled, irate curmudgeon, drags himself through a repetitious life of embarrassing blunders.
Likewise, Vincent stagnates helplessly and confused within a system anchored by debt and momentary jackpots; bitter and abrupt when failing to close his bank account, Vincent grows giddy investing the remainder of his pension in the profitable market of horse racing. In one instance, after the perverse sage injures himself while feeding his feline doppelganger, Vincent receives unintentional gifts from his new neighbors, Maggie (Melissa McCarthy, TV's Mike & Molly) and her ostracized son Oliver (fresh-faced Jaeden Lieberher): A collapsed fence and a branch through his windshield.
In a matter of hours, Vincent finds himself caring for Oliver while his mother works consistent overtime in order to raise him.
Slowly, the senior passes on a bit of faulty yet well-intended wisdom to the child in the form of nose-crunching punches and momentary cons.
Though the direction of St. Vincent appears almost transparent, as one gets lost in the comedic quirks of the cast, Melfi's screenplay raises the characters above the brine of sitcom backwash.
Despite Vincent's daily and starch rubric of adultery, perjury, theft and intoxication, his avenue for redemption only seems to narrow very slightly in the narrative's pressing trials. Perhaps this could be attributed to Murray's portrayal, for what at times seemed to be apathy toward the performance translates to a superior and appropriate take on the belching saint. Similarly, McCarthy forges exceptional humor through Maggie's disposition; a four-minute lament regarding her fractured marriage and a damaged child is abruptly concluded with a swift injection of a spiteful gag.
Unfortunately, the sporadic pace of St. Vincent can, at times, prohibit one from taking the plight of the characters too seriously.
This conundrum lies at the heart of the film, as it actively challenges the audience to determine when laughter should be replaced with melancholy.
Not unlike Darren Aronofsky's The Wrestler and Scott Cooper's Crazy Heart, St. Vincent hits its mark by focusing on the American "rock bottom," along with the struggling vessels that reside there.
In a way, our own inclination toward compassion (and masochism) allows for one, despite the apparent track record of a figure like Vincent, to emit signs of emotional strain and, briefly when the protagonist "succeeds," an obvious outcry of satisfaction. Much like the implied holy symbol the eponymous geezer caddies around on his windshield — a spider web fracture in the form of a rose — St. Vincent remains with one long after the last cigarette was snuffed out.
Though not particularly exceptional at any one cinematic variable, the film yields an appropriate applause and appreciation for the plight of society's underbelly.
Print Headline: Imperfect saint, Bill Murray leads audiences to America's rock bottom with a delicate balance of wit, melancholy and redemption.