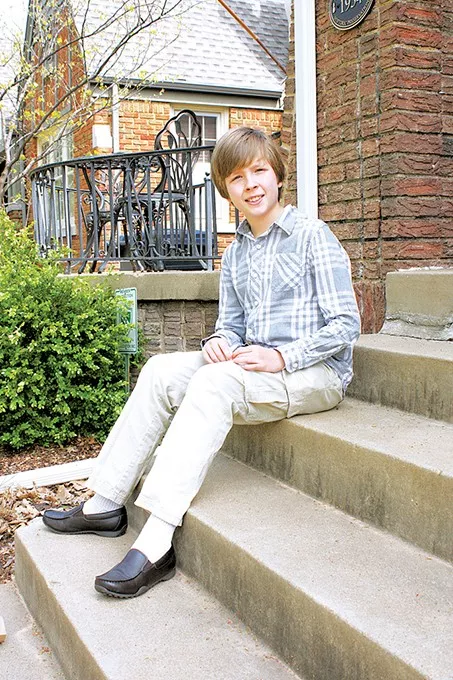 Laura Eastes
With the help of Rep. Cyndi Munson and Sen. J.J. Dossett, 10-year-old Ephraim Bowling (pictured) successfully advocated for House Bill 2997, which designates the red-tailed hawk as the official state raptor.
What began as a 4-H project with a local student setting his sights on achieving something memorable is now state law.
After researching Oklahoma's raptors — birds of prey that include eagles, hawks, kites, falcons and owls — Ephraim Bowling, a 10-year-old who lives in Crown Heights, learned that only Idaho recognizes an official raptor. In Oklahoma, where species of raptors include prairie falcons, American kestrels, Mississippi kites, Swainson's hawks, golden eagles and red-tailed hawks, Bowling set off on a journey to find the best raptor species that, through its strengths and determination, made it a worthy state symbol. Bowling, who is a member of Metro North 4-H Club, settled on the red-tailed hawk.
"The red-tailed hawk is indigenous to Oklahoma," Bowling told Oklahoma Gazette in late April. "It reuses old nests. The red-tailed hawk feathers are favored by Native American dancers. The red-tailed hawk is mentioned in the state song."
Indeed, one of the lyrics of "Oklahoma!" is "Sit alone and talk and watch a hawk makin' lazy circles in the sky."
Months ago, Bowling shared those facts and more with Rep. Cyndi Munson, D-Oklahoma City, as he made his case for why the red-tailed hawk should be a state symbol. Bowling requested that his state representative propose legislation to designate the red-tailed hawk as the official state raptor. Munson agreed.
In mid-February, House Bill 2997, a bill proposing to make the red-tailed hawk the official state raptor, appeared before the House of Representative's Wildlife Committee. During the meeting, Bowling addressed members to advocate for their support of the legislation.
"This is a priority," he told the committee. "It is important to remember what makes our state special and take pride in that. State symbols are a great way to do that."
His testimony earned a round of applause and an 11-0 vote moving the bill to the House floor. Two months later, the bill sailed through the house without a "nay" vote cast against it.
In the Senate, where the bill was carried by Sen. J.J. Dorsett, D-Owasso, little opposition mounted. Last month, when Dorsett introduced the bill on the Senate floor, he called Bowling "an Oklahoman with a good heart for symbols of what is Oklahoma." HB2997 passed the Senate with a 39-2 vote.
The bill went to Gov. Mary Fallin's desk for her signature.
Bowling, who made routine visits to the Capitol to visit lawmakers' offices to advocate for HB2997, met with the governor three days after the legislation passed the Senate. The youth earned an introduction to Fallin at a ribbon-cutting ceremony for a new addition at Peppers Ranch Foster Care Community in Guthrie.
"I gave the governor a list of reasons why the red-tailed hawk would be the best state raptor and why it is important to have a raptor," Bowling said. "I talked to her for two minutes. She agreed to sign it."
Bowling said when he embarked on his advocacy journey, he wasn't sure how far the bill would get.
"I knew there wasn't that much of a chance that this would happen," Bowling said. "Most bills don't [pass]."
Bowling described his advocacy efforts as "fun and exciting." While he doesn't foresee returning to the Capitol next session to push any legislation, he said he would encourage his peers, if they saw something missing or something that needed to change in Oklahoma law, to visit with their lawmakers.
The experience also proved to be a lesson in how to successfully turn a bill into a law.
"I used to know most of the process, but now I've learned there is way more to it than getting an author, putting a bill through committee and getting it on the floor," Bowling said. "Then, you get another author and start the process over before the governor can sign it."
On April 30, Fallin signed HB2997 into law. Nov. 1, the red-hawk raptor joins the buffalo, the state animal; scissor-tailed flycatcher, the state bird; rose rock, the state rock; and more as state symbols.