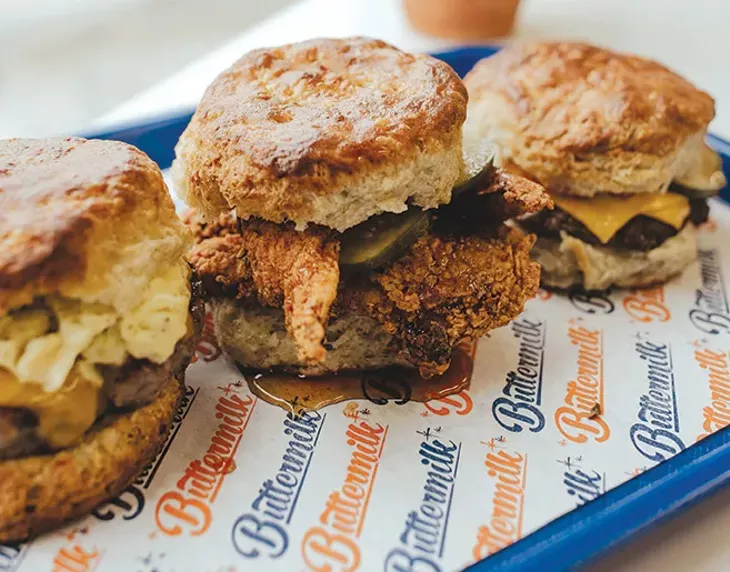 Alexa Ace
The chicken honey biscuit from Buttermilk.
After spending the last decade and a half in Mississippi and Oklahoma, I've taken it for granted that you can find a flaky buttermilk biscuit at most hole-in-the-wall cafes or breakfast spots.
On a vacation this spring, I ended up at a 24-hour diner in central Pennsylvania around midnight and had a craving that could only be filled by biscuits and gravy. The only problem? There was nary a biscuit in sight.
During the trip, I avoided toll roads and took the scenic route through small towns, and it was somewhat jarring to see their downtowns thriving and well maintained, given what I'm used to seeing from towns that size in Mississippi and Oklahoma.
Is that the trade-off? Do we forgo a strong tax base for access to biscuits? I'm pretty sure that's a tenet of all legislation backed by ALEC (American Legislative Exchange Council).
A friend from Los Angeles recently texted me, "The diner down the street closed, and I don't know of a place in the city that serves biscuits." It really hit home the idea that a large portion of the country doesn't have access to flaky biscuits outside a fast food version or ones that pop out of a can. Don't take your access to biscuits for granted, Oklahoma.
Oklahoma City's biscuit population increased this spring as HunnyBunny and Buttermilk opened within weeks of each other, delivering standalone biscuit sandwich concepts. Which one wins the match-up in a head-to-head review?
The competitors
HunnyBunny Biscuit Co.
HunnyBunny comes from Interurban Restaurant Group, where chef Chris McKenna, who has since left the company to run the kitchen at Oso Paseo, 603 NW 28th St., developed the menu and biscuit recipe.
The recipe relies on the steam created from its all-butter (no shortening) mixture for a fluffy and tender interior that is showcased in its sweet options but doesn't hold up as well for its sandwich iterations.
The small space next to Tower Theatre fills up quickly during peak weekend brunch hours. On a recent visit, I beat the rush on an early Sunday morning. Orders are made at the counter, which I can only imagine can become a headache when it's really busy as the line snakes into the warm, well-designed dining area.
On this trip, I tried an order of the biscuit French toast ($8) and the Charleston sandwich ($8) with a cup of house coffee. I thought the biscuit held up best as the French toast, but I honestly wanted more from the order. I would have to order a few sides for the one biscuit split and dipped in batter, served with fresh strawberries, blueberries, candied pecans and whipped cream to be a full meal. The biscuit was nice, but I expected the final product to be crispier than it was served. There was nothing that screamed French toast other than the fact it was drowned in cream and maple syrup.
I was excited for the Charleston (fried chicken, collard greens, hot sauce and an egg) because I love any excuse to eat greens. The tender biscuit did not work as a sandwich, and the fried chicken was so bland that I wondered if it had been seasoned at all. The biscuit did not handle the huge chicken breast and caved under the weight, leaving me to pick at it with a knife and fork.
Alexa Ace
A club sandwich with fried chicken, lettuce, tomato and bacon from HunnyBunny Biscuit Co.
Buttermilk
Like its sister restaurants Waffle Champion and Maples Barbecue from restaurateur Todd Woodruff, Buttermilk got its start as a food truck. It's taken its sandwich biscuit concept to the new Paseo development The Pueblo, where it shares a building space with Scratch Kitchen.
Buttermilk's menu is smaller than HunnyBunny's. Where HunnyBunny offers entrees like chicken potpie, biscuit Benedict and an entree of fried chicken, Buttermilk keeps it simple by offering six biscuit sandwiches, sweet biscuit minis, a side salad and a healthy smoothie bowl.
Woodruff's biscuit concept is inspired by South Carolina chef Sean Brock's recipe, which is a black pepper biscuit that is heavy on butter and crispy on the outside. It shines as a sandwich but is kind of tough in sweet, miniature form.
The construction of the biscuit for the sandwich is perfect. It has a brown, crisp edge flavored with black pepper and plenty of butter. The chicken honey biscuit with pickles and smoked paprika honey had much more flavor than its HunnyBunny fried chicken counterpart, and the sandwich held its integrity even after being split in two.
I'd recommend making sure the eggs in the bacon egg and cheese (BEC) are served soft-scrambled, as indicated on the menu. I was given hard-scrambled and would've preferred a creamier egg.
Buttermilk's biscuit minis have reduced the offerings to three: a chocolate chip mini with peanut butter, cinnamon toast mini with vanilla and blueberry mini with lemon cream. It has removed green apple with caramel and banana nut with butterscotch from the offerings. A choice of all three with fresh berries is $7.
My favorite of the bunch was the blueberry, which got a nice citrus finish with lemon frosting. The vanilla frosting was so intense that I scraped it off the cinnamon biscuit. It was a nice portion with a lot of fresh fruit, but the crispy finish that is nice on the full-sized biscuit was kind of tough on the miniature version.
Final verdict
HunnyBunny has an advantage of having a larger menu, and its sweet biscuit delivered even if the French toast version wasn't as crispy as I would've liked. However, Buttermilk wins in a split decision because its biscuit sandwich is so well-constructed.