Jacob Threadgill
Moules-frites are mussels and french fries in a white wine garlic broth
As the restaurant space at the Ambassador hotel went through a three-week renovation to convert Viceroy Grille into Café Cuvée — which opened its seven-day breakfast, lunch and dinner service last week — the space was deliberately brightened with new paint and the introduction of natural light.
The hotel's new chef de cuisine Taylor Desjarlais was cognizant of the stereotypes of a classic French restaurant as a dark, candlelit affair with white tablecloths and high menu prices.
Desjarlais enters the role of designing the menu for both Café Cuvée and O Bar as well as handling the hotel's catering and banquets. He is a graduate of Kurt Fleischfresser's classic French-based Coach House apprenticeship program and helped open Chae Modern Korean and Ur/bun in addition to serving as sous chef under Kevin Lee at Vast before getting the call from Fleischfresser in January to run the Ambassador.
"This is the food that I like and I'm passionate about," Desjarlais said. "It needs better representation. A lot of has gotten lost, considered old or people think of a French restaurant to be a stuffy, overpriced white tablecloth kind of deal. I want to turn that on its head. I want to make fine dining and having a good dining experience approachable to everyone."
The lunch and dinner menus are what Desjarlais calls a "greatest hits of French bistro classics," where items such as entrecôte au poivre (pepper steak), pork tenderloin in a forestiere sauce and beef bourguignon dot the menu but won't break the bank.
The most expensive fixed item on the menu is the pepper steak at $40, but other items such as moules-frites (mussels and fries) and the classic tuna nicoise salad are on the menu for $16.
"Just because you're having wine and multiple courses, this doesn't have to be a week's pay to have a good time," Desjarlais said, noting that they are offering an extensive wine list that features more than 120 French wines and plenty of other options from beverage director Jeffrey Cole.
Desjarlais is excited to bring several classic tableside services such as traditional absinthe preparation, which calls for a sugar cube to be melted into the liquor in front of the guest, and deboning of Dover sole meunière. Dover sole was a popular service offered at The Coach House but has been missing in the Oklahoma City market since it closed.
"Sole is a unique fish because it is really nutty and not fishy," Desjarlais said. "It is a special dish and why it has lasted for so long. It is a simple preparation: dusted in flour and pan-seared. You have to cook it perfectly though because if it is over- or undercooked, they'll have a lot of trouble fileting it tableside."
He said that services like absinthe and Dover sole and delivering charcuterie plates allows kitchen staff to be on the floor of the restaurant to answer questions from guests and perhaps convince them to try items they might not attempt to order without some provocation.
"We want to show them that beef bourguignon is just a French style of your grandmother's pot roast," Desjarlais said. "There are no frills about it. We're trying to keep everything really simple, which is difficult to do. When you have three things on a plate, they all have to be perfect. There is nothing to hide behind."
Other items, like escargot (brined snails), which is on the appetizer menu and served in parsley garlic butter with grilled bread, might take some time to get used to.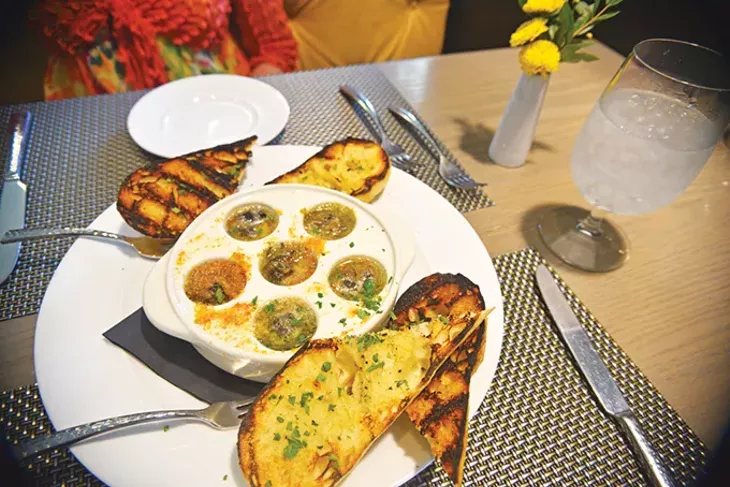 Jacob Threadgill
Escargot is served in garlic and parsley butter with grilled bread.
"Escargot has the texture almost of a big, meaty clam," Desjarlais said. "I jokingly call them earth shellfish because you have a mushroom or foresty taste with the brininess of shellfish. That's why they pair so well with lemon and parsley and tons of fresh garlic really brings out the flavors. Escargot was something I was excited to get right because a lot of people do it and it is easy for them to come out bad; they have a tendency to be dry. It is a cool dish to bring out to the table because it is bubbling away."
Over the coming weeks, Café Cuvée's fixed menu will be bolstered by specials, including lots of wild game like boar and venison, and Desjarlais said that for the first six months, specials will continue a theme of classic dishes in order to refine techniques with staff before unveiling high-concept dishes.
"[Learning French cooking] is the best way to get a culinary base as far as technique," Desjarlais said, using the crème anglaise as an example, which is made by mixing sugar, egg yolks and hot milk over heat. "If you put it in ramekins in a water bath, then you have crème brûlée. If you chill it and run it through a machine, you have ice cream. This one application can be used several different ways. Once you learned that technique, it can be applied 100 different ways."
Café Cuvée is open 6:30 a.m.-2 p.m. and 5-10 p.m. every day and includes brunch service on Saturday and Sundays.
Desjarlais is also in the process of reworking O Bar's menu, which will be rolled out in the coming months. It will feature a steak filet and classic fried chicken in addition to snack foods like boiled peanuts and spreads such as hummus and baba ghanoush. Café Cuvée's selection of charcuterie and cheeses will be available at O Bar.

Visit cafecuvee.com.