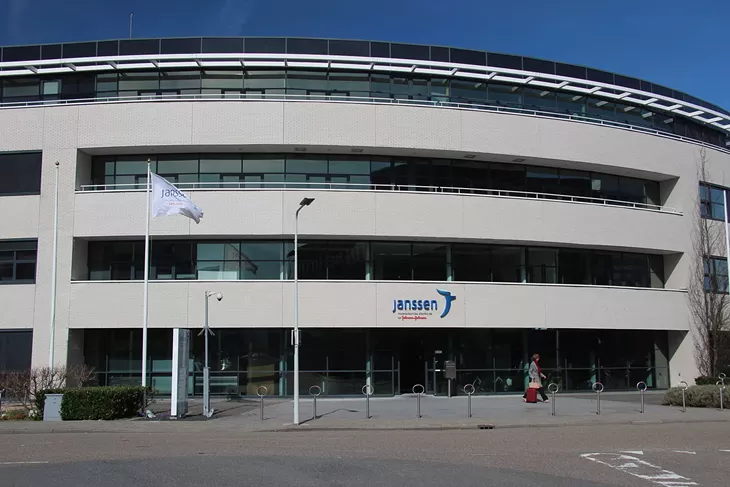 Wikipedia Commons / provided
Janssen Pharmaceuticals, a division of Johnson & Johnson, discontinued marketing Duragesic in 2008.
The first trial of a pharmaceutical company related to the opioid epidemic began May 28 at the Cleveland County Courthouse in Norman. The lawsuit, brought by Oklahoma attorney general Mike Hunter, will attempt to hold Johnson & Johnson and its subsidiary, Janssen Pharmaceuticals, accountable for the high number of overdose fatalities in the state of Oklahoma in the past two decades.
Hunter has already reached settlements with two of the original defendants, Purdue Pharma and Teva Pharmaceutical Industries for $270 million and $85 million, respectively, leaving Janssen as the sole defendant in the case.
Prescription opioid overdose deaths in Oklahoma have steadily risen but reached a fever pitch in 2012 with 444 deaths that year, not including deaths from synthetic opioids or heroin.
When Hunter was elected in November 2018, he made addressing the number of opioid deaths a key priority. Though not the first to file a lawsuit against big pharma companies, Hunter's case is the first of its kind to go to trial.
"We became convinced in all of our work that the challenge to the state, the financial burden, had to be addressed by litigation," Hunter said.
The legal team at Janssen hopes to show the judge that its role in the so-called "opioid epidemic" was minor.
The company has issued a statement saying, "The allegations made against our company are baseless and unsubstantiated. In fact, since 2008, our opioid medications have accounted for less than one percent of the U.S. market for this class of medications (including generics)."
John Sparks, Oklahoma counsel for Janssen Pharmaceuticals, said in a statement to Oklahoma Gazette, "Janssen never manufactured, sold or marketed oxycodone or hydrocodone medications. The government continues to focus on these other products and not on whether the Company's products are a cause of this crisis."
The first of the two products Janssen did market and sell in Oklahoma was a time-release transdermal patch called Duragesic. According to Janssen, the label for Duragesic was approved by the Food and Drug Administration (FDA) in 1990. Janssen discontinued marketing the product in 2008 in order to focus on its role as an "innovative pharmaceutical company," but the product continues to be available to consumers.
Janssen's other product, a pill called Nucynta, was also approved by FDA and became available in 2009. It was followed in 2011 by a Nucynta extended-release pill, carrying a stronger dose intended to be released over the course of several hours. According to Janssen, the extended release pill was designed to be difficult to crush, split or dissolve and, therefore, harder to abuse.
A study of the active ingredient in Nucynta, tramadol, was conducted using the Researched Abuse, Diversion and Addiction-Related Surveillance (RADARS) system. The study published last year found that "the public health burden related to tramadol to date is low, but present. Event rates of abuse per population-level denominators were significantly lower than all other opioids examined."
This low ranking in terms of abuse potential when compared to other opioids is one of several key components in Janssen's case.
However, a document provided by the prosecution's legal team presents the following counterargument.
"Purdue founded RADARS — an adverse event tracking system — in 2001 in response to rising awareness of the growing opioid crisis. Purdue sold RADARS a few years later, but RADARS still pandered to pharmaceutical companies—its primary customers—and allowed pharmaceutical companies to have input and review information. It was always intended to be used by the Sacklers and the pharmaceutical industry as a way to push back against claims of high abuse and addiction potential when using opioids. The idea that J&J's own products rank low on the RADARS scale at 8th and 9th for abuse potential is patently false."
Brad Beckworth, council for the state, added, "They wanted tramadol to be a hook so they can move patients on to Schedule 2 narcotics."
Janssen maintains that its conduct was not only within the law, but under strict oversight of regulatory agencies, saying in a statement, "We complied with all laws and regulations on the manufacturing, sale and distribution of these raw materials and active pharmaceutical ingredients, including the production quotas set by the DEA."
Given that this case is the first of its kind, Johnson & Johnson has been careful about the statements it releases to the press—something Beckworth made a point to highlight.
"Here's what's happening," he said. "They got this guy that came in from New Jersey, I think, and he shows up at the courtroom every day. He comes in about one or two, and one of their lawyers sits beside him on one of the pews. And this guy types up what he wants J&J to say, and then he gives it to his lawyer who I respect quite a bit, who I like a lot. And that lawyer just puts his name on it and it goes out to the world. I wish they'd been careful the 150,000 times they went to doctor's offices and told them to prescribe more of these deadly, dangerous drugs."
He was critical, not only of the way that Janssen releases their statements, but also of the content they contain.
"When the facts are on your side, you go with the facts," Beckworth said. "When the facts are not on your side, you get a guy from New Jersey to write lies so the paper will pick it up. Let's see it in the courtroom. Bring that guy back down here and put him on the stand and see what he has to say."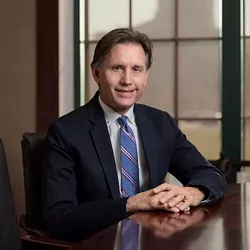 Oklahoma Attorney General Mike Hunter / provided
Attorney general Mike Hunter is suing Janssen Pharmaceuticals over its marketing of two opioid products, Duragesic and Nucynta.

Essential consumers
The state alleges that Janssen Pharmaceuticals played a much larger role in the crisis than simply marketing and selling Nucynta and Duragesic.
According to documents from the prosecution, "J&J met with Purdue in 1994 to create a mutant, highly potent poppy to help Purdue meet anticipated demand for oxycodone. J&J and Purdue met for years to work on this project and also to negotiate long-term supply agreements. And J&J told Purdue that J&J would be its supply partner. J&J gave its highest scientific medal to the J&J scientist, Mr. Fist, for crafting the poppy strand that 'enables the growth of Oxycodone.'"
"This isn't hyperbole when we say they're the kingpin of this crisis. They were essentially the wholesale provider for the active pharmaceutical ingredient," Hunter said. "All this stuff, in a word, is diabolical. It's all set out in our case in a compelling way."
The addictive nature of opioids has drawn comparisons with the tobacco industry, and the marketing strategies in both industries are remarkably similar. Much of their content aims to emphasize the need for effective pain management while downplaying the abuse potential of opioid medication.
The need for "replacement users" is something both industries share as well, said Beckworth.
"When you have an addictive, deadly product, something happens: Your consumers die," he said. "To keep building market share, you got to get more people on it; you got to have them stay on it for a longer term."
This strategy, Beckworth said, comes with another advantage to drug makers: increased tolerance. The longer a patient stays on prescription opioids, the more accustomed to them the body becomes, meaning higher doses are needed to produce the same effect.
"To increase the dosage sometimes costs three to five times more money," Beckworth said. "When you do that, the likelihood of addiction goes through the roof. So I'd say this is a lot worse than tobacco."
He stressed the importance of having certain people in your life you can trust to give you advice free from influence, be it a spouse, pastor, lawyer or doctor.
"You can't, in Oklahoma, do that when you've had a hundreds of millions of dollars marketing campaign that had people face to face with doctors, lying about [opioids], looking at their patient records and telling them what to prescribe," Beckworth said. "A patient goes in and says, 'Hey, doc. I don't know about this. I'm afraid I'm going to get addicted.' The doctor goes, 'Well, this sales rep just told me its not addictive, so here's 90 pills,' and then someone dies from that."
This is a comparison that many pharmaceutical companies are quick to refute, due to their product's role as a legitimate pain management drug.
In its list of essential medications put out in March of 2017, World Health Organization (WHO) listed Fentanyl as one such "essential" drug, but only for use in treating cancer pain. Oxycodone is also listed as a potential alternative to morphine.
Sparks emphasized the role of opioids as a necessary medication, saying in a statement, "[Janssen's] FDA-approved medicines helped people in pain, and Janssen successfully worked with regulators to prevent diversion and abuse of its opioid medications. Janssen will continue to defend itself because the claims raised against it in the Oklahoma litigation have no basis in fact or the law—and that will be made clear during trial."
Janssen also claims the premise of the case itself is unjust, partly due to the law the state chose to structure its case around.
Oklahoma's "Public Nuisance" law, under Title 50, was designed to curtail behavior that might annoy, impede or injure anyone in a particular community from going about their day-to-day life. Much of it deals with agricultural activity, farmland or other land disputes, such as obstructing a lake, park or highway.
"Oklahoma, for more than a century, has limited public nuisance to disputes involving property or public spaces," Sparks said in a statement. "The state ignores this well-established law and now argues that public nuisance allows them to compel any party allegedly contributing in any measure to a social problem to fund all programs that state administrators dream up to address it."
Sparks also pointed to the provision allowing the state to seek abatement, but prohibiting any damages: "The abatement of a nuisance does not prejudice the right of any person to recover damages for its past existence."
According to the trial brief filed by Janssen, "The state's authority to abate a public nuisance, then, begins and ends with stopping the conduct that constitutes the nuisance. … The state can demand only that Janssen stop or start some particular conduct, yet it has not done so. This demand for cash exposes the state's 'abatement plan' for what it really is: a straightforward attempt to recover nuisance damages—damages Oklahoma law does not permit the State to seek."
Hunter does not view the lawsuit as a damages case.
"Abate means nullify, so to nullify a crisis you've got to fix it. It's not just stopping my conduct; it's also cleaning it up," he said. "They need to be held responsible for cleaning up this mess, whatever it costs."