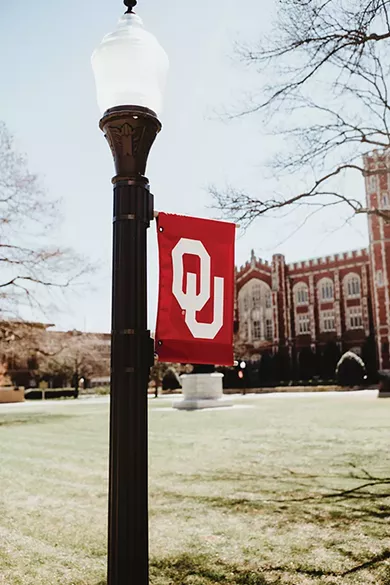 Alexa Ace
University of Oklahoma officials say combined donations and pledges have made the university cash positive.
University of Oklahoma is going through a tumultuous period with the departure of more than 80 employees, donations down by at least a third from last year and multiple racist incidents on campus resulting in no disciplinary actions.
Professor emeritus Alan Velie is the university's longest-serving faculty member with more than 50 years under his belt and a career that has spanned eight of the 14 university presidents. Velie said OU improved steadily from its inception until former president David Boren came into the picture. Velie said his vision and hard work resulted in exponential improvements at a rate that had not been seen before.
"When Boren came in, the rate of improvement changed dramatically," Velie said. "He had a vision for the university. I don't think anybody who was here could anticipate how he would be able to change it for the better, so everybody was thrilled. He made the students far better. ... He improved every aspect of the university. … He had a great bond among faculty and students; they loved him. Students were really proud of the university, and the faculty were very proud of what he achieved."
Boren served as OU's 13th president from 1994 to 2018.
Secret search
After Boren announced Sept. 20, 2017 that he would retire, a committee was formed to find his successor, but the committee's search was largely conducted in secret. Candidate names, interview questions and interview schedules were confidential throughout the process.
Suzette Grillot, former dean of the international studies college, along with other faculty members, released a letter/petition asking the board of regents for more transparency. The search continued in secret, though, until the university announced March 26, 2018, that James Gallogly would be OU's 14th president.
"I spoke publicly about the search process and respectfully requested some transparency in the search process, and that, I believe, led to some concern on the part of the new president," she told Oklahoma Gazette. "I was very quickly then questioned about my outspokenness and kind of lectured about my outspokenness."
Gallogly was not available for interview.
Staff reductions
Alexa Ace
Professor emeritus Alan Velie is OU's longest-serving faculty member with a career that spans eight of the 14 university presidents.
A former oil executive, Gallogly laid off six top administrators on his first day of work, July 2. A press release stated that the cuts aimed to "streamline reporting, bring in fresh, diverse perspectives, and improve its cost structure." Some positions were consolidated, and others were restructured or eliminated completely.
"During this time of change, we will continue to focus on academic excellence, student success, employee engagement and efficiency. These first steps are needed to help maintain current tuition levels and work toward faculty pay raises," Gallogly said in the release.
Nick Hathaway, who held several administrative positions during his 23 years at OU, was let go and his position, vice president for administration and finances, was eliminated.
"[Hathaway] was fired summarily at 8 in the morning, told immediately to vacate his office and [by 10], they took down his email address," Velie said. "Why would you simply treat him as if he's done something wrong? It seems to be unnecessarily heartless. It not only hurts him, but it hurts the university because anybody who's been there that long has a lot of friends."
In November 2018, roughly 50 more employees were terminated, including more high-level development administrators, and three research offices were closed. The next round of layoffs came in February, with 28 employees let go from the information technology and landscaping departments.
Gallogly, who has never held a public office before, is the first CEO from a Fortune 500 company to lead the university. He has been both critiqued and commended for trying to run OU like a business.
"Gallogly's been in business long enough to know that all businesses aren't the same. Every business, even in the same field, has a culture of its own. He has to deal with it within the culture. I imagine he's learned that lesson, but he learned it at the cost of hurting his reputation," Velie said. "The [faculty] who've been around for decades are sorry he's acted in such a heavy-handed way and treated people who've provided a good service as if they're guilty of some crime."
Financial downs
Before officially taking office, Gallogly announced at a board of regents meeting that OU was losing $36 million a year as expenses outpaced revenue. He said debt at the Norman campus was "almost $1 billion." In February,
OU Daily
reported that donations were down 41 percent compared to the last fiscal year.
"As of Jan 10, according to an internal office of development memo obtained by The Daily, the university has raised $48,905,322 during fiscal year 2019, which started July 1, 2018," according to the report. "At this point in fiscal year 2018, which started July 1, 2017, the university had raised $82,980,776."
According to a Feb. 27 OU press release, cash donations were only "31 percent lower than the same time last year," though no figures were given. The release attributes the drop, which happened in December, to "a volatile stock market, changes in the tax code for charitable giving and significant press stories about OU." And while donations are down, the release states that pledges total more than $55 million, which will "put the university on track to match the previous year's giving."
"In general, cash and pledges combined are actually up year to date over last year (the month of December was cash-down only)," Lauren Brookey, vice president of marketing and communications, wrote in an email to Oklahoma Gazette. "Savings identified earlier in the year materialized in February."
Gallogly announced at the March 13 board of regents meeting that OU's Norman campus and Health Sciences Center are now cash-positive. Sophomore Jamelia Reed said many students do not like the way Gallogly handles finances because of how strict he is and because he is so profit-focused.
"David Boren was very progressive with how he spent university money. He was great at investing in projects that we weren't for sure were going to work, but he really wanted to try," she said. "[Gallogly] is more like, 'What's going to make us money in the end? What's going to be beneficial for the university and the funding?' ... With all the new changes to finances at the university, we don't like [Gallogly]."
'Culture of fear'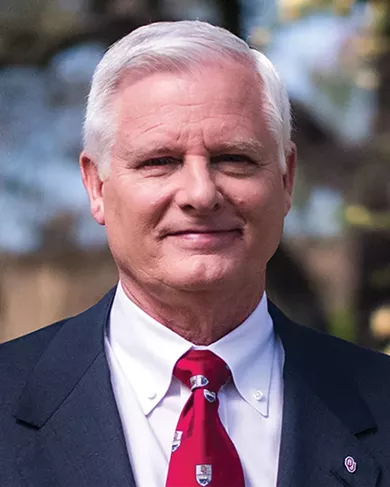 University of Oklahoma / provided
James Gallogly, a former oil executive and major OU donor, is the university's 14th president.
After Gallogly was named president, Grillot delivered another letter with more than 500 signatures. The letter congratulates Gallogly and again asks for transparency. While she was "lectured" on her outspokenness, the administration also questioned the value of the international studies college, Grillot said.
"There was a lot of questioning about the existence of the college of international studies, about our budget, about what the value of study abroad was, about why we have study centers, those sorts of things," she said. "For many months, I was trying to deal with that, which I felt very much was kind of affected by this background of my having been outspoken."
Grillot stood her ground with the administration on various aspects of cutting the college's budget, which she said directly led to her being removed as the dean.
"I felt it was disproportionate and unfair and that it was harmful, particularly to students of color who are students of high financial need. The programs that were being cut were the programs that served them and the financial scholarships that served them," she said. "I didn't feel like there was a significant amount of support coming from the administration for those students or for international students. So I continued to resist that internally until the point where they decided to remove me."
Grillot was offered a "substantial amount of money" to resign, sign a nondisclosure agreement and leave the university entirely, but she declined. Instead, she was fired as dean but remained a tenured professor.
"Because I have tenure, they also had to give me an option to just be fired and stay on campus, and so that's what I chose because there was no way I was going to go away and not tell the story of what happened here," she said. "What they're doing is wrong, and what happened to me is wrong. They've done it to me and they've done it to others, and I'm not just going to sit back and watch them do these things."
Grillot is now pursuing litigation against the university for violating her First Amendment rights by retaliating against her.
"It's wrong what they do; it has created and continues to perpetuate a culture of fear on campus," she said. "There's a reason why everyone's afraid. They're afraid of retaliation."
Judy Gibbs Robinson, the former adviser for OU Daily, shared a similar story of perceived retaliation through a Feb. 20 Facebook post. An OU employee for more than a decade, she revealed her acceptance of a retirement incentive Jan. 4 "rather than return to a job that had become increasingly intolerable since [she] requested equal pay with a male colleague for the same work." Gibbs Robinson wrote that she was ignored, so she filed a grievance that she lost due to insufficient evidence.
"After filing a grievance, I was denied teaching assignments and relegated to a section of the entry-level media writing course I once coordinated," she wrote. "In Student Media, the director told me he wouldn't level the playing field because he 'didn't have to.' … Ultimately, the toxic environment proved too much. So I got out. I'm still mourning, still trying to understand how my career could have ended this way."
'Toxic environment'
Grillot also said the university has been a toxic place for the entire campus community. This semester alone, the university faced four racist acts on and off campus, none of which resulted in disciplinary action.
"[Students] that reach out to me are still very concerned about the climate on campus," Grillot said. "They're concerned about their safety. They have been and they continue to be about their safety, about their well-being, about their mental health, about their stress levels. It's been a toxic place, and people can feel it; it's palpable on campus."
In January, two students posted a video on Snapchat wearing black face masks and using the N-word. A week later, an unknown person was seen walking around campus wearing blackface. In February, another social media video showed a former OU student hanging a noose around a stuffed duck and using the N-word. This month, screenshots were leaked from OU College Republicans' GroupMe that contained racist, misogynistic and violent comments.
"After that, it seemed to be week after week after week of incidents, miscommunications or an unfulfilled statement," said Reed, who is also a member of the Black Student Association (BSA) and co-director of Black Emer-gency Response Team (BERT). "It seems that we have gone down this slippery slope that's now up to three months."
Brookey wrote in an email to Oklahoma Gazette that the university released its "phase 1 plan to the university community to address racial and cultural issues on campus." It lists seven actions, including hiring a chief diversity officer, implementing additional diversity and inclusion learning opportunities, improving retention strategies through affirmative action plans and providing "safe and inclusive locations to meet and to build programs" that bring everybody together.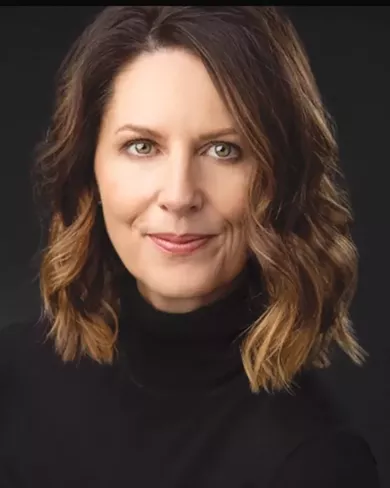 Shevaun Williams / provided
Suzette Grillot is pursuing litigation against OU for violating her First Amendment rights and retaliating by demoting her as dean of the international studies college.
"I made a commitment to examine our actions, policies and practices as an institution to ensure OU was working every day in a systemic and comprehensive manner toward inclusivity for all," Gallogly wrote in a March 5 letter to the OU community. "We know that we have a lot of work ahead of us to change our culture to one that is fully open, diverse and inclusive."
Brookey and Gallogly have both said the racist incidents were not technically against their code of conduct and, therefore, the university could not take disciplinary action. Gallogly has been critiqued for weak responses that take no action.
"David Boren was a politician so he knew how to talk to people and watch his rhetoric. [Gallogly] is coming from a standpoint of, 'I can sign off on this and keep going about my day,'" Reed said. "If you're looking into the public approval, Jim doesn't have it."
BERT was created after the two blackface scandals happened. Where BSA is a social group to bring the black community together in fun, BERT focuses on trying to impact change by addressing scandals and talking with administrators. Reed said all the racist incidents have brought minority students together in solidarity.
"The minority communities have come together, just recognizing we're stronger as we support each other," she said. "We offer each other support and advice on how to go about situations with the administration. It's really just a camaraderie that's been built. It was there before, but it was built on, like, 'If y'all go to bat, we'll go to bat for you as well.'"
Course correction
Velie, Grillot and Reed each offered different ways the university might be able to get back on track. Velie said it is crucial for Gallogly to make amends with Boren. The two had a public rift in their friendship, and now Boren is being investigated by the university through the Jones Day law firm for sexual harassment.
"Everybody considers that anomalous, and that can only hurt the university. It seems like we're washing all our dirty laundry in public," he said. "The university community is unhappy about it because they liked Boren; they loved Boren. I don't think that the university can get back on track until they make amends with the previous administration. People are alarmed, and this investigation of Boren is not helping at all."
Grillot, who called for Gallogly's resignation at a Jan. 22 rally, said she stands by those comments and believes OU needs to be held accountable.
"I do not think that Jim Gallogly should be the president of the University of Oklahoma, and I don't think Kyle Harper should be the provost at the University of Oklahoma; I think he's part of the problem as well," she said. "A change in leadership should occur, but I also think it's deeper than that. It goes beyond individuals. I said that at the rally; I'll say it again now. It's beyond just individuals; it's a problematic institution in that there are just ingrained practices, some institutionalized patterns of secrecy and lack of transparency and silencing and marginalization and retaliation. All the toxicity that exists has to be rooted out, exposed and changed. That's going to take a concerted effort on the part of, well, the board of regents and, of course, the community."
To Reed, demands of resignation seem too early. She said fixing certain situations take time, and she just hopes that the current administration can learn from its mistakes.
"The important thing is that you learn from it and you try to prevent it from happening again. Most likely, it will happen again," she said. "If [the administration] wants to 'keep the peace' and maintain a positive and affluent culture at OU, it's going to be very imperative that they learn from the situation, learn how to handle it, make sure it's known that it's not OK for this to happen. … As well as understanding that it's not the job of the minority to teach you these things, but it's your job as the majority to take the time to learn because you are a university with minority services."