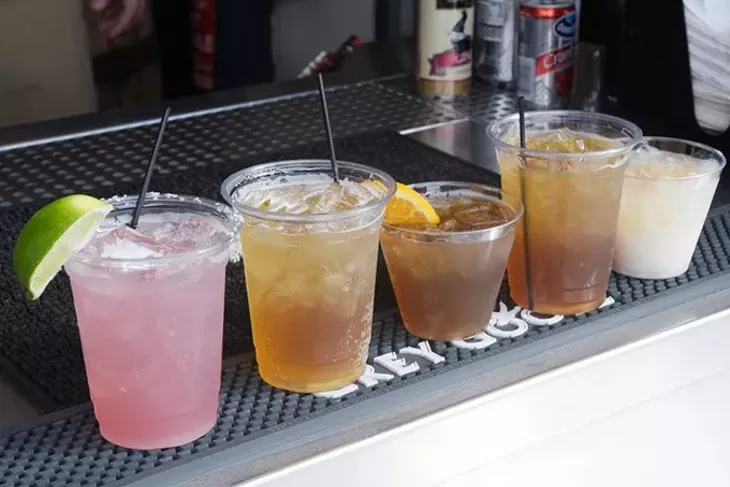 Garett Fisbeck
Cranberry Up In Yo Rita, Fuego y Crema, Ancho Fashioned, Stonewall, Holiday Vibes at Blue Garten, Tuesday, Oct. 4, 2016.
When the bar team at The Bleu Garten unveiled the food truck park's new fall cocktail menu to customers Sept. 22, it was nearly 90 degrees outside, said bartender Brendan Jezioro.
That might not be the ideal temperature for most autumnal drinks, but this isn't your average bar.
The Bleu Garten, 301 NW 10th St., is a wide, open-air venue that routinely plays host to three or four food trucks at a time. The bars spread inside the expansive location have different functions.
There's a center island where customers can get a variety of canned beers. On the southern end is a draft trailer for quick pours of domestic beers. But the main action occurs at the northeast bar, where the bartenders pull specialty brews from kegs and make craft cocktails.
"Our previous seasonal menus have been very patio-friendly, very clean and crisp," said lead bartender Eric Likens. "Fall deserves something a little more complex."
These aren't thrown together at the last-minute, though. When managers meet each month, they taste-test new beers and liquors coming in and try cocktails designed for the next season's menu.
"We started working on fall cocktails in July," Likens said.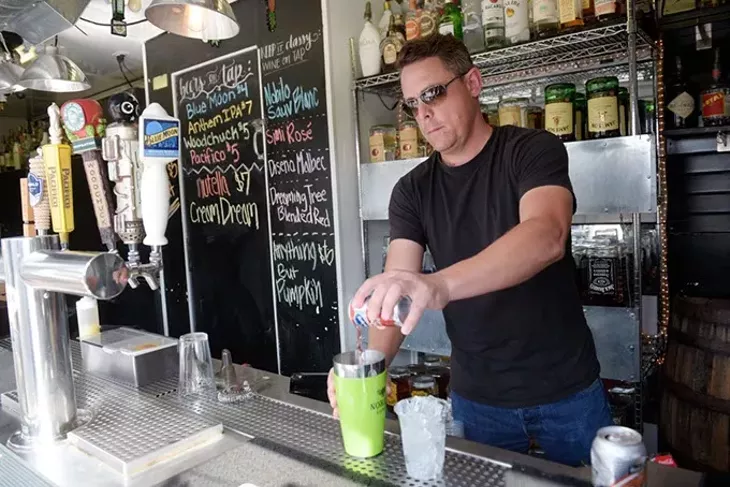 Garett Fisbeck
?Eric Likens makes a Cranberry Up In Yo Rita at Blue Garten, Tuesday, Oct. 4, 2016.
Likens said one great thing about The Bleu Garten's popularity is that alcohol sellers are eager to bring them new items.
His favorite find this year is Ancho Reyes chili liqueur, which features prominently in two new cocktails: Stonewall and Ancho Fashioned.
Stonewall, a concoction made with Ancho Reyes, Sailor Jerry rum, ginger beer and apple cider, started off as two drinks, Likens said. But when neither the mule nor the spiced rum drink captured their hearts, the bartenders tried combining them.
"They blended together really well and we got the Stonewall," Likens said.
Ancho Fashioned is a spicy take on an old fashioned, mixing Ancho Reyes with Wild Turkey bourbon, bitters and sweet and sour mix. Though the chili liqueur might give some pause, the flavor is surprisingly mild with a floral bouquet.
Lead bartender James Dickson said his favorite on the new menu is Fuego Y Crema, and not just because it's so easy to make. The simple beverage combines a shot of Fireball Cinnamon Whiskey with a pour of sweet, rich cream soda over ice. The flavor is easy to drink with a light tingle from the cinnamon-infused liquor that is well-suited for summer and fall weather.
One drink begging to be served around The Bleu Garten's bonfire is Holiday Vibes. The garnish of nutmeg at the end definitely evokes Christmas cheer, and the warming pecan whiskey mixed with creamy RumChata gives it a slight boozy bite.
Dickson said the northeast bar doesn't get to have all the fun. The Bleu Garten recently started pouring a selection of liquor drinks by the draft trailer.
The "secret menu" features some fall-tinged flavors, including an apple cider mimosa and Peary Nice, which pairs apple-pear vodka with cranberry juice over ice.
Garett Fisbeck
Caribbean Coffe, Bleuini, Peaky Nice, Apple Cider Mimosa at Blue Garten, Tuesday, Oct. 4, 2016.
Likens said he hopes the slowly falling temperatures will draw people into the food truck park more often. The Bleu Garten will stay open through November and then open during select weekends in December and January, weather permitting.
The Bleu Garten menu is always changing because of its rotating roster of food trucks. In a given week, visitors can choose from pizza, tacos, burgers, German food, barbecue, Indian food and sandwiches.
Board features, which are special drinks that change out more often than the seasonal menu, help.
Bartenders keep a close eye on which trucks are scheduled and try to offer drinks that will complement those cuisines.
While pairing drinks with food is nice, Likens said the main goal is always giving customers the best ones to enjoy the space. That doesn't change, no matter the season.
Print headline: New Bleu, Bartenders at The Bleu Garten created a menu of cocktails for chilly weather.